email press releases to press [at] kartpulse.com
I've always been a fan of Compkart just because they look so badass.
From J3 competition, here's the details on the 2019 model
---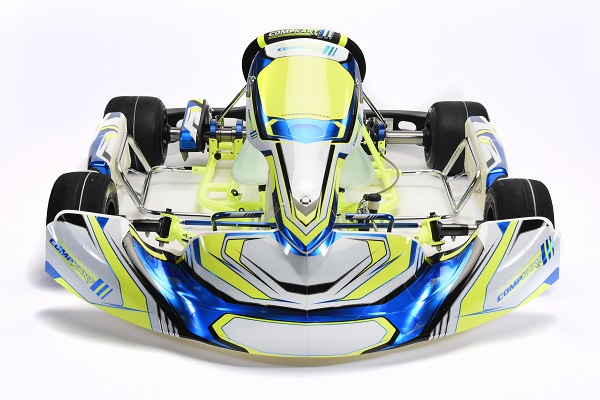 Refined Solutions | Continued Success | 2019
Hi there, For 2019 we have chosen to stick with our proven platform with a new selection of refined components. The new components will come standard on our flagship homologated Covert model chassis. These new additions were designed and developed in America utilizing the latest software and prototyping processes and are sure to add unique selling and improved performance to the market.
Exhaust Bracket [Al] - Completely redesigned to reduce weight while improving functionality, the new two-piece multi-adjustable bracket is universal [L-R] produced with 6061 aluminum and finished in Blue color. Allowing for easy ride height adjustments.
Steering Bush [Al] - Now Standard, the 4-position steering bush with a special integrated bushing which has also been slightly redesigned for better aesthetics as well as the fixing point for the bodywork driver panel. The piece is produced form 6061 aluminum finished in Black color.
Wheel Hubs [Mg] - Standard on all Covert model chassis will be front and rear magnesium hubs produced in a new low pressure process from magnesium . Both Hubs will increase the performance of the chassis additional to having an improved appearance and value position.
Sprocket Hub [Mg] - Completely redesigned two-sided sprocket hub with a symmetrical mounting face allows for the sprocket to have a more rigid attachment with added holes, thus improving drive train longevity and engine performance. The unit is fixed to the axle with a 8mm bolt for secure mounting and is produced in a new low pressure process from magnesium .
Floor Panel [Al] - Inspired by the American circuit 'New Castle', the floor tray provides a better aero influence in addition, the floor tray has a steering column removal scuttle hole as well as mounting holes already laser cut for skid plate attachment. The new winglets also provide better aesthetics with more Fluo incorporated for better branding along with the chassis model ID incorporated.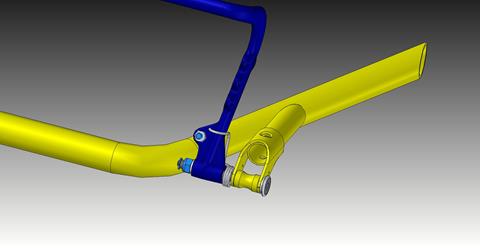 Pedal Mount [Fe] - The new system allows the lower front bumper to be fitted more 'freely' and the pedal is mounted in a special bushing to reduce friction. This system is only on the Covert homologated chassis.

With a strong emphasis on continuous improvement, all chassis and subsequent materials are being produced at the highest standards. The overall fit and finish have been improved as we have incorporated new fabrication techniques specifically geared toward the chassis tubing. In addition to the tubing, the weldments have stayed largely the same with some slight changes to increase the chassis functionality.
Master Cylinder Mount - This piece has been redesigned to relieve the small stress on the chassis while creating better pedal and rod alignment which will improve the master cylinders longevity.
Rear Torsion Bar - The 'traditional' rear bar has been removed as we have adapted a new concept focusing on a 'strut system' that allows for a simple yet effective tuning option for rear grip while still allowing the chassis rear carriage to function 'freely'. This will be an OPTION and not a standard item.
Bodywork - The bodywork on all chassis will stay the same for 2019 with no changes. The OTK M7 driver panel and sticker will NOT be standard on the Covert line however, it will be available for resale purchase.
Racing Seat - The COMPKART seat in 'Extra Soft' will remain the standard seat as it has been proven to be the best solution in both low and high grip conditions.
Wheels - All model chassis will continue to be standard with the Free Line 'DF' type wheel sets.
Engine Mount - The chassis will no longer come with an engine mount, lower engine clamps and bolts will be included.
Nose Cone Mount - All chassis are standard with 'Drop Down' mounting brackets for 2019.
Ranger 28 - Will be provided with new stickers, new rear axle flanges welded to the chassis as well as new engine side seat strut assembly. This model will be completed with the 4 position steering bushing.
4R - Will be provided with new stickers, the engine side seat stay will now be curved (removable).
Product Kits - ALL chassis 'upgrade kits' are now discontinued. Product can be purchased through our normal price guide individually.