Thanks folks. Much clearer now.
They're just as good as any other!
Just watching the live timing and compiled the chassis' from RaceHero for the X30 divisions. The junior class might as well be the OTK spec class while the senior division has a really nice spread. OTK of course still leads the way but that is to be expected in almost any field in the world.
X30 Jr.
OTK: 21
Kart Republic: 3
CRG: 1
Unknown: 1
X30 Sr.
OTK: 19
Parolin: 6
Kart Republic: 4
CRG: 3
Birel: 2
TBKart: 2
Lenzo Kart: 2
Energy: 1
And we're live, looking good!
@XanderClements great coverage so far. Little note can you add what class is racing on the overlay so we can quickly scrub on youtube to the race?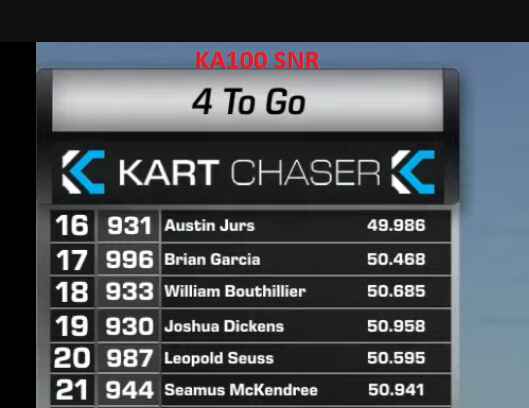 Can do. I have graphics for it but a power strike reset everything right after qualifying. Will have in the mains.
Fantastic! 20 characters…
Back to back over unders…
Missed out on a Turney vs Norberg fight, but decent race. Looked like, to my eyes at least, that Turney's late pace int he pre-final caused a few to go long on the pressures only for Turney to go a little higher for the final.
Really happy for Aiden Levy! Great guy, was always fast and fun to race with at GoPro.
Holy s***. What a main event today in Senior
Need to go back and watch that one. Was busy disassembling and reassembling the sunroof on the wife's car all afternoon…
I think there were about 6 different times I thought a different driver was going to win, even at the end I was sure ADT would get Bonilla. Great on Bonilla getting his breakout win though.
That was an in unbelievable race, top work on the stream, @XanderClements !
That was a really great X30 main on Sunday. Really nice to see so many different drivers, teams and chassis' up at the top fighting for a win and leaving it all on the track.
Just one small data point on Fore'. 49 years old, 4 world championship wins, knee surgery 4 weeks ago, shows up at a national event in FL on the other side of the world against the top of the crop on a chassis/engine combo he probably never tested, lands 4th overall on Saturday. His comment" "I was missing some speed to be more competitive". The guy is a legend
I've said it before and I'll say it again. Senna and Fore are my racing idols.