@Bimodal_Rocket Traction control is great except…
I was driving on a snow covered road and crossed over a bridge. What I didn't know was that a snow plow truck had crossed the bridge going the other direction and the plow peeled up a metal seam in the bridge leaving the exposed end of the metal about 6" above the road surface right in the middle of the road. When I crossed over, I didn't know it but the metal cut open the driver side rear tire. As I keep driving, the tire looses its shape and effectively has a smaller diameter. So, with the smaller diameter, the tire is spinning faster and TCS decides, hey, this tire is slipping so lets slow it down. I'm now in a wrestling match with the car. Every time I correct the car drifting into the oncoming lane, the car whips back toward that lane again due to the TCS system. Crashed into an oncoming car but no one was injured.
The only reason I found out about the metal seam sticking up from the roadway was, after the police and tow trucks arrive, a plow truck pulls up to see what's going on. He winds up giving me and my son a ride back into town and says as we cross back over the bridge, 'Check this out, I came through here earlier and popped a seam in the bridge'. I called the police to look at the car and they confirmed the side of the tire was ripped open.
Yeesh. Glad the crash was not more serious. Yeah I guess the downside to automated "help" is that sometimes it can do more than get in the way. I woulda thought that this scenario (rapid pressure loss, snowy/icy) would have been foreseen by the program. That it fought you into oncoming traffic is a bit scary.
All the stability and traction stuff is disabled on my e39 by "unparing" the ABS module. Ironically, that doesn't doable ABs.
Since It's the resident drift missile at the ice track it works out perfectly

"Making a go-kart track on thin ice" is a terrific title
It was a purposeful play on what Cboys Tv were doing at that time. Didn't seem to add any views for us though

Older car so didn't have tire pressure sensor. I just did a quick google search and it looks like TCS still doesn't factor in tire pressure. And I found out why - TPMS sensors transmit readings once every 30-120 seconds in rolling mode. Makes sense. Just don't get a blowout on a slippery road with TCS enabled. Like 'don't use cruise control on a slippery road'.
That makes sense. I assumed the ECU and the TPMS unit would communicate. Makes more sense now!
Ok so time to share a lil secret I stumbled upon. I bought a fried tst439 (platinum) Clarke Synthesis and sent it back to the company to see if it could be repaired.
They said nope, but, they said the big magnets are quite expensive and they offered me a big discount on a new one.
Their policy is this:
TST429 $300 / Retail unit costs $699.95 which will make the price of the replacement unit $399.95
TST329 $200 / Retail unit costs $469.95 which will make the price of the replacement unit $269.95
So, I just picked up 2 more dead platinums off eBay for 100 bucks.
It's a way to get these down in price a bit, if you can find broken ones.
The plan is to retire the Daytons under the seat which just cannot hang with the clarkes.
However, I am gonna need someone to weld something to my seat frame so I can mount directly to seat as opposed to rig.
Any idea where to go to get someone to make me two little metal wings with mounting holes drilled in and then to weld directly to seat chassis/frame? I use a car seat. What type of business would do such a thing?
If you were in my neck of the woods I'd be able to do that.
Look for welding/sheet metal shops.
Aha! Looks like there's a retired fella that does fabrication and welding. I may have found what I need. Thanks!
Anyone understand audio well?
Recommended Amplification: 125 – 150 watts at 4 ohms
Would a 300w amp with two channels be good or do I need more "overhead"?
This is what I am using for my two platinums and it seems fine.
Fosi Audio TDA7498E 2 Channel… https://www.amazon.com/dp/B077GWVHHN?ref=ppx_pop_mob_ap_share
There are a couple of threads on the iracing forums where people are testing amps and whatnot. From what I gather, these Amazon amps never Come with a big enough power supply to support what is listed on the specs.
A good session where I move a couple spots up the boards, back-to-back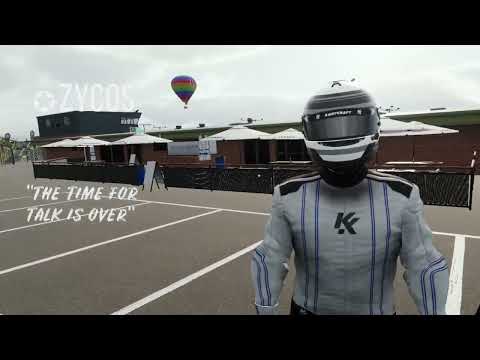 I haven't posted anything in a while, largely because life has gotten in the way. I was in a shit mood today, having watched the KartChaser footage of NJMP Stars and was kind of feeling sorry for myself, that I couldn't race or have any sort of clear runway ahead about racing in the future.
Anyways, I decided to give my family a break and go drive and this happened. I drove well, for a change, thoughtfully, even.
I have been giving some thought to @NikG's quali lap video and @speedcraft's comments about it and have been trying to absorb that, the idea that your wheels need to be straight if you are gonna be flat, etc. The idea of being more sensitive to the absolute grip and to let the tires really bite and be efficient and to use the throttle (and to a lesser degree, brake) less as a blunt instrument and more of a scalpel. Don't expend energy just to waste it, use all of it, all that the tire has to give., Don't let your enthusiasm to be fast cause you to waste potential. Creep up to it instead of charging with lance tilted. Profit.
It is really hard to do, probably because I have ingrained the wrong ideas into my driving, habituated myself to trying to be flat out as much as possible. Which, is kind of dumb, but understandable. In any case, tonight, for whatever reason, I was able to mostly drive with my brain as opposed to my ego, and pulled off a pretty impressive (for me) feat. I almost instantly beat my best and then went on to beat my longtime KK colleague (who is a lot better than me), Zycos.
I think getting kindly kerbstomped by Tanguy in the Racer video thread, made me realize that I have kind of plateaued and its on me to move it along, here. I may feel like I don't have the talent but I wont ever know if I don't try to make the changes I need to make. In any case, tonight I made real progress on that front, and I feel like I can continue to improve and to progress. I have control, now, and a strong understanding of the kart, but now I need to go find the heart of it all, the subtleties that wont come to me natively from talent, but rather from discipline and thoughtfulness. Its a tall order, but not an impossible task, considering that I'm only 52 and should be able to drive for many years to come.
Wellp it's probably game over for Kartkraft…
Essentially gamesparks, which is what connects KK to the net, is going bye-bye.
Given the lack of any dev comments, we must assume that the final nail in the coffin has been struck.
Au Revoir, Kartkraft, you were a beautiful thing.
Good idea. It's pretty inevitable that there will be a fire sale after they(Motorsport games) gets crushed by the SEC and subsequent civil litigation.
Nice! I have seen some turnkey solutions for this and have been interested. Fan for ventilation just isn't the same.
There's a bug in the simhub dedicated wind control which affects curving (it's to aggressive), but once that is fixed I'll be able to use all of the features. I spent about $100 in parts, but I also have a larger 3d printer at work so I was able to easily print everything over the course of a week.