With lecont tyres on franciacorta
I gotta say Mr. Ric did the most casual shifter start ever. Totally not his first rodeo, apparently.
"Slide Job!!" 20characters
By the way they tested lecont tires and mg yellow, 1s faster with the lecont
Ricciardo seems like a fun guy to be around. Hard not to like the guy.
I met him at the supernats one year. He does seems super nice.
So I want to start by saying I don't know anything really except,
Daniel raced Karts against people I know, and he raced at my club as a junior, I have never met him.
Every story I have heard about him from that time is that he is exactly as he comes across on TV. I have never heard a story about him being a dirty racer or someone that cant take a loss well.
In fact it is the opposite, Dan raced against a person I know, saw him struggling in the heats and gave him advice and encouragement through the weekend. Then in the final, Dan lost to him. Dan was more excited about how well his competitor went then about how he had been beaten.
I am positive that he has a arrogant, 'I am the best race car driver' side, How could he not? Anyone at that level has to think that, just be be there.
But it is so amazingly well hidden behind his good naturedness, that he is an awesome representation of the best that Australia has to offer. I'd love to say that we are all like that, spoiler, we're not. But if I (a 40+ year old bloke) can grow up to be just a bit like him, the world will be a better place.
Kremers, RIcciardo and Stoner coming in with a comment.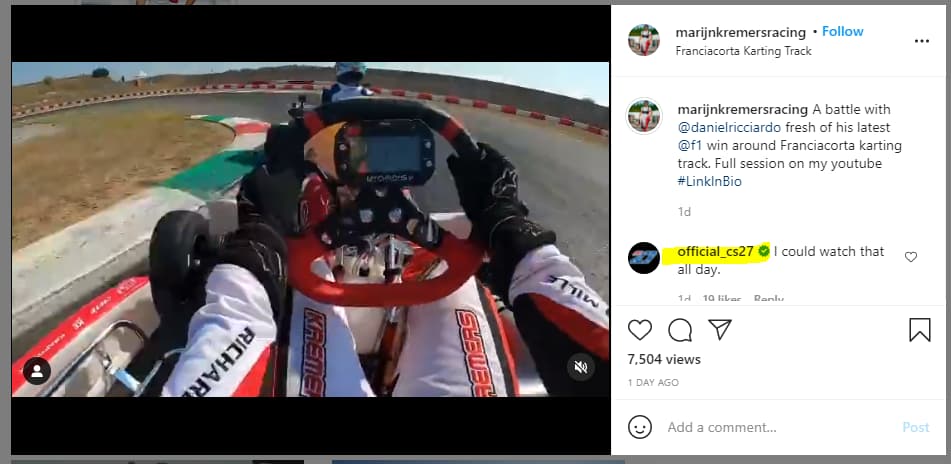 Makes me laugh really. What potential the sport has for cross-sport appeal.
Ricciardo was at a serious disadvantage.He's not used to driving 1 handed half the time while he changes gear with a great 'iron stick' off a 1960s Villiers kart.
What do you think about a KZ race between the best KZ drivers from the world championship with some prominent stars from motorsport. Top 10 F1 drivers, Le Mans, Indycar etc.
Like the bercy races from the 90's, but then with current stars from the karting scenes.
Just a wild idea, but I think it has potential
That would be fun to watch.
We've seen a distilled version of this at the SKUSA Supernats in years past. The 2009 event had Schumacher, Piquet, and Buemi racing, along with nearly all of the top Euro guys. It's usually tough for the car guys to compete against the top karting guys, unless they have a lot of recent experience in a kart. Schumacher for instance started 9th and finished 7th in the main…
Actually that does not sound all that bad considering how much time they spend in Cars compared to Karts. Schumy was always a strong advocate for Karting. Said it helped him keep his reaction time up and was good physical training. Seems like more Pro Car Drivers these days are remembering their roots in Motorsports.
I wonder what a Max vs. Lewis kart battle would look like. How would they compare to the current Karting Elite?
I imagine Max is still sharp, as he was one of the all-time greats in a kart. Lewis doesn't seem that interested in getting in a kart so I'm not sure how fit he is in one anymore.
Verstappen was a CRG factory KZ champ.
Bercy had a seperate race for the top karters. I imagine they didn't want the show ruined
Max would be there. LeClerc would be there or there abouts. The rest I am not so sure about.
Is it just me, or does Ricciardo look like easy meat for Kremers in that vid?
No, not just you. Kremers is a FIA World Champion, Ricciardo is not
Schumacher at Supernats pretty much used pure brute force and aggression. I watched every session he was in. It was great to see I have to admit. He was an absolute beast, even if a tad off the pace. In 2001 he did the Worlds at the Kerpen round. He was mid-grid there after the heats, but when the rain came down for the finals he was very fast (good local knowledge obviously a factor).
For me that makes him the GOAT as a driver. Left his ego at the door. It didn't matter he didn't have the top-end pace.
People forget he had signed for Merc at that point and still went karting in a car park in KZs. Not one driver on the grid now would do that (or be allowed to)