Ah yes the sale. Yeah that's the way to buy it and all the additional content.
I experienced rear traction loss in sim twice yesterday. I don't mean a big flat slide, I mean the very subtle "there goes the rear grip" that occurs as the kart just exceeds the capability of grip. The lloaded up kart suddenly goes quiet in the rear and shifts a bit as the rear begins to come around, silently,
It's a very weird feeling because you are sensing actual movement in the kart. Your brain is telling you that the kart is coming around and you feel it happening. Not "think" you feel it. Actually feel it, it's very strange when your brain infers motion like that and convinces you that it happened. It feels real, no other way to put it.
I really do want to get those actuators and convert to a motion rig, I think that being able to feel the kart move even more will be a game changer. Probably won't help me be faster but will definitely help with immersion.
These are lovely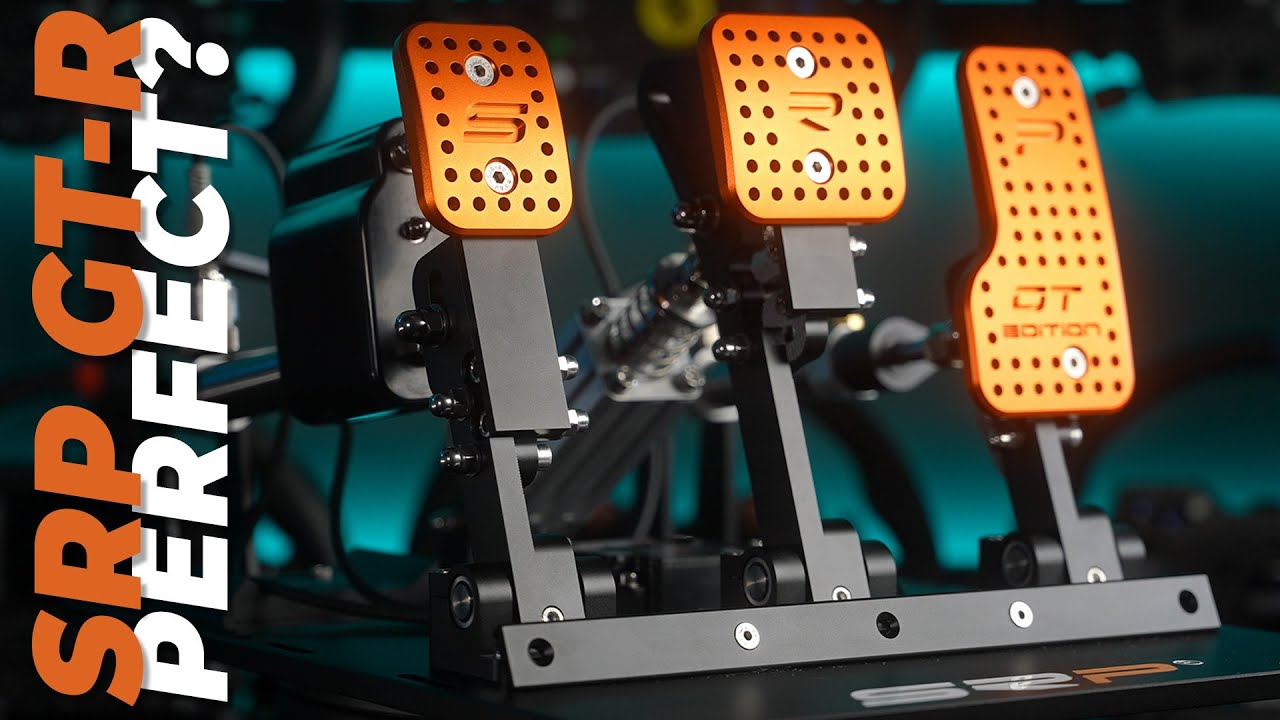 They are not hydraulic or load cell. They are pneumatic.
A new entry from Germany
I like their seat solution. It's nice and low.
Liftoff feels imminent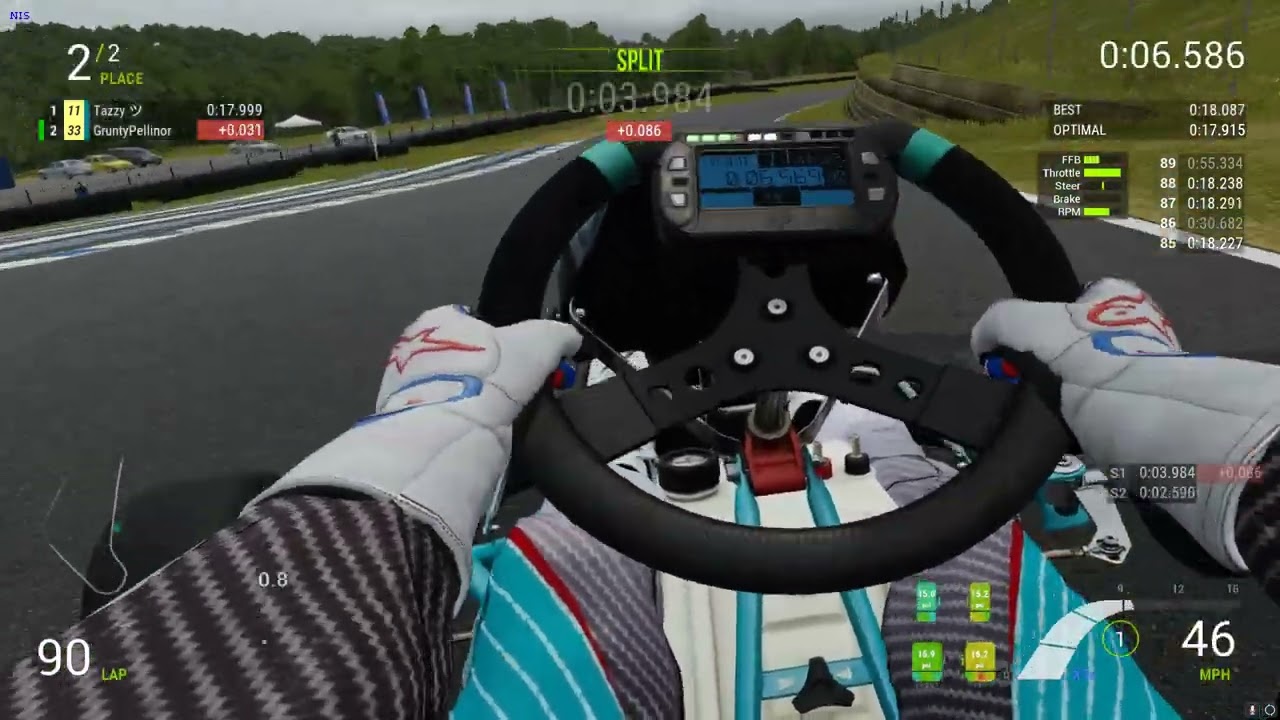 Just ran the best 100 or so laps I have, in a while. I blasted out of the gate with a fast first lap on cold tires and within 5 or so laps had landed an 18.120. I then proceeded to land at least 4 clean 18.0x, and slightly bettered my time.
I've sometimes referred to when the Stig steps in and drives for me, while I'm engaged mentally elsewhere. This is frequently the condition of a fastest lap, it's kind of analogous to being in the zone. In any case, the other way to land a fast lap, is to do it so much that you can't help but make the corners pretty.
Today, I feel like I hit that point. My understanding, ability and ability to execute is hitting that point where you have enough experience that you get out of your own way. No Stig required. Don't get me wrong, I still choked, but I gave myself 5 chances to beat the #1 time tonight in 100 laps. I ran more .0X laps in one session than ever before. I can't remember how many .1x's. In short, I was on fire.
There's always more to learn, of course, and I am far from maxxing out this track, but this is what the end game of chasing mastery feels like, to me. It all comes together and you are finally able to get out of your own way. Your physical training overpowers your driving insecurities/anxieties. While I am not there yet, tonight tells me I am very close to being able to complete this mission.
My setup, low brow. I've been running the Ray FF 1600 simulation.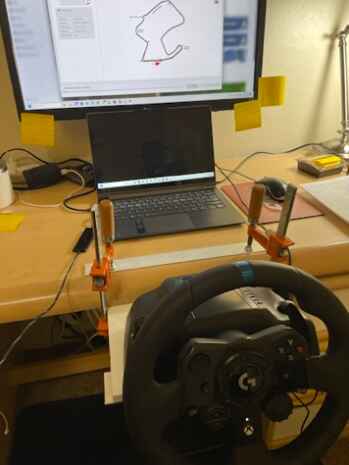 A carpenter and a racer!
Is that the new iRacing Formula Ford? I drove the lucas oil cars that are sort of similar so am curious. I have a pal, @AndreLafond who raced these professionally in England last year. I'd love to hear both your opinions on it. I just resubbed and desubbed from iracing, but this is making me consider reupping.
Don, I'm running the Ray Formula Ford at the Laguna Seca track on iRacing. Not sure how realistic it is especially on my crude setup. The neat thing is, I have an opportunity to race the FF at Laguna Seca in May. It would be interesting to see if the simulation helps. At minimum, I'll know which way the turns are.
Ultimate Garage Flex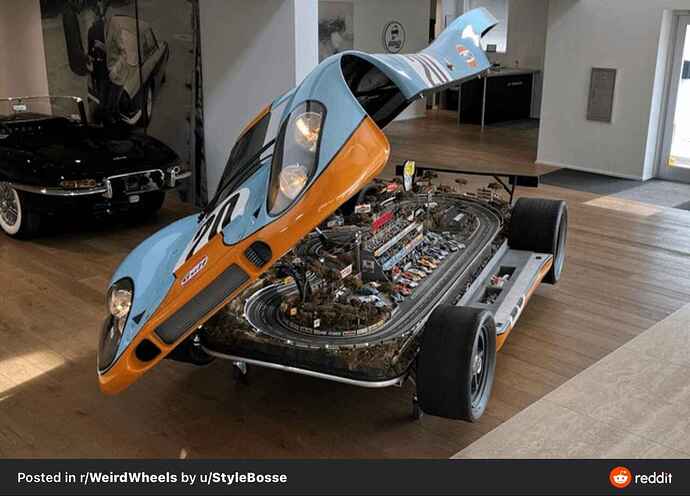 Le Mans slot car track inside a 917 reproduction
Still a chance to bid: Slot Mods Porsche 917 Le Mans Slot Car Raceway for sale on BaT Auctions - ending April 4 (Lot #103,026) | Bring a Trailer
Genius! Heel support addon for pedal: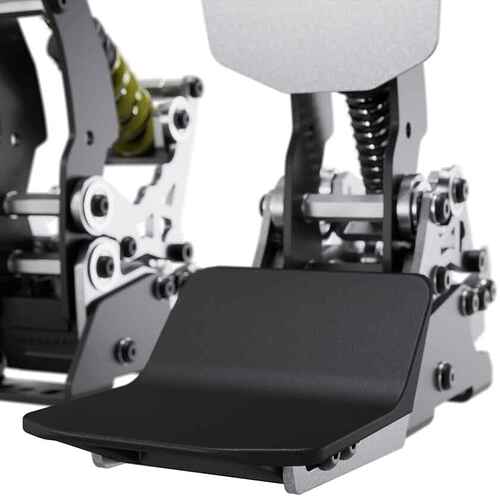 A company from Finland makes some pretty nice pedals and offers these optional heel supports.
A formula style-ish sim racing seat with an odd price: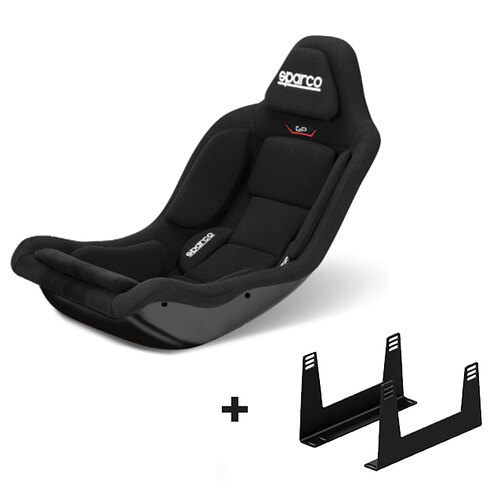 What's baffling is how the price is all over the place and the shipping quotes are outrageous. Folks are saying 300 bucks to ship, for example. I'm wondering if that's because it's vaporware or something and the absurd shipping is to push people away.
There is no way this is worth 800-1000 bucks. It's a "sim" seat for gods sake.
In any case, I'd think that this positioning would be more kart-y than a normal GT seat.
Motorsport Games doesn't think they'll make it through the year with how much money their losing.
The IndyCar game probably isn't coming, in case anyone was still hoping. I sent design files over for helmets a few weeks ago, so I guess they are going to work on it as much as possible.
For that price the seating position should be bent over forward.
When I was a kid, half of our garage was filled with a giant table upon which my Dad had created for me an HO (AFX) scale slot car track that was (as closely as he could make it with the available track pieces) a model of the original Laguna Seca track. He made it complete with elevation changes (not as extreme as the real deal), signage, grass, trees, shrubs, etc. My friends and I spend hours racing around that track.
Wow, sounds like dad did you a solid! Trains and slot cars are so cool!
Nice clamps! I have a seemingly identical set that came from my grandfather's tools that I use for mounting my seat "jig" aka wooden board

I find myself in the odd position of being forced to root for them to survive despite their vile business. If KK goes dark, it's game over. No offline play.
NASCAR Driver Suspended for Parking on Track Now Sponsored by Parking Company
Josh Williams got slammed for parking on an active track. When he returns for this weekend's ToyotaCare 250, his car will wear Parking Guidance Systems livery.
Well played, Josh.
Regarding your trip to Laguna Seca after simming it…
I prepared for the 6 hours of Atlanta by lapping for a few months in Kk. When I got to the actual track, I was blown away by how perfect the scans are, down to the seams in the asphalt. While the track decor/surroundings were different than in game, the track itself was pretty much an exact duplicate. My first lap felt like exactly what you'd expect after simming it.
Kerbs, however, are nastier irl.