$5000 reward for Transponders (qty 99) Stolen from Hanging Rock Kartway in SC.
At time of posting, Hanging Rock Kartway is offering a $5000 reward for the return of these. 99 transponders and three charging cases were stolen from a home in SC belonging to Hanging Rock Kartway. The transponder numbers are listed below.
From Hanging Rock's Facebook Page:
I plead with you thief , find a way to return the items before the noose tightens even tighter … just as money motivated you to take what did not belong to you … money will motivate your associates to turn you in… now is the time to act before you loose your freedom …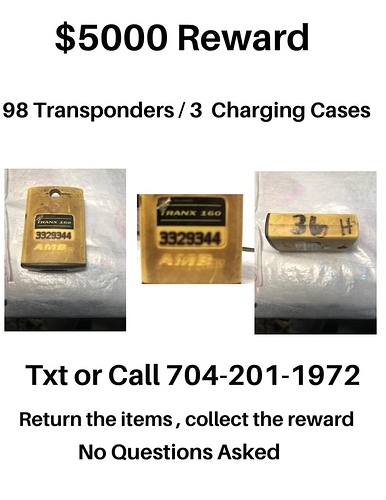 Tim Wilkerson fro AKTPA offered $250 to the bounty:
AKTPA, Inc., Tim & Betsy Wilkerson will donate $250.00 to your reward Fund. Call our office at 317-501-3377. We are happy to help.
@TJ_Halsema from MyLaps have kindly offered the track some loaner transponders in the meantime.