Editor's note
I'm excited to welcome Tommy Parry to the team of creators at KartPulse. Tommy has been a racing instructor and automotive writer since 2012. Most importantly, he is a big ambassador of karting and has written articles on the topic for publications like Turnology including The Joys and Challenges of Karting
To kick things off, Tommy is writing about his experience running the Rok arrive and drive series at Sonoma.
It's a good read and I hope you enjoy it!
---
Taming a Thoroughbred Racing Kart, An Automotive Journalist's Experience
Pt.1 Setting the stage
Words: Tommy Parry
Images: David Bush / davidbushphoto.com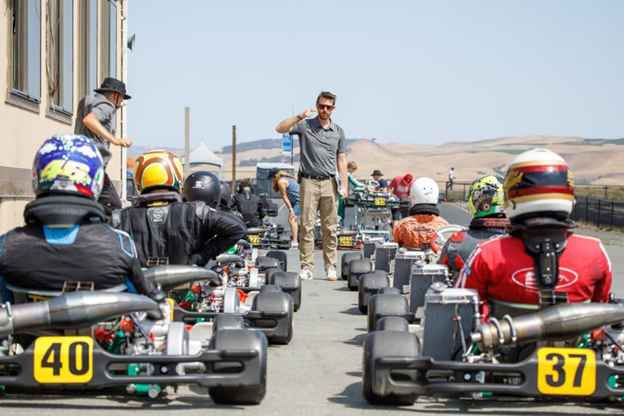 Getting into wheel-to-wheel motorsport in an insurmountable hurdle for some. The logistics, the cost, the concern, the fear of bedbugs—all these things can play havoc on one's mind when trying to go race, on a track, with respectable competition. Fortunately, there are a few sympathetic outfits which take these burdens into consideration and make the whole affair much easier. Simraceway Performance Driving Center is one of those operations which offer their customers genuine competition in modern equipment, but without the hassles.
Furthermore, they want their students to excel and become competent racing drivers. Mechanical parity plays a big role in the appeal of their Arrive & Drive Karting Series, as does the tailored instruction, the post-race debriefs, and the technical feedback. For those who want to test their mettle against other competitive drivers and focus their efforts on improving their skills rather than playing with jetting or tire pressures, there aren't many other comparable routes to take.
Truth be told, this wasn't my first time with Simraceway Performance Driving Center. As they're based at Sonoma Raceway, they are a regular sight at my home track. I've competed in their Arrive & Drive series for a few years now—and am always happy to see many familiar faces returning to compete. It's a series reserved for graduates of Simraceway's Karting School, ensuring a strong field and lots of competition in a safe environment. To compete in this series, students must pass their Stage 1 course, then graduate from the Stage 2 course.
I keep coming back for several reasons. One is the convenience. Another is the competition. They've also consistently impressed me with the quality of their gear, and this year it's even better. Gone are the old Trackmagic, Rotax-powered karts which gave so many of us our start. Now, a new fleet of Tony Karts with ROK Jr. motors are available to the entrants.
Two mechanics surveying the new fleet of Vortex RoK Powered TonyKarts.
The first impressions of these karts were eye-opening. Ton of grip, incredibly sharp turn-in, far more stick in the middle of the corner than I'd ever experienced, great stability under heavy braking, and a tractable motor. Though it still requires a patient right foot, getting the ROK 125cc to sing isn't a chore; its power delivery is linear, its powerband fairly broad, and the rear tires have no problem administering that power to the pavement.
Warming the ROK motors on a brisk Sonoma morning.
As I would later find, my karting experience up until this point had not prepared me for the stick these karts provide. Once you feel comfortable and can lean on the karts, they begin to turn your neck into a noodle! It's a truly physical experience and one I'm glad to have had—it has motivated me to try to get back to my former, slinky, Formula 1-driver shape. Yeah right.
The ROK Goldtops provide a silky stream of accessible power.
Sean, a friend competing in the series, and I shot up the 101 from San Francisco, cutting through the thick fog which burned off by the time we arrived in the vicinity of Sonoma Raceway. We were pleased to see the sun shining over the dewey grounds when we got to the track. This would be our second race this season, and Sean's second ever. He had shed his first-race nerves, although sleeping roughly the night before had left him a little scattered.
Sitting inside the classroom, we were given a basic rundown of the day's events, then given a course walkthrough and a basic course on the flags, the rules, and the etiquette expected. As these karts are essentially identical, the competitors would all be split into two groups, Light and Heavy, then ballasted to bring everyone to their group's average weight. Our groups would run two practice sessions, a qualifying, a heat race, and a final race separately from one another, which gave us plenty of time to collect ourselves between sessions.
Receiving coaching in Simraceway's classroom.
Once out on track, we were assigned a kart for the rest of the day, and thanks to an accommodating mechanic, I was able to have the left side of my snug seat fitted with a pad to cushion my aching rib. This helped quell some of the butterflies in my stomach, but I still had to familiarize myself with the machinery and shake off the rust; getting tires up to temperature while experimenting with a few different lines.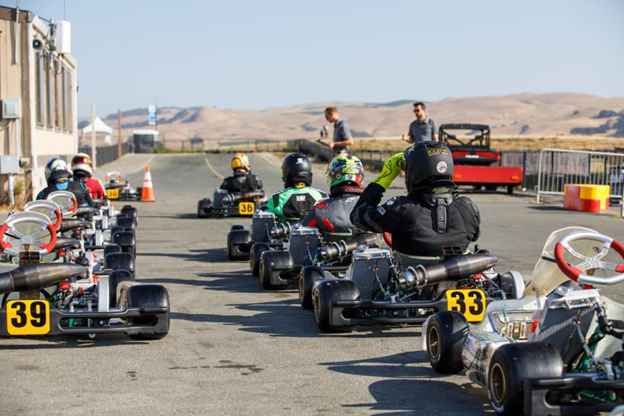 The karts are always thrilling to slide around on new tires when the nothing's up to temperature yet, and with the morning fog burning off slowly, it's a strangely serene place to be. Ten minutes later, I rolled off the track and was promptly sent to a scale to be weighed. I was pleased to see the diet I started after the last race had done my waistline wonders—I'd lost a whole two pounds.
Leaving the braking too late on cold tires caused Sean to spin in the fastest part of the track.
Back in the classroom, we were given pointers from the Simraceway coaches, all of whom were observing our progress on-track from different vantage points. Everything from line, to braking points, mid-corner adjustments, and general technique were addressed and delivered in a digestible fashion. Follow-up questions, dialogue, and a track map could clarify any further questions. Those frustrated with their lap times never found themselves heading towards the end of a performance cul-de-sac—and as a result, everyone's time improved steadily throughout the course of the day.
Our pace also increased due to the track heating steadily throughout the morning. By the second practice session, with the blood pumping and the tires warmer, we were able to fling the karts around and start attacking the braking zones. Now, locking up occasionally and getting crossed up from time to time, the karts really started to provide a physical challenge. At this point, some choose to drive faster and push harder, and others refine their inputs to be a bit smoother.
Unfortunately, I fit into the former category. I was driving a little too aggressively and generating a bit too much slip angle, particularly in the slower corners, and that separated me from the fastest two—Brett and Barry— by about half a second. Fortunately, I was able to calm my inputs with the aid of one perceptive coach.
Tor McIlroy, an affable Aussie who's been a staple at the Karting Center for the last few years, got my attention and then delved into the Senna versus Prost analogy; telling me how I needed to slow my hands down to find those last few tenths. With Barry following behind at the same pace but with visibly less effort, drifting around wasn't doing me any favors. "Smoozehr?" I asked in my best Prost impression; pushing my nose to the side to mimic the Frenchman's famously crooked schnoz. It proved easier to joke about than to implement.
Maybe painting my helmet yellow had put me in the wrong mindset?.