A press release from: Tillotson Racing
send press releases to [email protected]
---
TILLOTSON T4 SERIES
Tillotson Racing is excited to announce the launch of the new Tillotson T4 Series which will debut in the Motorsport Ireland Championship for 2019. The vision for the new category is to provide a cost effective entry into the sport of karting in effect promoting new drivers into the higher levels and increasing the participation numbers in the sport. With this effort, Tillotson is seeking to create the new base of Karting!
Concept:
The T4 Series will run a Monobrand Tillotson chassis and the latest Tillotson 225RS 4 Stroke engine equipped with a specifically calibrated Tillotson Racing HW carburetor. Only stock chassis / engine components can be used in this competition to control the cost and there will be a dedicated technical fiche for the chassis, engine and carburetor. Drivers can experience the thrill of kart racing while reaching speeds of 100klm using high spec material.
Engine:
The new 225RS engine developed and produced by Tillotson is designed to offer a fun driving experience with great reliability at a very affordable price. The engine is equipped with a PVL digital rpm limiter to 6,500rpm to maintain long engine life but also offers a wide rpm band for suitable power delivery. Tillotson has designed a new crankcase for this engine to offer a stronger structure and provide a stable production quality.
Carburetor:
The carburetor has been specifically calibrated by Tillotson Racing for the 225RS engine. The diaphragm carburetor is more often used in the high level Racing division of Karting but Tillotson is proud to provide a product to offer the best driving experience for the end user - increasing engine performance but also providing ease of use. The main advantage being the ease of adjustability via the adjustment screws compared to the floating chamber fixed jet options existing in the 4 Stroke market.
Pricing:
For this concept to succeed it was necessary to establish a cost effective price to attract new competitors to the sport. The complete package including chassis, engine complete, tyres, chain and sprocket ready to race will retail at a special price of €2,750 plus VAT for 2019 for the Irish market.
Enquiries:strong text
For enquiries regarding the new T4 Series please contact:
[email protected]
OPEN TEST DAYS
We are pleased to offer any interested parties the opportunity to test drive the New Tillotson T4 package during the months of February and March.
There will be 4 Official Open days scheduled to take place at:
> Whiteriver Karting, Collon, Co Meath: Saturday 2nd February (09:00-13:00)
> Athboy Karting, Athboy, Co Meath: Sunday 3rd February (09:00-13:00)
> Whiteriver Karting, Collon, Co Meath: Saturday 2nd March (09:00-13:00)
> KartWorld, Watergrasshill, Co Cork: Sunday 3rd March (09:00-13:00)
The Open days will be privately organised by Tillotson and Motorsport Ireland where entrants will be able to complete solo laps in the Tillotson T4 kart configured to their individual requirements. We aim for each driver to experience 20-30 minutes of on track time.
In order to avail of this arrive and drive concept drivers will need to fully complete the application form on Page 3 of this document. On the day we will only cater for people who have pre-registered their interest in taking part.
There will be a strict code of conduct along with safety instructions and all drivers will need to sign on prior to test driving the kart. It will be mandatory to attend a safety briefing in relation to driving no matter what level of previous motorsport experience any participant may have.
There will be a fee of € 50.00 for use of the circuit and safety equipment (Helmet / suits) which will be payable to the host venue. Tillotson Racing in collaboration with Motorsport Ireland are providing the T4 package and support free of charge
CALENDAR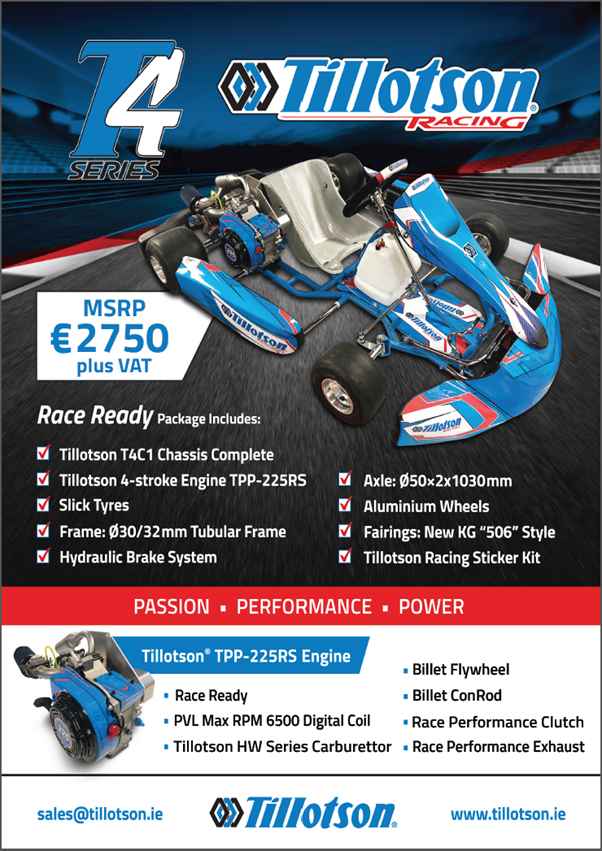 T4 SERIES RACE CALENDAR