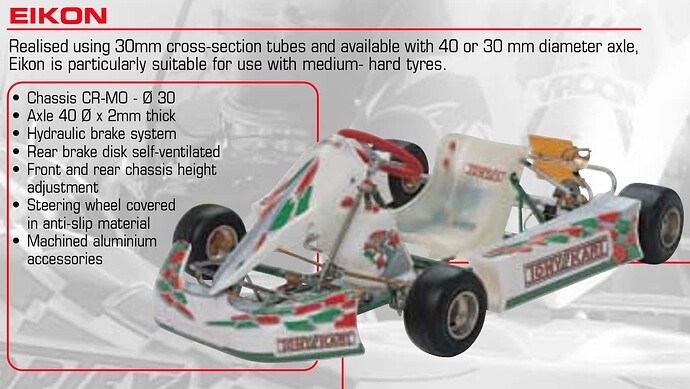 Maybe this?
Tony Kart brochure 2004
Just the frame or did it come with wheels and seat etc… thinking about getting it up and running?
Yes for sure thinking about getting it up and running nothing too crazy though!
That looks doable. I guess it depends on budget but you have most of a kart there. I think you might be able to put a relatively inexpensive 4-stroke on it.
What motor you thinking? And what's a good place to get remaining parts?
I would recommend a Briggs LO206 for this kart.
You can get the hub and wheel from any TonyKart dealer.
For brakes, a quick teardown will almost certainly show that everything's totally, completely, utterly shot and nonrebuildable. Throw it all away and install a new Righetti Ridolfi complete brake system, but make sure to get the brake rotor hub for a 40mm axle.
Thanks for the help guys!
It's a nice kart. Where are you located? That might determine your engine options.
Thanks! And Arizona not sure if there is any stores that sell that sort of stuff in Tucson area
There's online places for parts, too. Also there's used stuff.
I havent built a kart but I'd imagine there's some sort of schematic or documentation that you could compare what you've got to what it should have. From there, you can get a sense of what else might need fixing, I'd imagine.
What's your experience level with this sort of mechanical stuff and what do you want to do? Just get it going to go rip around, cheaply? Or, make her pretty again?
Probably get it to rip for starters. Then cosmetic and I've done some work on cars so hopefully I'll be able to manage. So fingers crossed
Good luck with the build.
Get an engine and a set of brakes, put it mostly together, then take a trip out to Adams Motorsports Park in Riverside, California and we'll show you around.
man, if you lived in the midwest, you could get that chassis squared away on the cheap at the OVKA swap meet coming up. as mentioned, if you're fairly handy with some tools, you can get that thing up and running, no problem.
Thank you guys! I'll keep u posted!!