Hi All!
Looking to get into Karting next spring. Been racing Autocross and doing fairly well. Looking to increase my skill level by increasing how fast the cones come at me by racing a kart! Also looking to do open track nights, test & tune nights, and hopefully some regular races IF the Utah Karting Championship is allowed back at Utah Motorsports Campus in 2020.
Below is a kart I'm interested in from a fellow AutoX driver. I know next to nothing about karting so I thought I'd turn to the experts. Is this a good kart / good purchase? I've included the URL and a screenshot below for reference.
I plan to delve into the world of karting and study up this winter to prep for next spring. Thank you all in advance, looking forward to being a part of the tribe!!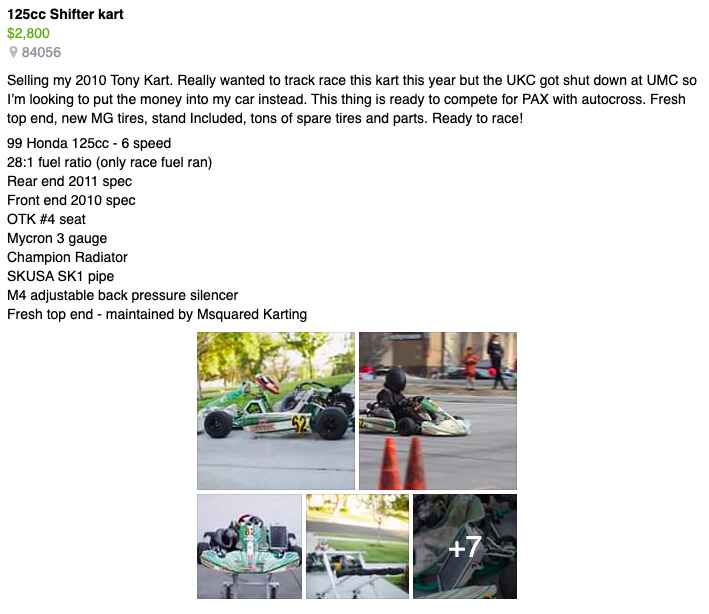 ---
Looking to AutoX, Test & Tune, and hopefully race if the Utah Karting Championship is reinstated at Utah Motorsports Campus in 2020.
Location: Utah
Age Bracket: Masters (30+). Have never raced karts though.
On a scale of 1-10, how would you rate your mechanical ability, or willingness to wrench on things?
3 Didn't grow up around wrenching and my ability and tool selection is limited. For big things I'd rather pay someone to do it right and in 1/4 the time it would take me. Looking to improve though.
Talk a little about your racing experience so far:
I've raced autocross for two years and have done fairly well. I consistently place Top 10 Pax.
What's the main thing you need help with to get you started?:
Info on all things karting which I plan to acquire from this site!