Some of you know that I'm an advocate for moving towards unleaded fuel for two stroke karting in the US. As much as I love the stuff, including the smell, It's hard to ignore the neurotoxicity of lead\TEL, especially when young developing brains are involved…
For those outside the USA, yes leaded fuel is still being used here. It of course allows for higher octane, but also the lead acts as a great dry lubricant for the internals of a two stroke.
Announced by SKUSA today. They are testing unleaded fuels for the X30. If one can overlook the fact that everywhere else in the world runs unleaded,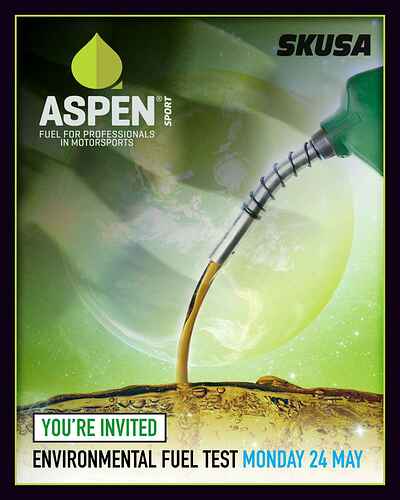 Attention
#racers
heading to the
#skusaprotour
— we would like to formally invite you to participate in an exclusive environmental fuel test being held
Monday May 24, 2021 from 7:00 AM to 12:00 PM
Location: @utahmotorsportscampus
On May 24th, we will have an independent test crew coming in to gather real data comparing leaded and unleaded fuel (VP MS98 Fuel and Aspen Sport 98 octane).
We will be providing 30 new X30 engines for this test in total, for each participating driver. Every motor will be inspected before the test. We will distribute all new motors in the morning to be mounted on the karts. We are requiring every participant that receives a new engine to bring a completely clean fuel tank to avoid cross-contamination.
We will provide both fuels being tested, the oil, and the new motor for each driver. The driver will be required to provide a clean kart/chassis, and a new unused or clean fuel tank, line, and pump. We will simulate a small race day. Any used or new tires are acceptable for the test.
In an ever-changing world to move to cleaner and greener methods, this will be the future of fuel worldwide – and this will be an exclusive opportunity to collect data before this new eco-friendly fuel is released. All participants will be sent home with fuel to test at their home track with their team as well as all exclusive data from the dyno and from the test day.
We will offer all the X30s (and kits) that were used in the test day to be able to be taken home for $1500. For drivers who don't want to keep the motor we will give them $200 for the few hours of their time they helped with this test.
To qualify to take home the motor for $1500, you have to be available from 7 am until 12 pm on Monday, follow the rules, and be able to mount the motor and fuel tank on the chassis yourself in the morning, with your own tools. (We are accepting all drivers 12 years and up.) We will have the garages open to work in for the test so teams can pack up their trailers after the race.