Hi there, this is Felix from Hong Kong. It's been two years since I raced a KZ (link to 2017 article).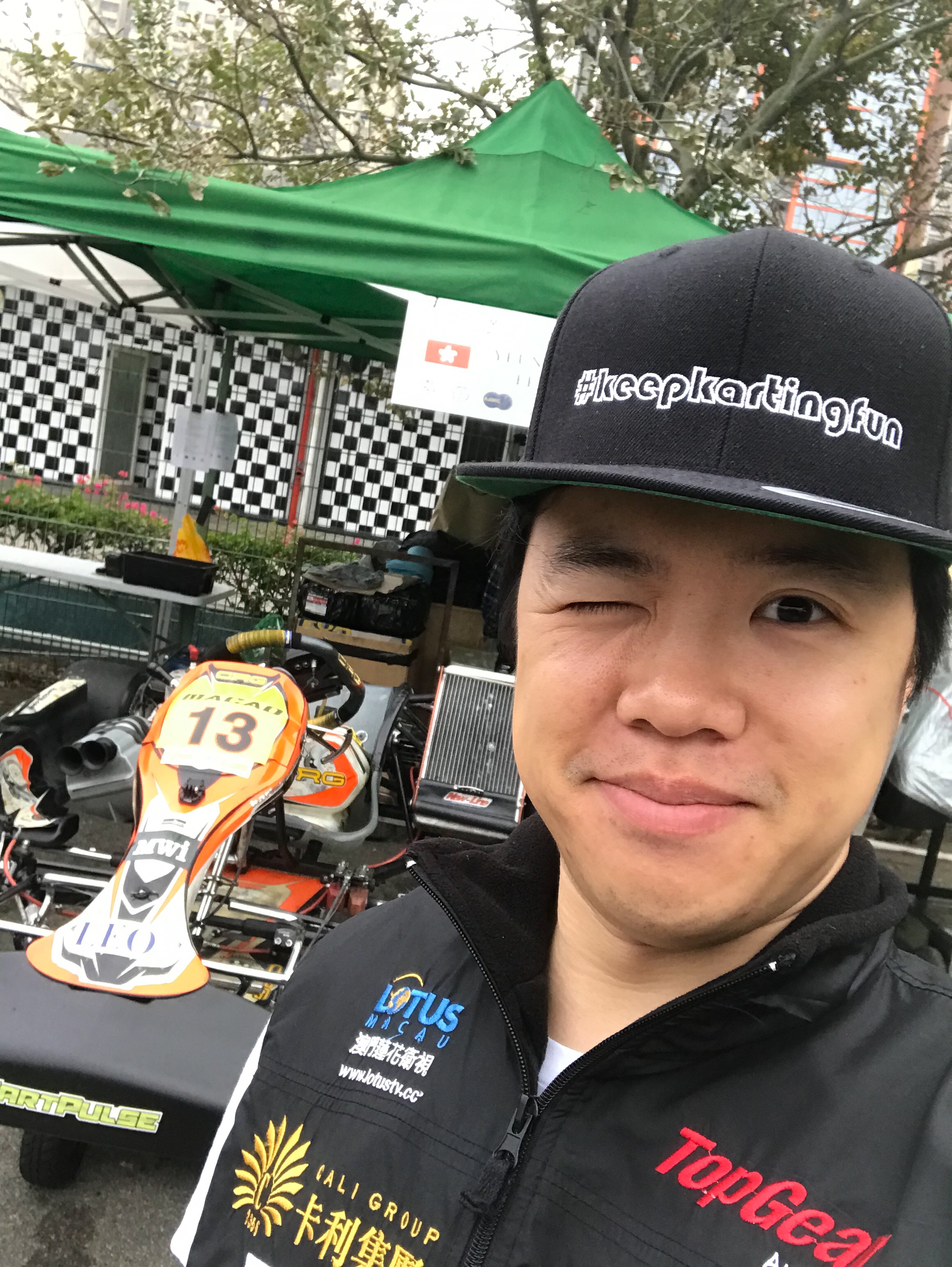 This past December I entered the Macao International Kart Grand Prix in the Macao KZ Cup, my second time. On the entry list, there were some big names and a 5-kart effort from the Tony Kart factory team together with two CRG factory drivers. The race had a total of 46 entries, which is very pleasant to see, given there were less and less people racing karts in the South China region in recent times. Drivers would be classified into two groups by a single qualifying session - top 28 goes to Macao Cup and the rest to the AAMC Cup. As an extra incentive, Macao Cup drivers get US$3500 subsidy and AAMC Cup drivers get MOP$5k. Entrants also get two hotel rooms for 5 nights and a shuttle bus service between the hotel and the circuit.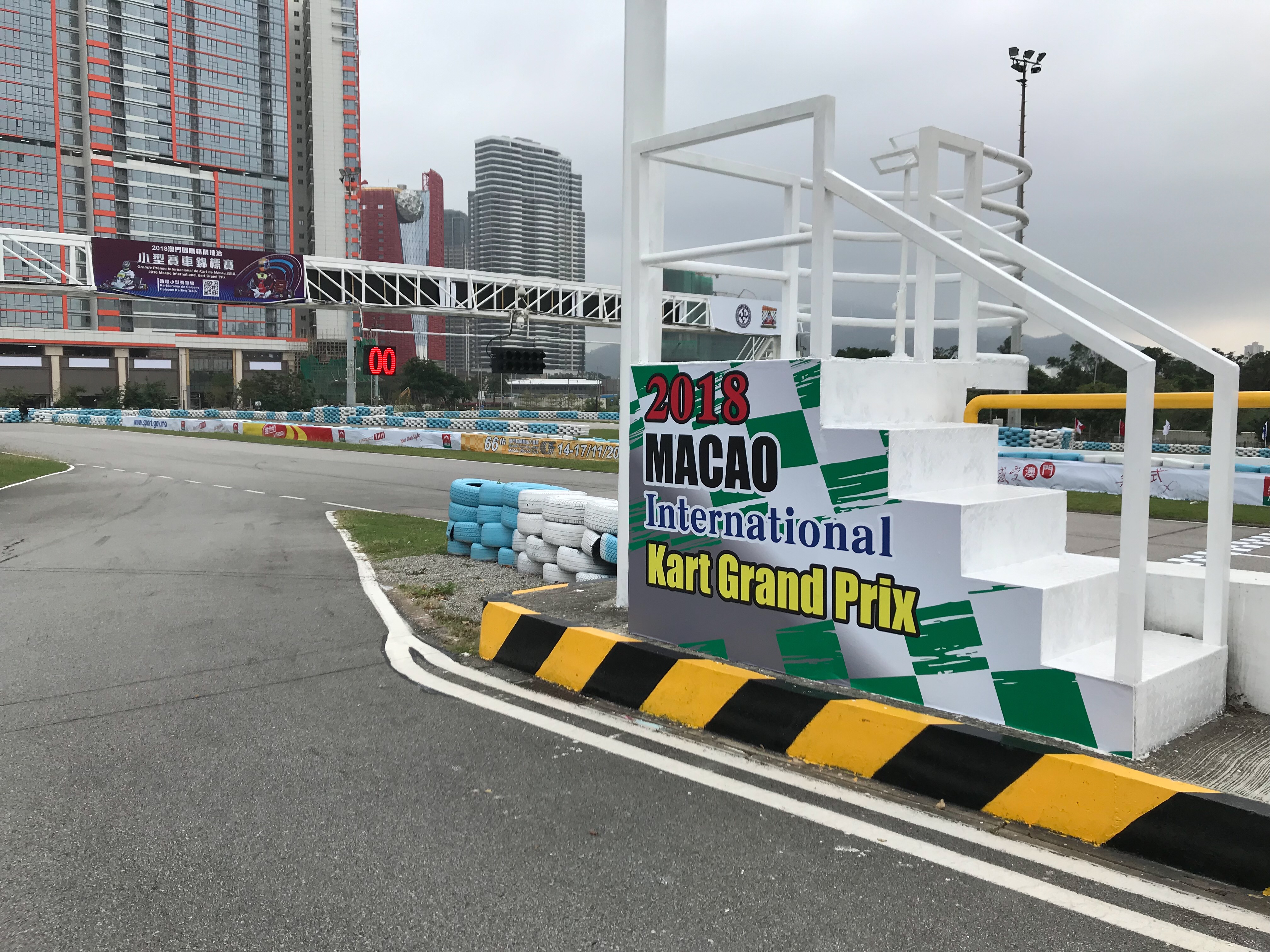 Always loved the graphics here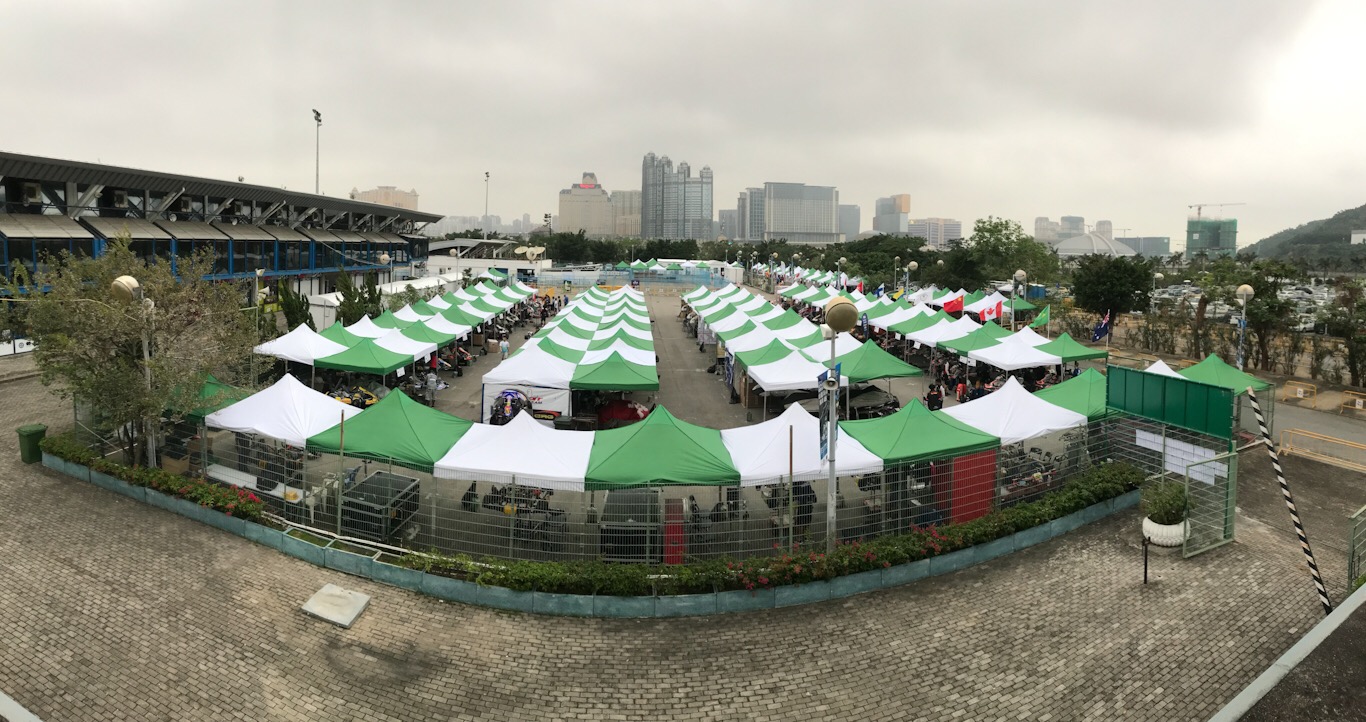 A full paddock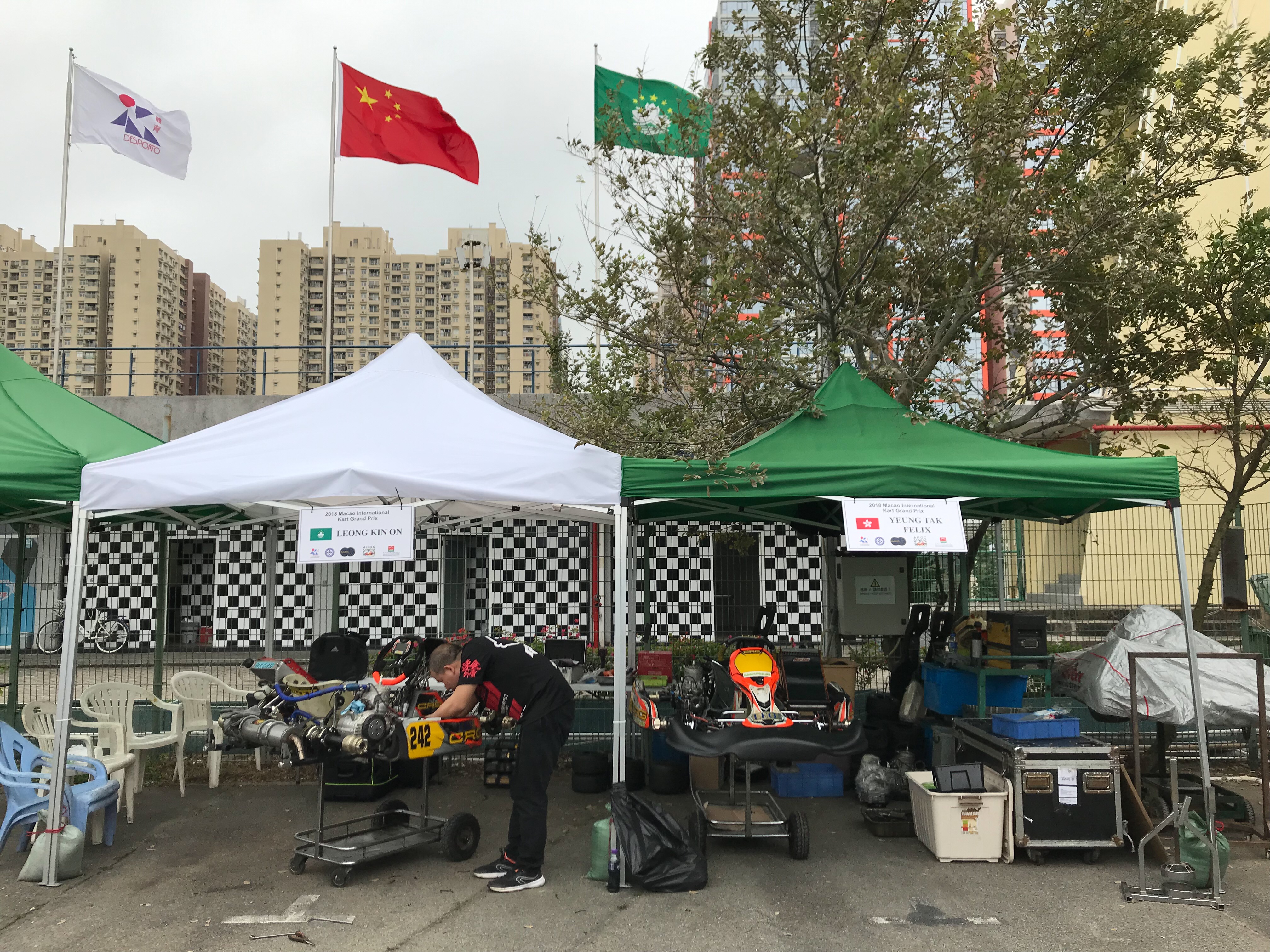 Our team RPM-LEO Karting fielding a two-kart entry with Macanese Driver Leong Kin On and myself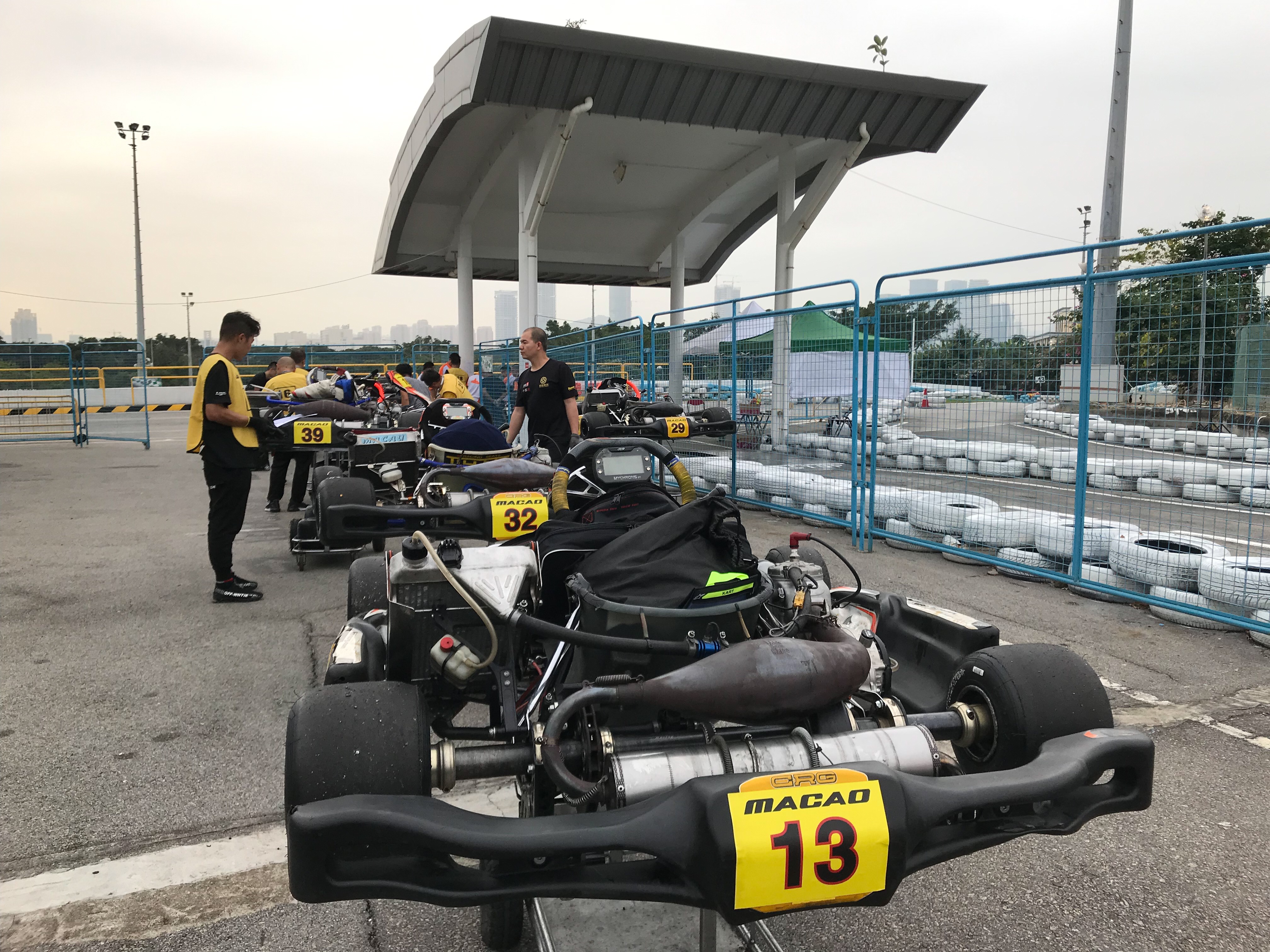 Lining up for scrutineering
Last year I had a big one when I lost my brakes during Sunday morning warm up and went into the tyre barrier at around 100kph. I took some time off, did an eKart test in France with Electric GT, and switched to a CRG chassis (2017 frame with old parts) for 3 local KZ races and a Chinese national X30 Round. We tried to do a KZ open round in Taiwan in September, shipped our equipment to Lihpao Racing Park near Taichung, to find the race cancelled because of Typhoons. That costed us HK$10k in shipment alone.
Race format is testing, scrutineering and drivers' briefing on Thursday, practice and qualifying on Friday morning, and if you get into the top 28, two heats (13 laps each) in the afternoon, one more heat on Saturday, and Pre-Final (18 laps) and Final (25 laps) on Sunday. Otherwise in the AAMC Cup, it is a simple weekend with Pre-final on Saturday and Final on Sunday with 15 laps each.
For tyres, in the Macao Cup, we had to use Bridgestone Prime dry tyres and Yokohama wets. In AAMC Cup the choice is tyre is open. As a interesting twist, we had an discussion during the drivers' briefing with the officials to decide on how many sets of tyres we could use during the weekend. Originally it was communicated as 5 sets of dry tyres in the regulations, 2.5 sets in an official email, but at the end we could use 3 sets.
For this race we had the chassis fully rebuilt, fitted new seat and front fairing, and rented a TM KZ10C. On Thursday testing the plan was to break-in the engine and fine tune with the setup. This was where the problems began, as I drive the kart would keep going, just like a jammed throttle. We played around with the wire, the pedal, pedal spring, carburettor, and so forth, and the issue would still pop up occasionally (we found out during the next weekend that when I move my right leg by the slightest amount to the right, like when you are relaxing your leg, I would be applying throttle. So it is not anything mechanical but a less than ideal seat I would say). But this had costed me too much time to go into setup details. I could finally do a normal lap on Friday morning but I was already lagging so much behind. At the end we didn't make it to the top 28 and had to content with competing in the AAMC Cup.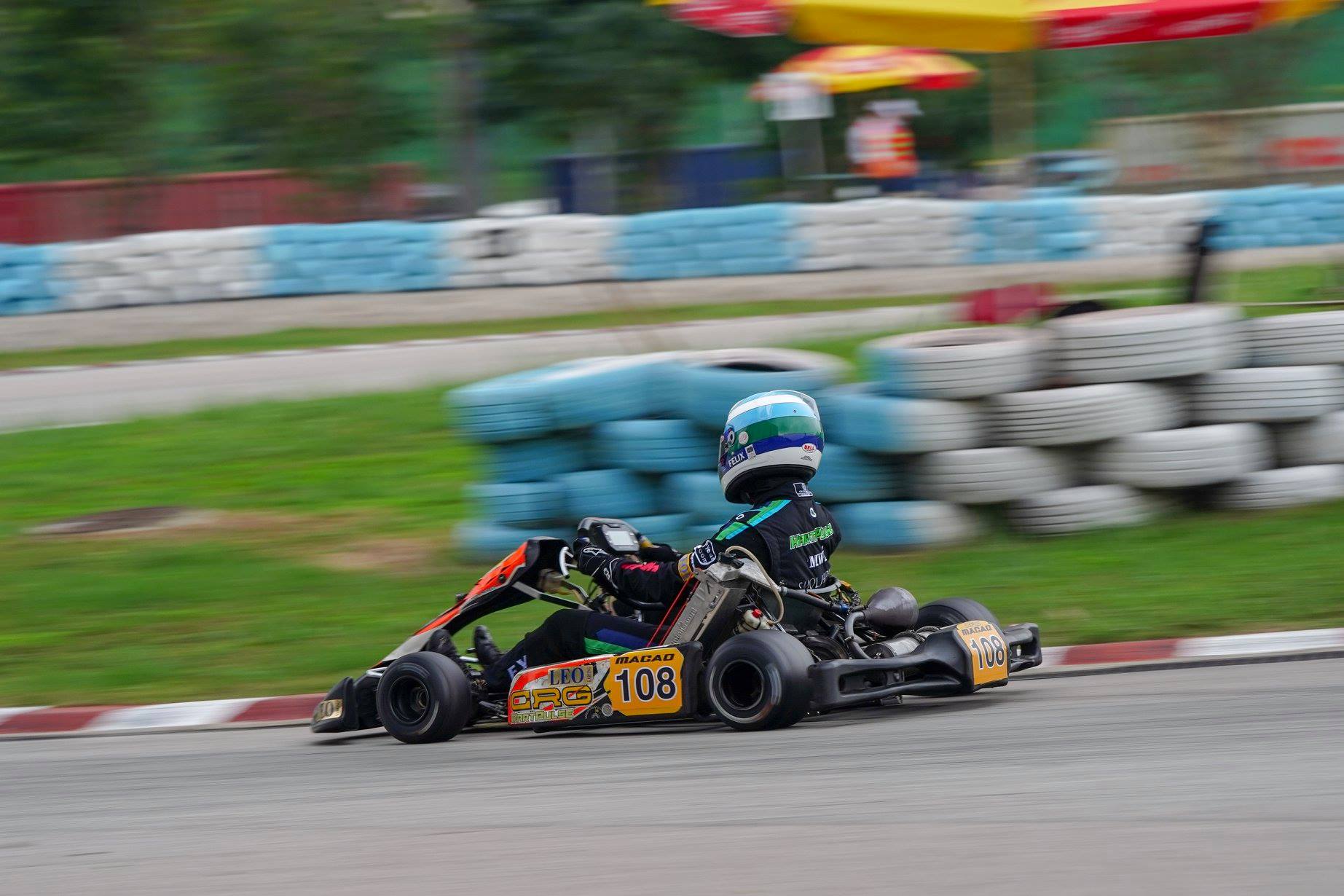 Rocking KP logos here!
On Saturday we only managed to qualify 11th, then being clumsy I stalled on the grid and had to take the P17 Spot. I did all I could to climb back up to P7 so I would have less trouble for Sunday.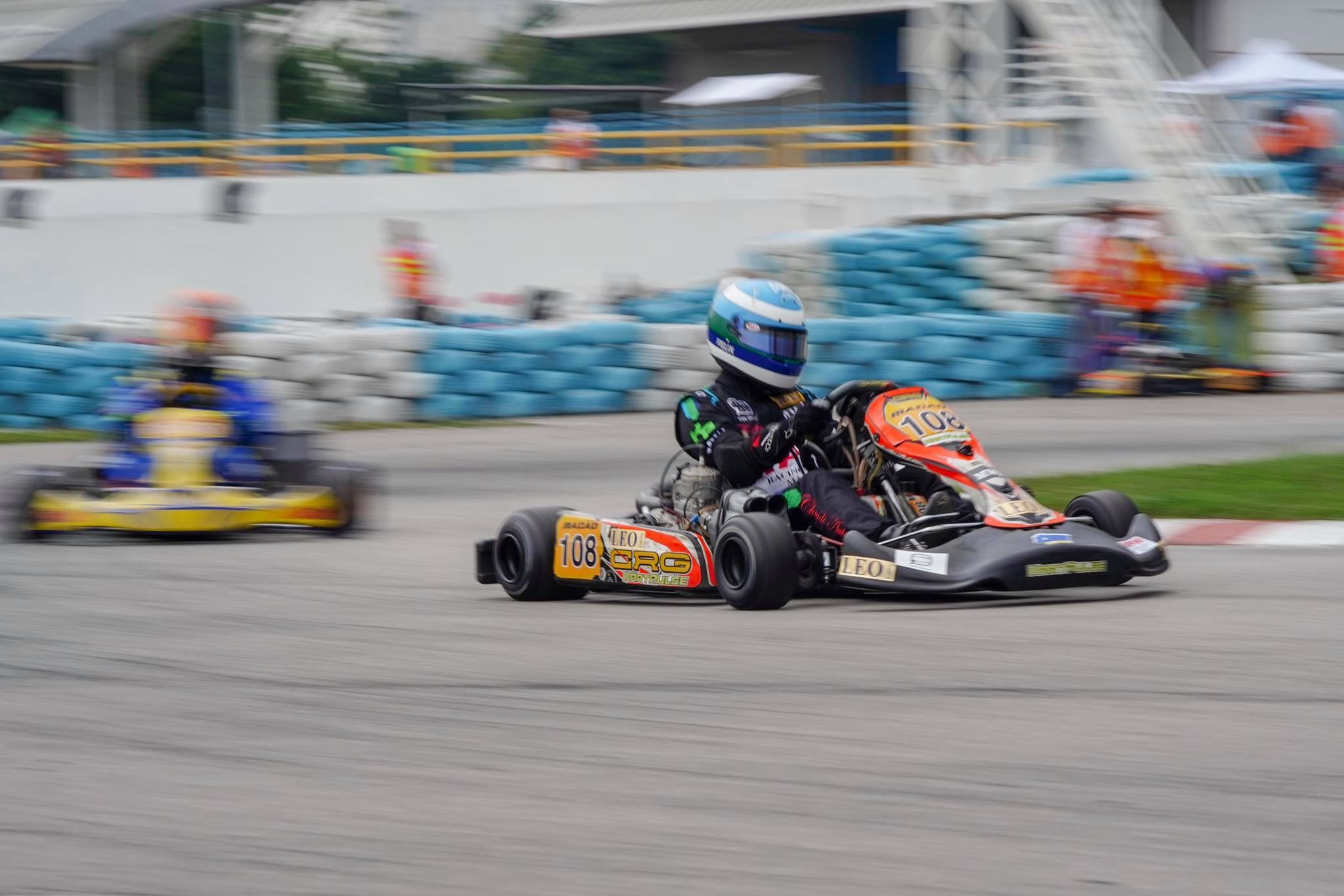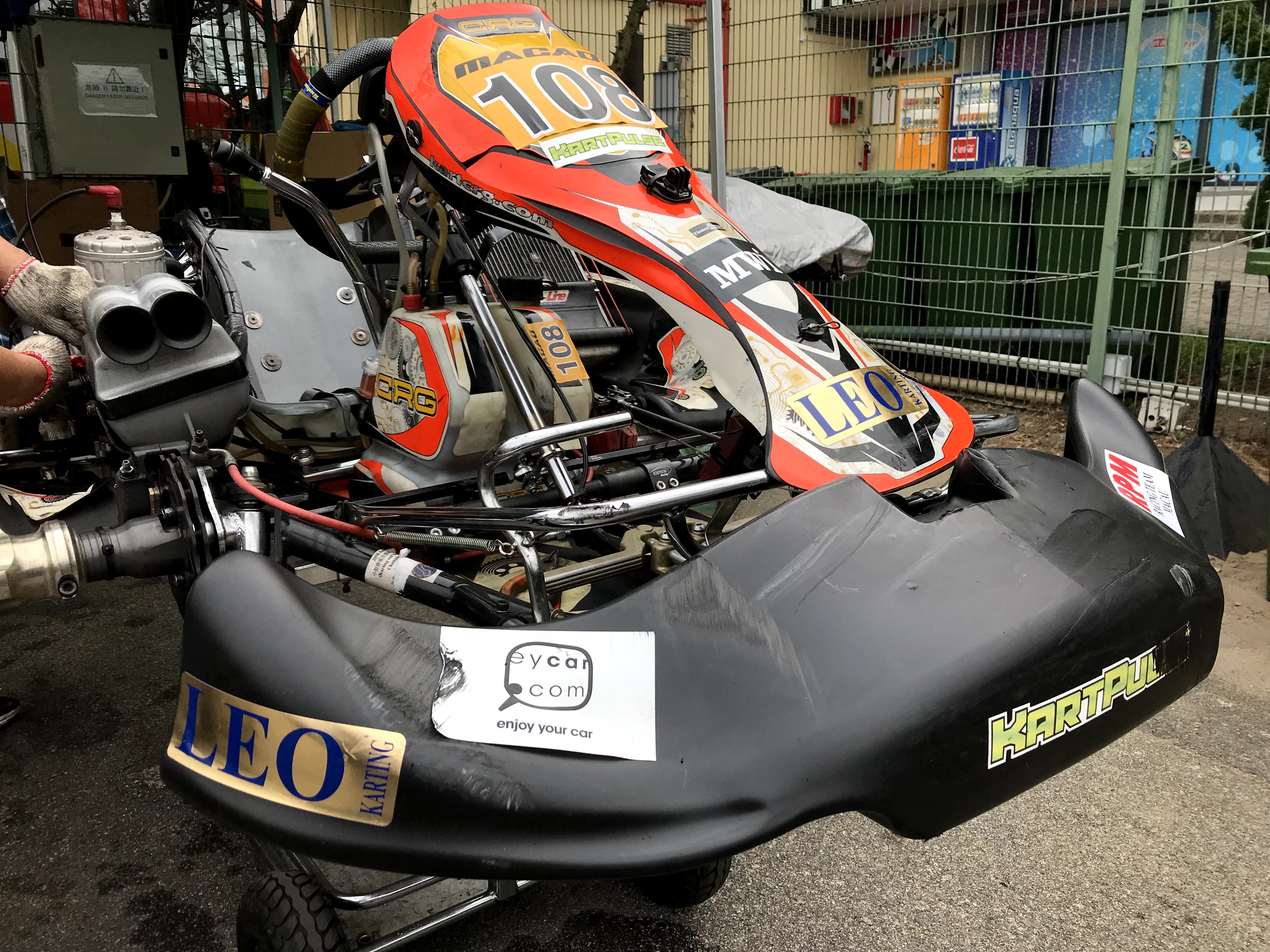 A bit of battle damage
The magic then came - it started to rain properly for the first time the entire weekend before the Final. This is a very good chance to attack and kart equaliser (most people would be racing a brand new chassis). We took it steady in the opening laps, got ourselves into the fight between P3-P5, we were on course for a P4 finish before my front right hub failed on the pre ultimate lap - the wheel came off with just a little more than a lap to go. While this was super unfortunate but somehow I felt relieved that the weekend has ended because I should have been gunning for the Macao Cup….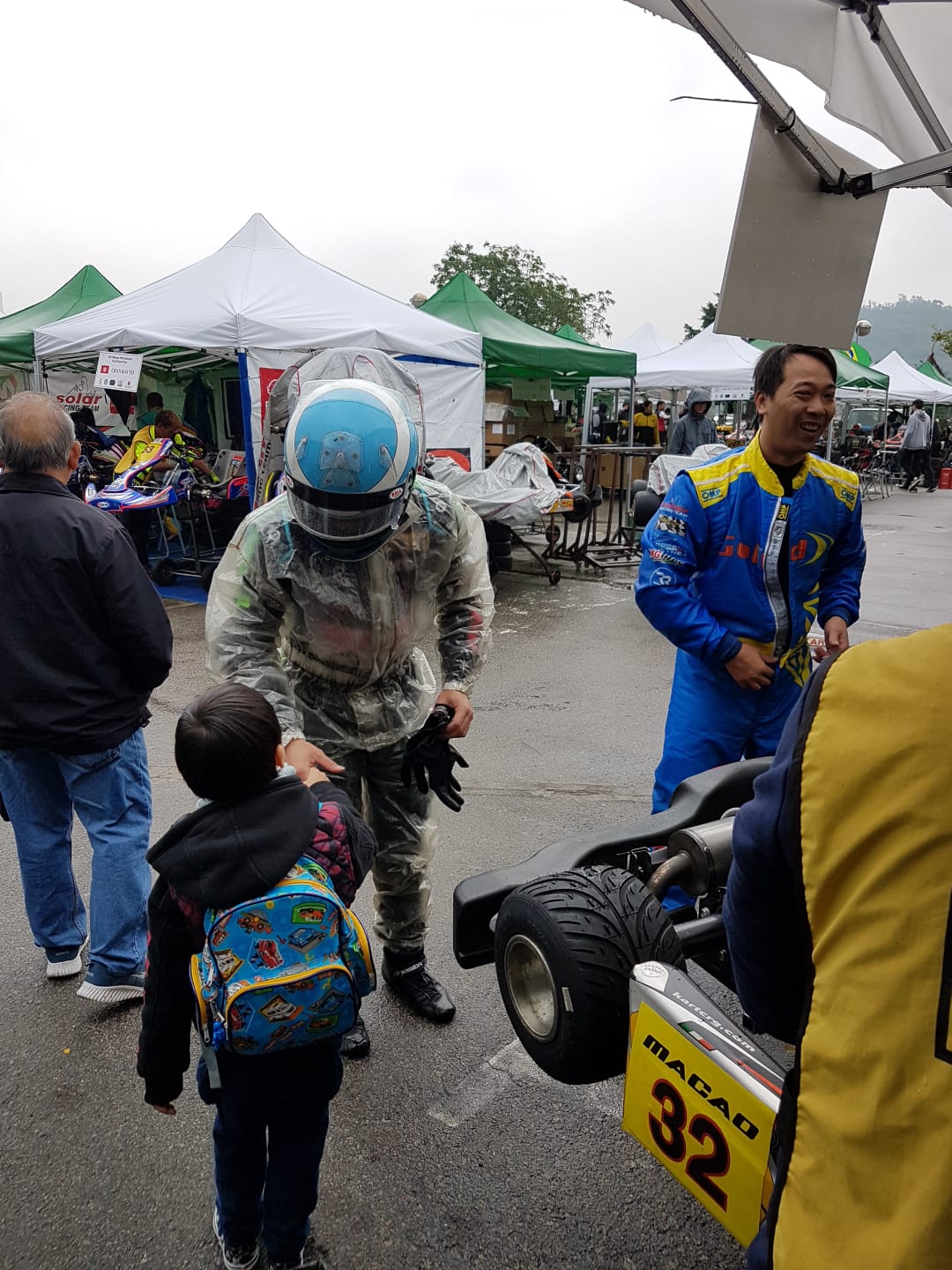 All geared up for a wet race and greeted by my nephew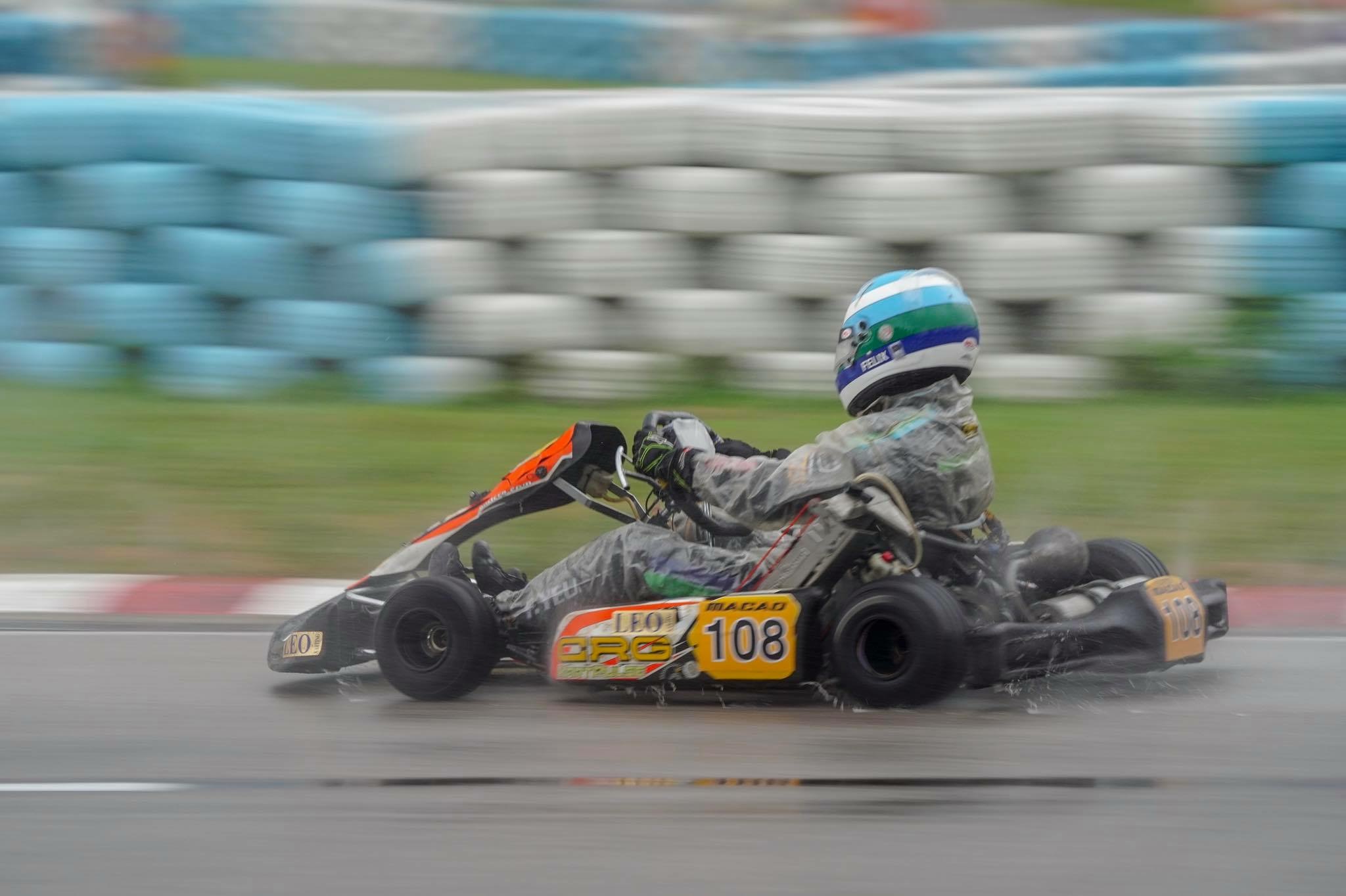 Feeling good in the rain

Making steady progress…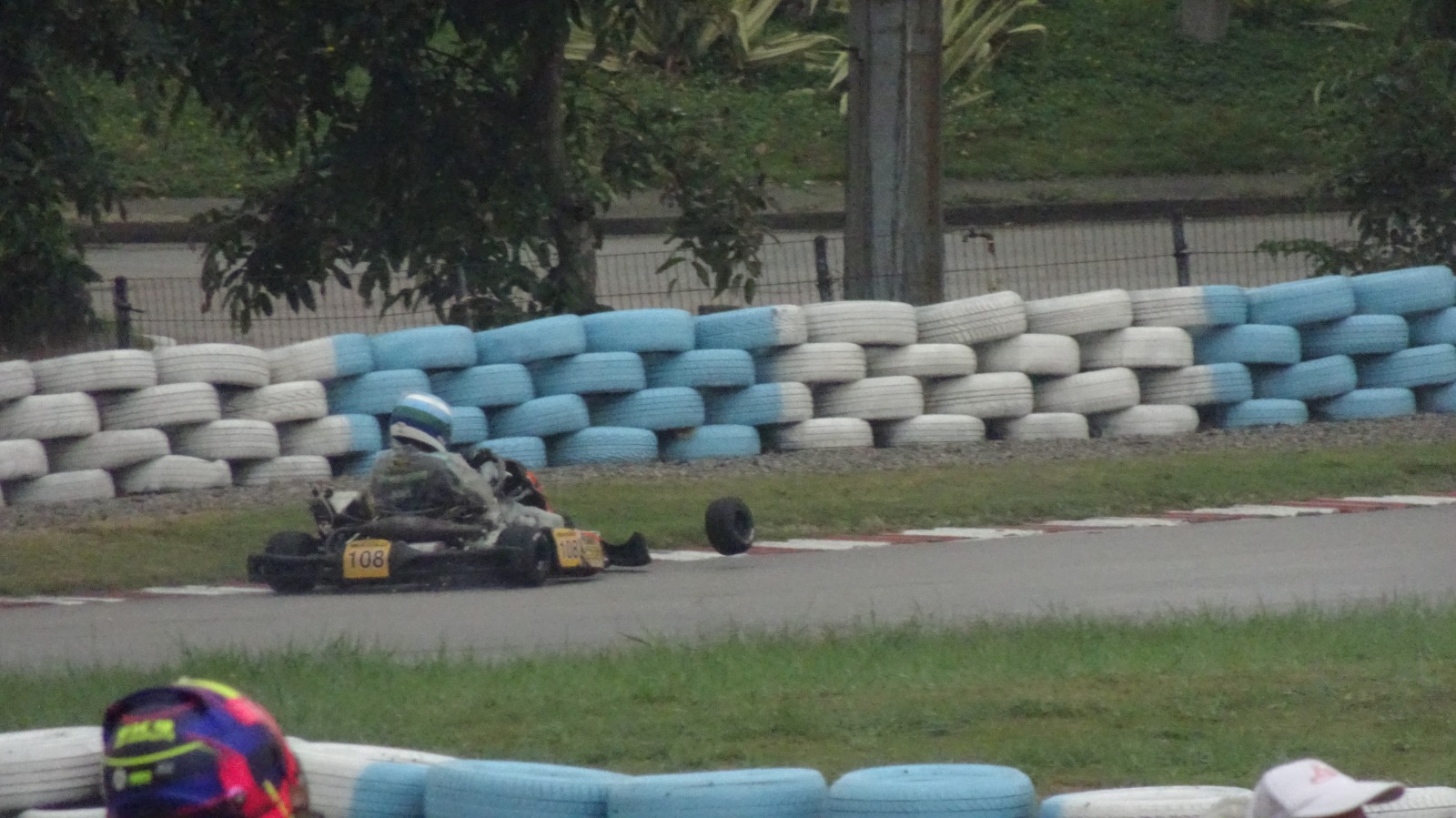 Here my front right hub failed and led to the wheel coming loose with a little more than a lap to go