I'm interested in competing in the south division. But the North division schedule is there as well.
Never heard of race select before. Interesting.
I believe it's exclusively 4 stroke.
Oh, I meant the website/platform that's linked, race select. I guess it's a new thing for race registration.
CKNA started out my direction in the Midwest as the 206 cup. Always been Briggs 4 stroke as you say.
Great group to run with. We've ran with them since the first ever event 7 years ago.
They started in Wisconsin and have continued to build and are now a Great Lakes area regional and added the Southern series.
Also added the Grand Nationals at NCMP and earlier this month the Spring Nats at Charlotte.
Nice to hear. This will be my first series I'm going to try running in.
Just checked the roster (which hasn't even closed yet) and the next south race in Jacksonville already has 28 people in my class, people are traveling from as far as Minnesota and Iowa to come compete in Florida. Dang- feel like a dead man walking, lol.
Not a dead man walking… think of what you will learn!
Sounds like some Snow Birds wanting to come join the fun. Don't sweat it. From what I read the Southern Chapter is still very new, so there are probably few veterans wanting to try some new tracks and soak up that Florida sun. Be thankful there will be a good turnout. Just means you have more to gain from observing others.
Did you expect to win your first time out?

I can believe it. Still getting a little snow up here in MN.
Define winning?
If you mean finishing a race without:
A. Wrecking into someone; or
B. Without breaking something
Then yes, I'm hoping to "win."

That would be a victory right there lol

The race you're going to be racing in sounds really fun, I'm planning on racing in a CKNA event someday too, sound really fun and competitive! And great learning experience
Running the next one at Monticello as well next weekend. Considering it's my home track and only an hour away, figured I had to run it.
But, I sent my engine off to TS Racing and I got new aero. So if I can't be fast, at least I can look fast!
Glutten for punishment I know . . .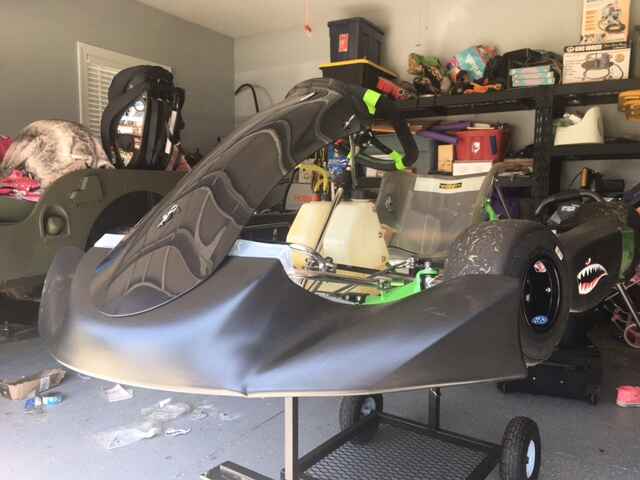 That's a sleek and sexy nosecone and faring. Want.