This week we are in Mooresville, North Carolina, for Round 2 of the 2022 United States Pro Kart Series at GoPro Motorplex!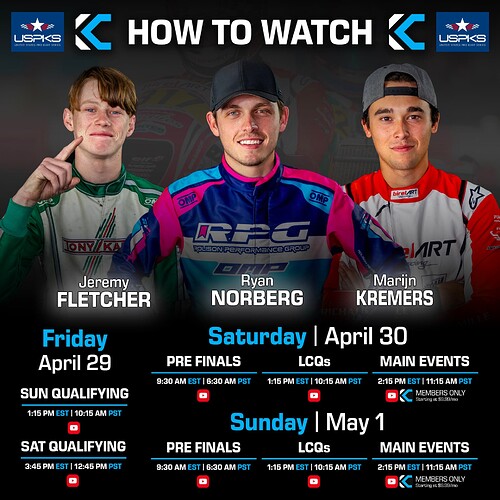 KC FANTASY LEAGUE ROUND 3
Form to Submit your Picks: https://forms.gle/vcpmVHubSCjsKDNd8
Fantasy Standings: https://docs.google.com/…/1BU…/edit…
ALL Qualifying, Heat Race, and LCQ Sessions will be FREE to watch on YouTube!

Main Events can be viewed EXCLUSIVELY through our $9.99/mo. Premium Membership on YouTube. Hit the 'Join' button on our channel to become a member!
SAVE the links below!

Friday | Qualifying: https://youtu.be/dmebgEzjlLA
Saturday | Pre Finals & LCQs: https://youtu.be/uGTvCOjdapg
Saturday | Main Events: https://youtu.be/KsTnHnmTa9Y
Sunday | Pre Finals & LCQs: https://youtu.be/1skv1wg-xxg
Sunday | Main Events: https://youtu.be/FDYVAaXZtck
FULL PLAYLIST: https://youtube.com/playlist…
Become a Premium Member: http://www.youtube.com/kartchaser/join