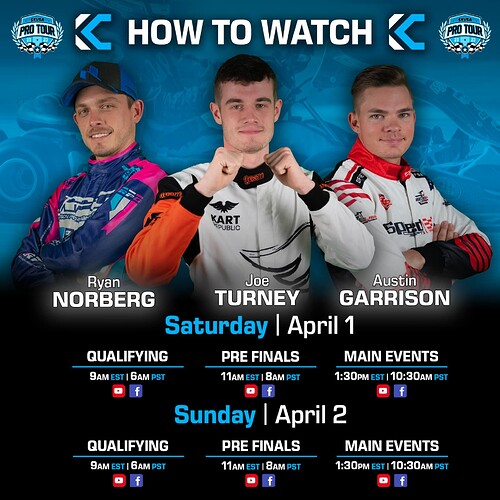 For the final week of #KCMarchMadness, it's time for the second Pro National of the Regular Season.
Welcome to the SuperKarts! USA WinterNationals at Orlando Kart Center!
SKUSA has stepped up in a big way for 2023, making ALL of their national events fully free-to-view!
Saturday | Round 1: https://www.youtube.com/live/zcn0PqD4gzQ?feature=share
Sunday | Round 2: https://www.youtube.com/live/Cw_p6wpKzE4?feature=share
FULL Playlist: https://youtube.com/playlist…
Enter into the KC Fantasy League at the link below. Entries close on Saturday at 9AM EST!
http://linktr.ee/kartchaser
KartPulse Notables:
ZCD vs Norberg rivalry has nitro fuel on it
Wick vs Carrara in Pro Shifter
Turney returns, along with International standouts Harley Keeble (GBR) and Jose Hernandez (MEX)
Italkart first national start of the season for Remo Ruscitti and Mario Gil in Pro Shifter after Top 10 results at SuperNats
Shifter has just about everyone: Musgrave // Formal // Myers // Kremers // Wick // Carrara / Ruscitti and more
Total entries somewhere around the 230 mark or so from what I can gather.