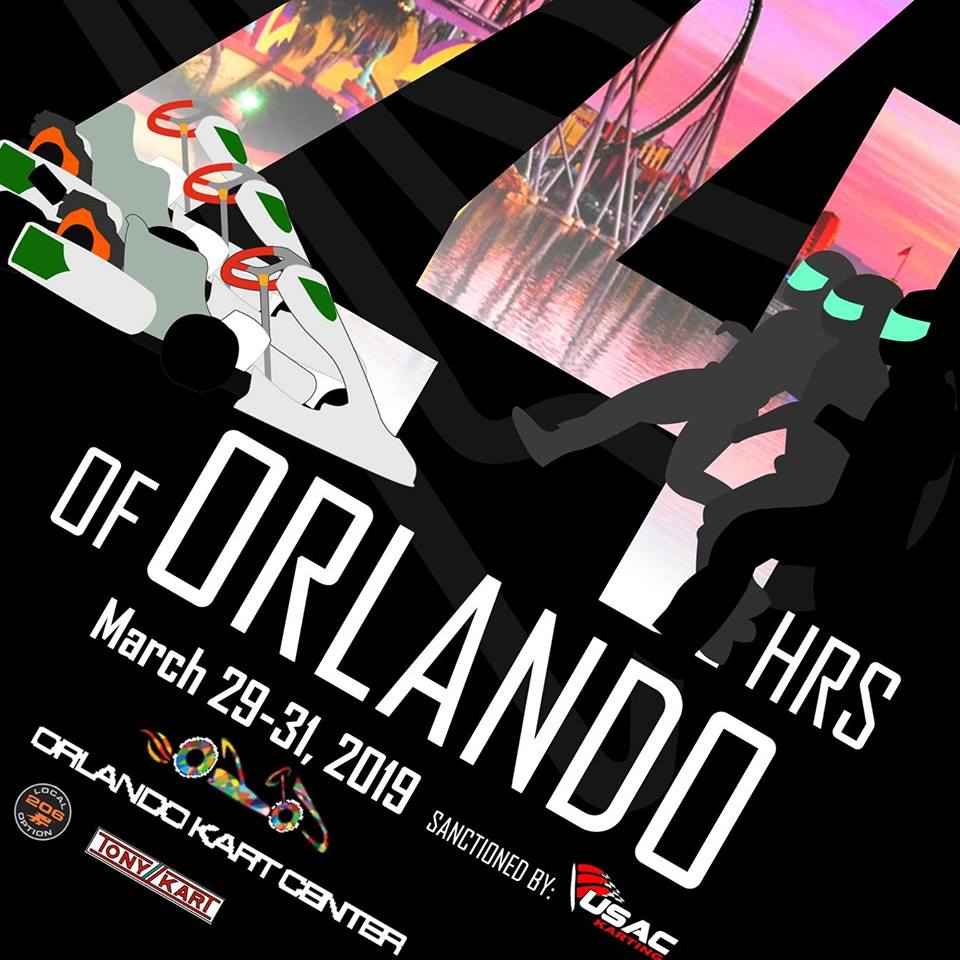 24 Hours of Orlando joins USAC Karting for 2019.
Orlando, FL
November 7, 2018
Endurance racing: The test of driver, machine, and time. In conjunction with PMG Promotions and Orlando Kart Center Center, USAC Karting is excited to announce the first 24 Hours of Orlando - March 29-31st, 2019.
This exciting and unique event will see teams of two to five drivers competing twice around the clock in Briggs & Stratton Racing 206 powered karts. All team entries will include fuel, tires, and a new Briggs and Stratton 206 engine that the teams will be allowed to take home at the end of the event. Teams will have two options for entering a kart: Teams may hire a new Tony Kart prepared by OTK with the option to purchase or teams may also enter their own chassis with all karts utilizing CIK styled bodywork.
"We are constantly looking at ideas for unique events for karting. During the planning for 2018, we began discussing with TJ (Halsema) what it would really take to run an endurance event with USAC Karting."
explains USAC Karting Director of Operations: Mike Burrell.
"A lot of our officiating crew has been involved with endurance racing and I've been fortunate enough to compete in the Granja 500 in Brazil. These longer events are unique in their own way and a great experience for the entire team as well as using different strategies that are not typically used in karting. All of us at USAC are excited to work with TJ, Andre (Martins), and his staff at OKC. We've been looking at adding more events and this definitely fits into our program of having an event that is more than just a race."
The event schedule will be simple and condensed in trying to cut down on unnecessary travel time for the teams that are competing in the 24 Hours of Orlando. Teams will not be allowed to start setting up their garages until 3pm on Friday afternoon as there will be no track time on Friday. Saturday will see a flurry of activity as there will be a two hour open practice, followed by a twenty minute qualifying session leading up to the start of pre-race opening ceremonies. The 24 Hours of Orlando will start at 3pm with a traditional Le Mans styled standing start.
"This is an exciting endeavor for all of us at Orlando Kart Center. Having been a part of the Granja 500 in the past this is a great way to showcase endurance kart racing in the United States." exclaimed Andre Martins of Orlando Kart Center. "We're looking forward to working together with TJ, and USAC Karting's staff."
The teams will be split into two classes: Pro and Masters. Both classes will have the same weight and driving time rules. Masters must have a team whose average age is over 40 years of age. Drivers can compete in both classes but must be registered to the kart prior to the start of the event. All teams will be made up of 2-5 drivers with a maximum delta of 2 hours of driving time between the most and least driven on your team. All normal pit stops will feature a cold pit lane and have a 4 minute minimum time limit from the time that the kart enters the pits to the time that driver restarts and leaves pit exit. The teams will be allowed to do a full service pit stop including tires, maintenance, weights, and driver changes. All refueling will be handled by OKC to minimize the risk incidents. In monitoring all on-track and pit lane timing and scoring will be led by TJ Halsema of MYLAPS and the event will be utilizing the X2 Driver ID system to track the current driver along with drive times.
"I've spoken with Andre in the past and he's consistently shared a desire to have a 24 hour at his track. While talking with the guys at USAC it clicked, and we set up the partnership between USAC, Orlando, and Tony Kart." explains event creator, TJ Halsema. "From my role within MYLAPS Speedhive it gives us an amazing opportunity to live demo a cool piece of new tech for endurance racing. The Driver ID will allow us to track drive times, who is in the kart, and most importantly monitor erratic driver. Plus it means the friends at home can actually tell you are driving. Depending on how the first 24hr is received Andre is ready to rock with Granja bodies for a 2020 running."
Online registration is now open with Track Rabbit at https://orlando24.trackrabbit.com. Entries can be reserved with a $600 deposit but must be paid in full by February 15. The Tony Kart hire must be ordered by January 31st , after that date only teams bringing entering their own kart will be allowed to enter. There is a $300 discount for teams entering by November 20. Teams must have their driver roster and sponsors submitted by February 5th to be included on the broadcast, mobile app, and pit boards. The full event rules are planned to be announced soon!
Look for more details on this event as we get closer to the first annual 24 Hours of Orlando.
For more information and news make sure to follow www.USACkarting.com and be sure to keep up with us on social media.
Questions, dealer, and vendor information: [email protected]