I need some guidance here…LO206 red slide B&S Cadet. The standard around here is a Flame clutch run sprocket outboard on Intrepid Cubs, Tonys and Birelarts. Weight is 230 lbs.
Our Mychron 4 shows max rpms which I use the gearing to dial in for the particular track, weather, tires, etc usually around 6050. I have my min RPMs on hot laps are ~3500-3900. I was told to tune the clutch to get the minimum RPMs into the peak torque curve which on a red slide is ~2800.
I was also told to go from black springs to black/white and then to all whites. Today I went to white/yellow and finally to all yellows and still my min RPMs are ~3500-3900. Leading feet.
I also have a new Fire clutch so have switched those springs back and forth with the Flame and find no difference. Both the Fire and the Flame with yellow springs show a min RPM in the high 3000's, even though the Hilliard site has the engagement speed at 2200 (noted this is the engagement not the lockup speed.)
Am I off track, or is there something else going on? Should I be trying orange springs, or weights in the clutch feet? Am I right to be targeting a much lower min RPM as a gauge for where the clutch engages off starts? My son consistently has slower starts off the rolling start, but I suspect a mechanical shortcoming in this situation here as he is a consistent high finisher by the last lap.
Hilliard Clutch Engagement Speed Chart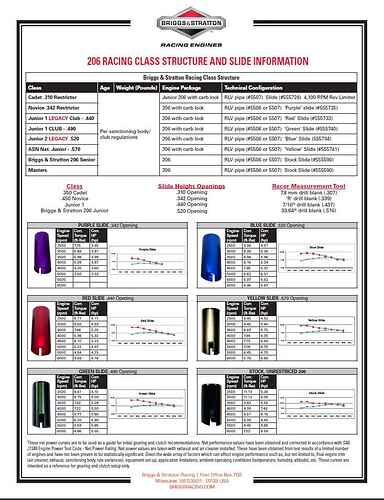 Can you help guide me towards the right cluch engagement strategy and if my 3500 - 3900 really needs to get down to a 2800 min RPM?
Thanks!