So I'm going to take a gamble and say that this is the most helpful video for new people getting into the sport of karting in 2020. (I can see @Alan_Dove crying when he sees this.)
Obviously, some of his guidance is going to be UK based, because that's where he's from, but the general advice is pretty sound.
Don't buy the first kart you see
Find your local track and where to race
Don't skimp on safety.
You can spend what you want to have fun.
Also, the forums got a shout-out, so I'm loving that. I did a similar article about getting started for newcomers for Build/Race/Party like five years ago, so I'm going to link that here.
http://buildraceparty.com/five-easy-steps-to-get-started-in-karting-theartofkart/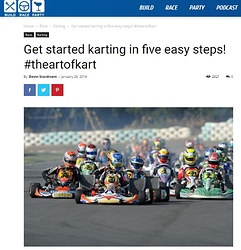 What else do you think people need to know?
Who else is going to make a practical video to help newcomers?
(Link other videos that you know about, and let's see if we can get a thread going.)