Hi,
I have questions about Birel ART and the set up.
They recommend in high grip condition to put short F axle (1000 mm) and widen rear (1400 mm) = softer axle (?)
But i think i have to put stiff axle in high grip condition.
In low grip condition they recommend to put B axle = soft axle
So in two opposite conditions they say to install soft axle ? I don't understand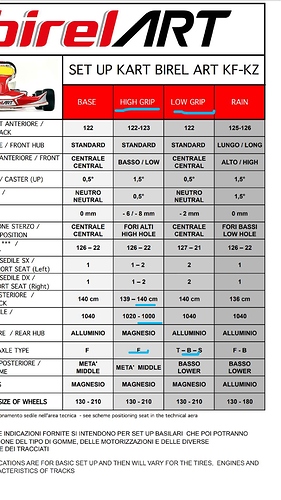 Other questions :
Do i have to make my frame stiffer (tight rear bumper …) in high grip condition and softer in low grip ?

Soft seat or stiff seat ? In high or low grip

what about seat struts ? Do i have to put seat struts in low grip (2+2) and remove them (1+1) when track goes grippy ?
Thanks for your help
Simon