There have already been a number of really great in-depth discussions on this site over the years as to the conduct of the FIA/CIK with its F1 focus, most particularly karting being used as a pathway to F1 and its detrimental impact on the sport we are all so passionate about.
So, I don't necessarily want to go over old ground, but I still think a further contest of ideas is warranted given the undeniable and remarkable success of Drive to Survive.
As the CEO of the 2022 Australian Grand Prix is reported to have said back in April, "ticket purchasing used to be 75 per cent male to 25 per cent female. Purchasing for this year was 60-40, so there is a huge increase in female purchasing."
Moreover, I couldn't even buy a ground pass on the Saturday or Sunday, which is just unheard of unless you go back to the likes of 1996 when the Australian Grand Prix first moved from Adelaide to Melbourne (there's a reason why I mention the move, which I'll get to later).
Yet, while I was on the outside trying to get in, sprint karts were on the F1 circuit undertaking a demonstration run (no, they weren't racing and it was more show than go, but at least it was something and obviously executed with the full support of the event organisers).
Of course the post Covid opening-up has had its impact, but this shift in demand and interest from multiple new audiences is undeniable. If I'm being brutally honest, two of my kids not to mention the wife had less than zero interest in motorsports (other than being nice to me) until Drive to Survive came along. This has since fundamentally changed in our family dynamic. The third child had previously seen the light and will race with me next year (post school).
So, how can we as a karting community (and I include both sprint and road racing in this characterisation) take advantage of this interest and growing audience/fan base (physically on track and TV) to grow our sport?
Yes, I fully recognise we have issues on the supply (support/access) side. But, for the moment, I want to focus on the demand side. Ordinarily the market will respond to a demand shift (albeit I accept that some considered help may be required to systemically boost the supply side, but a discussion for another day).
So, with the F1 growth reality before us, the question I pose is whether we can achieve a win win symbiotic relationship between karting and F1 rather than just reacting to the arguable pathway threats etc? Can we have both a pathway to F1 (the FIA/CIK approach) as well as karting being seen as a desirable endgame?
I think we can and want to put up an idea for discussion, but drawn from an earlier period and lived experience by others.
By way of background, at a personal level, I race a stock KZ CIK chassis running a 125cc engine on long/road circuits in Australia - specifically a Stock Honda but with some superkart bits added like a nose cone and rain light etc. I'm 57 and only started karting at 51. While a late starter, I am however a very big supporter of inclusive grassroots motorsports given its positive impact on local communities and their economies, particularly through our regional cities. As is obvious to many, karting is central to that endeavour.
A photo below of me racing at Phillip Island through T1 at about 180 km/h (112 mph).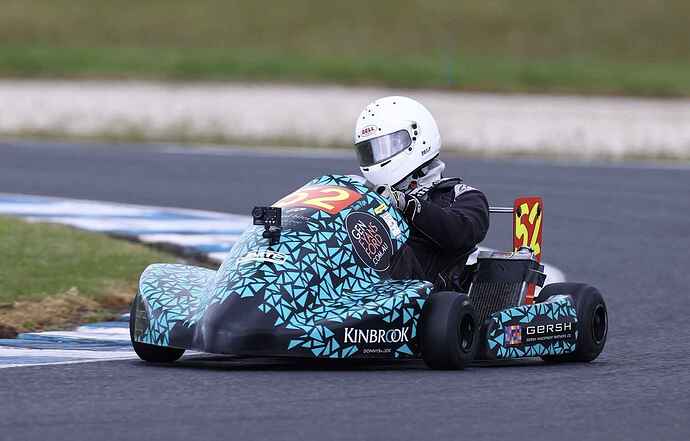 Given in my view karting is the entry to what I see as formula style racing, and, as you guys all know, inclusive and relatively accessible to all (younger or older, male or female), I want to get "karting" back on as a pre-event to F1 events, certainly in Australia, but the big picture is to see it taken up at many/all F1 events. I think such an endeavour would make great race audience and sellable TV product (with proper/professional drivers as well as trained influencers, most particularly the inclusion of females in both categories), with the subsequent cash support to fund prize purses/events/a professional global circuit etc, while providing massive promotional reach for karting (whether long circuit or sprint) for individuals, engine builders and chassis makers.
You may be aware that karts (or more specifically superkarts) were on the Australian F1 pre-event schedule up until 1995. It's not like this hasn't been done before. Unfortunately, the move from Adelaide to Melbourne in 1996 killed it. A video link provided below if you haven't otherwise seen it (and there's more on YouTube).
https://www.youtube.com/watch?v=JcLX-EUcz5k&t=97s
While the video is 30 years old, some of the drivers are still actively involved in karting here. Indeed, one of the drivers built and maintains my Stock Honda.
Now, I'm not for a moment suggesting this is the best cinematography and the greatest presentation of karting, but it was from 30 years ago. Just imagine what we could do today.
Yes, I know F2 and F3 are now doing their thing alongside the F1 main game, but all of that is obviously out of reach for the everyday aspirational driver. Karting (sprint and/or long circuit), is not. Just like Drive to Survive has given F1 a personal insight (with massive audience uptake and interest), so could this endeavour but for karting, and thus accessible and inclusive motorsports.
This may be unfair, but I struggle with interest in F2 and F3 – for me there is no personality. But karting on this stage with the right breadth and mix of professional racers and trained influencers/past racers (who would not kill themselves with this type of vehicle - I'll get to the proposed configuration later), with professionally prepared distribution content, would be something very different. The content for distribution (TV/steaming etc.) could well include the training and qualification journey for influencers – which itself would be of interest to a wide and growing audience in motorsports following the Drive to Survive success story and the enormity of the F1 event product.
I'm not proposing that we would return to traditional 250cc superkarts. Rather, what I'm proposing is a blend – stock 125 cc gearbox and a KZ chassis but some superkart bits added (like a nose cone, superkart seat and rear rain light); otherwise no aero and completely stock (chassis and engine homologation). This would allow the widest market reach to attract participants, engine builders and chassis makers, makes the whole story accessible and sellable to any aspirational driver, and allows influencers, including females, to run with appropriate training without being overwhelmed. It also allows all the key kart manufacturers to strut their stuff.
My fellow local karting colleagues (some of whom actually raced in the Australian F1 karting pre-event back in the late 80s to mid 90s) say that our glory days of superkarting were when we were on TV in Adelaide. When the move took place in 1996 to Melbourne, and we got cut, it hurt us badly and we've never fully recovered. But this does mean that there was a TV audience out there with follow-up sport participation. It also suggests that if we could get karting back on the F1 event schedule (but in a less demanding "hybrid" form), with widespread TV support and professionally prepared content production for later distribution, it really could make a difference to grow our sport - whether sprint or road racing.
So, can you see merit in this idea? It's been done before, it's not like it's new territory. Or do you have other ideas?
Tom