Road Trip to GoPro Motorplex in Mooresville, NC.
Some photos from our day at gopro and a brief review:

Nick and I hoofed it down to gopro to spend a couple days chasing our tails. Couldn't have picked a better track. We came down to ride their rentals which are rather nice CRG jobbies:
The karts that we drove appears to have pretty good parity and the brakes were excellent. Really good brakes is a rarity on rentals. You could ride in draft with brakes like this, which was good fun.
The track itself is fascinating. It's a very clever design that fits a long lap into relatively limited space as it wraps in on itself. You begin by having a high speed first sector that then feeds you into 2 concentric circles of technical turns.
Nick and I named the turns as we saw them:
1: One
2. Chicane
3. Whee!
4. Big Happy
5: Other Chicane
6-7: Look Ahead
8: SlowPoke
9: Misery Loves Company
10: Um, Ok.
11: Macaroni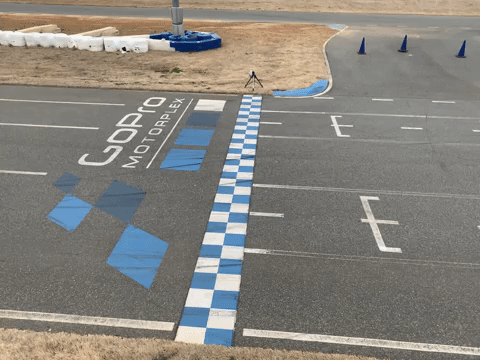 The track has subtle angle/elevation changes that matter. Turn 8, for example, has a downhill braking zone but a slightly uphill exit. In the technical part of the track, managing your entry is really important. Too much and you are wide and on the "gators teeth" (rumble strips) that slow you down and make the kart want to rotate inconveniently.
I was fortunate to have a faster guy there around my age who was approx my pace. His line was very good and I learned much from following him. Thank you kind sir!
Nick really enjoyed it as well. I suspect we will be back.
More tomorrow. Here is a lap: