Not happy. Nothing much too add or take away. Best time 51.052 (L10), worst time 52.762 (L9).
Not usually trying to find excuses, but it is truth this was the first time driving during the night. I was also laying in bed entire last week, I was sick. First real thing besides 30min walk was this session so that probably did not help either.
On a positive note, I was very surprised about the track condition at night and found many fast drivers in the sessions before and after mine but no one raced with me, I was alone. It was so sticky and the kart loved it.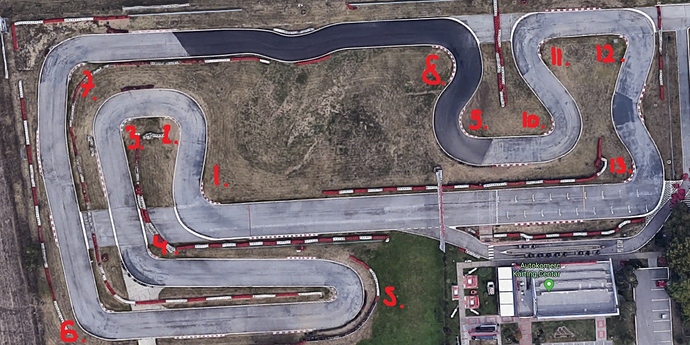 I felt pretty lost in the first three corners, I was driving the sequence differently almost all the time, different braking points, different lines. I couldn´t get used to one line, not sure why. If you could help me with the line here and some braking points, that would be great. Just an idea or two would clear my mind of stupid things like braking in the middle of corner and going too wide on the exit. Don´t know why I tried this to be honest.
Hairpin was great, your advices helped a lot and I got a pretty good line most of the time, thank you.
Here is the main problem. Section of turns from T8 to finish line.
This section was terrible. Turn 8 was okay on the first glance but on the 9 I was carrying to much speed and I either broke before or just bumped right at the apex which costed me time either way. Where things got really messy is turn 10. I still had too much speed so brake was needed once again. The kart was pretty unstable and understeered even with the slight brake pressure applied. I really felt like losing time.
I was watching a faster guy, session before me and he was so smooth all the way around the track, incredibly constant.
Turns 11,12 and 13 were almost perfect and as track was in very good condition, there was no tyre screaming and I had a very good exit to the straight, very nice improvement. What I am not sure is, is that good line through last 3 corners produced by braking on T10? Or is it just me getting it right this time and not making the same mistakes? What do you think?
I know I am boring and I am really sorry about all the posts about things not related to the topic tittle but I am just trying to figure these karts out and stop struggling on such simple things. Again, I am not expecting you to solve the mystery of my bad driving, but just give me some thoughts
Still working on that GoPro, will probably buy some 4k camera soon