Sorry ahead of time for the wall of text, but trying to give as much info as I can. I've been struggling this year with my kart wanting to oversteer after turn in and during the entry to middle phase of the corner. I seem to get into this cycle where I try to make adjustments and think I have a path to success, but ultimately still end up with the issue. Then I think it's just my driving and I try to focus on that instead, but ultimately come back to thinking the kart should behave differently. So I could use your expert advice.
I've tried to capture some instances of the behavior in these clips. Earlier in the season (gopro in the clips) I was waiting for the oversteer to settle before getting back to the gas which then always made me late to the throttle compared to my competition it seemed. More recently I've tried to get to the throttle earlier thinking it would set down the inside rear and settle the kart, but sometimes I think I'm causing the rear to set down too fast and causing the slide that way.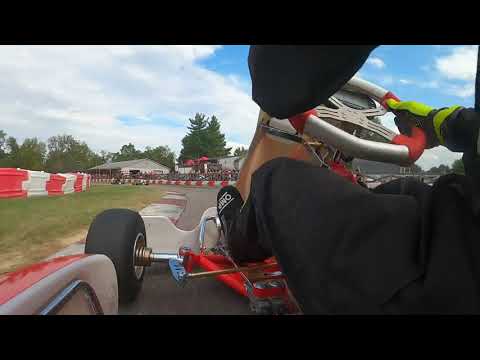 I am 5'11" and 188lbs which I guess is on the bigger side for a karter, but not as tall as many I see at the track. I'm running a 2021 Redspeed with an OTK seat set at 630/635mm (in-between the 180/190 recommended setup) height is even or a hair below the frame rails because if I try to run it lower at the tracks I normally run it'll rip the bottom out.
I've tried adjusting with different front torsion bars, rear width, rear axle length (cut N vs standard N), front width, caster, and seat stays in various configurations. I find the problem typically more noticeable on colder tires or lower grip. It was harder for me to control with stiffer front bars so I went back to the flat bar in the front to slow down the transitions. Taking the rear width from 1395mm to 1385mm helped, but also seemed to bind the kart up a bit.
I've found myself trying to add grip via jacking (caster, stiffer front bar), but it seems that when the tires are up to temp and/or the track is gripped up that I then get an issue that I'd call oscillation from mid-corner to exit that you can hear here which I take to be the kart too bound up and on the verge of hopping. Am I correct there?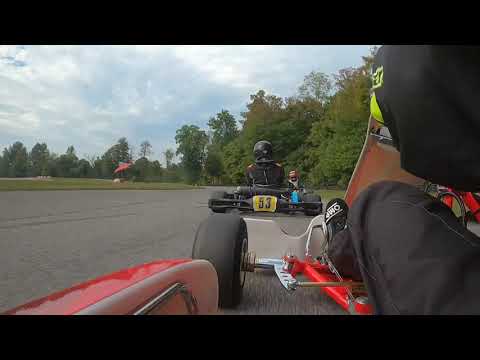 My most recent race I ran 3 setup changes between qualifying, pre-final, and final:
-Qualifying: Flat front bar, 2 small spacers up front, extra seat stay on the non-engine side, stiffer adjustable seat stay on the motor side, 1300 N axle at 1385mm width. The kart felt good, but a good amount of the oscillation noted above almost on the verge of hopping.
-Pre-final: changed to rear width of 1395mm. Kart felt like it had the oversteer on entry issue again, but I only got 2.5 laps in before throwing a chain.
-Final: took off the extra seat stay on non-engine side, went back to non-adjustable standard stay on engine side. Went back to 1385mm rear width. This felt the best to me, but again was oscillating (2 of the clips above from that race) and felt pretty tight.
I have 3 theories as to the issue but could use some guidance:
1: I'm overloading the outside rear on turn in when transferring weight which causes it to slide. I could potentially remedy this by reducing the transfer to the outside tire by removing seat stays, going with a softer seat, or going more narrow in the front although that may leave the kart without enough jacking.
2: The outside rear tire doesn't have enough grip to handle the load no matter how slow it's delivered. I could try to add more "side bite" by raising the rear height without trying to change the other dynamics of the chassis stiffness.
3: I'm a spaz and I'm too abrupt with my turning and throttle inputs and I'm causing it all myself. Here I could put a stiff spring on the throttle to help me not engage it so fast. I've tried going to the lesser ackerman holes on the steering shaft for this, but I didn't like it, and it felt like i had to comparatively saw at the wheel to get the kart to turn. I also think I could go more narrow in the front to calm down the inputs of the wheel as a compromise.