I don't know how to do internet stuff, I hope this works. I have these, I believe blue body is emmick arrow? Perhaps black is Trackmagic stinger? And blue frame mba I don't even have a guess. The Trackmagic and mba have information provided on the frame but I'm not able to make any of it helpful to me. Thanks
Welcome Cassius. Those are some cool karts. They'll clean up well.
The Trackmagic was possibly an 80cc shifter because it doesn't have front brakes.
@Norcal_Karters might be able to identify the
Trackmagic
Post the info that you see stamped on them. Might give some clues.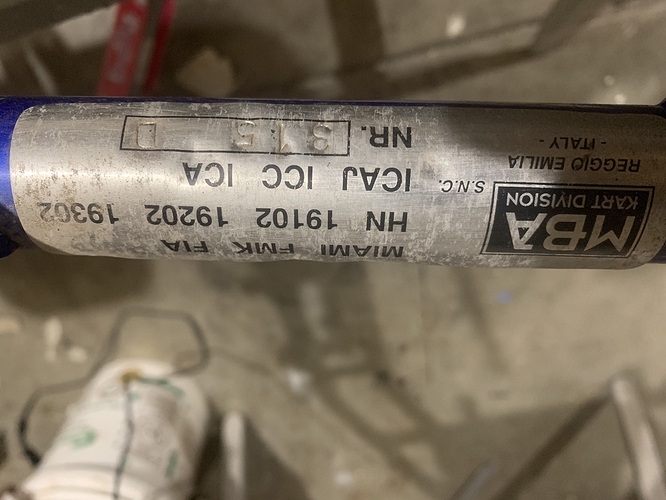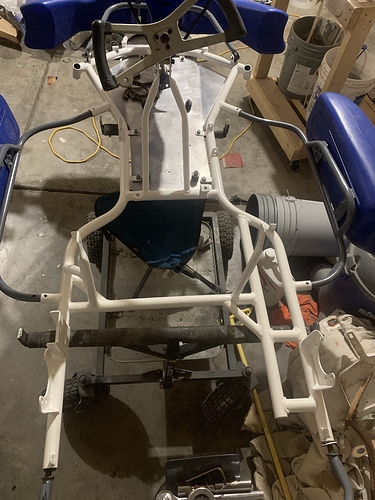 This is a better shot of the emmick. (No markings)
And a tag on the mba.
Clever idea to include any identifying information while asking for identification help. Wish I thought of it. Thanks.
I shared to the trackmagic group on facebook. At first I thought it was a butchered CTS. But it appears to be a trackmagic. Not sure what model Demon/Diablo, something else.
The front spindles looked like CTS style, but maybe a trackmagic guy can confirm
The emmick may have a stamping on the left rear cassette hanger - for the older American karts, I usually go to http://www.vdm46.com/ first.
MBA is the manufacturer, now known as MBAKart or RossoKorsa. It is an Italian chassis. The Miami was the model, as well as the Montermini and the Las Vegas
Thank you, I should have done better pictures.