Inverness, Fla (November 2, 2017) – The City of Inverness will host the Seventh Annual Inverness Grand Prix & Motorsports Festival in a two day festival that features music and race action in the streets of Downtown Inverness.
---
https://www.flickr.com/photos/visitinvernessfl/21516522344/in/album-72157659802826221
The festival kicks off Friday, Nov. 17, 2017 at 5 p.m. with vendors and food trucks. At 7 p.m., the Bobby Friss Band will take the stage for a three-hour concert on the Old Courthouse grounds. Friss appeared on the David Letterman Show in the 1980s, and has built a strong following in Florida from annual appearances at Daytona Beach's Bike Week and Biketoberfest. While the concert is underway, event volunteers will transform the streets of downtown into a race track.
On Saturday, Nov. 18 the street race begins at 9 a.m. Race spectators should arrive before 9 a.m. for the best view of the action. Organizers recommend that spectators bring chairs.
Citrus County has always been rich in race history. From stock cars to go karts the racing community is rich in the fast-paced high-action competitiveness of drivers.
The Inverness Grand Prix brings the thrill and challenge of street racing in downtown Inverness.
"Many people like feeling the speed," Joe Wigley of the Affordable Karting Club said. "And, if you are by nature the least bit competitive the combination is hard to resist. It is a challenge unlike the tracks most racers have run on and racers like a challenge."
The Inverness Grand Prix is a challenging 3/8-mile street race course that consists five turns, and a 680-foot back stretch where speeds have been clocked in excess of 70 miles per hour.
"The streets are quite challenging and most racers enjoy the challenge," Wigley said.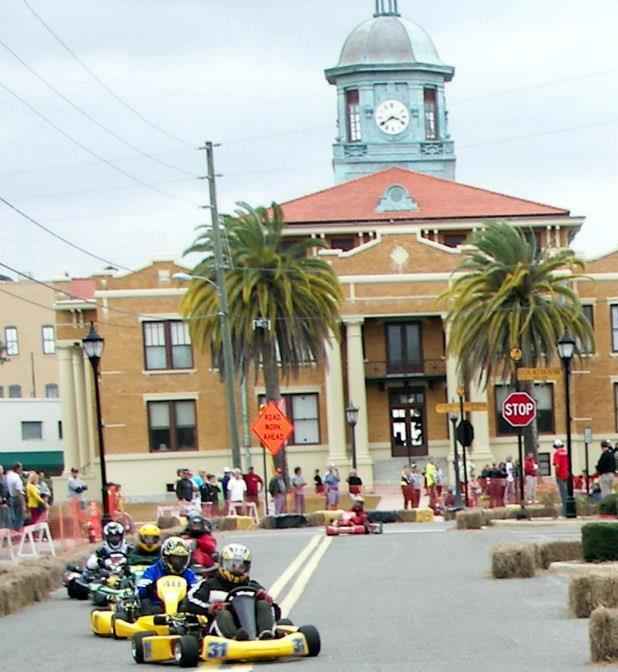 Don Garlits will be a special guest at the event on race day.
Driver registration is underway through November 17 with entry fees set at $55 per kart, $45 each additional kart. Race day entry fees are $65 first kart and $55 each additional kart,
Pit Passes are purchased separately at the event for $10, and are required for all ages entering the pits.
Eight divisions will highlight the event including:
Kid Karts AKC and LTO
Kid Kart Comer
TAG
LTO Karts Junior/Senior
LO206 Junior/Senior/Clone AKRA specs with local option
AKC Modified/Heavy AKC Specs
Tag Junior/Senior/Heavy GSKA specs with local option
Yamaha-Animal Challenge
Champ Karts Junior/Senior Florida Oval Asphalt Series Regs AKRA Engine Specs with local option.
"The race is unique," Wigley said. "To some it may be just curiosity but there are many elements of racing the highest level colorful machines. The sounds and the competition all add to the attraction. We hear again and again from visitors how much they enjoy Inverness and how impressed they are that the City would turn their streets over to us to enjoy. What is not to like about that?"
Proceeds from the Inverness Grand Prix & Motorsports Festival benefit our local Filter Youth Development which provides local children and families with mentoring build strong healthy relationships.
For information or to register go to www.visitinvernessfl.com/148/Inverness-Grand-Prix, call 352-502-5970, or email [email protected].