ive never seen a piston turn to powder before…
"I've never seen anyone crying over karting memories." (idk how to highlight that one section so I just copied it) Thats been one of my favorite things about karting. Ive certainly had my fair share of bad luck this season but now they are all still happy memories and stories.
some stories of my own.
Heading to a track in the middle of nowhere Connecticut and the cars gps takes us down a packed dirt road. We had never been there before and the gps showed no other roads so we went down it. 2 miles later we are at a dead end and the road is super bumpy and we have no idea where we are. Somehow we find our way back onto a realish road and get to the track. moral of the story, use waze. Did I mention we were in an Audi S5 with almost no clearance?
That same race I had my feet run over at the start and nearly slid down a wet hill into a pond. somehow I was able to get the kart on the track but I realized something was wrong. the pedal stopper had moved up and I couldnt press the throttle all the way. ended up racing using my heel on the throttle cable so I could get full throttle.
my greatest achievement was being able to start the kart while sitting in it (world formula 4t)
4-stroke lawnmower start style? From seat or did you have to get up and jump back in?
Yes. Lawnmower style😑. It was in the seat. Once while it died during the race and once when they pulled us in for qualifying and than have us two more laps because of a bad crash
Thanks for the compliment, still need lots more practice.
The Animal Sprint laydown is a hybrid of a enduro lay down and a sprint kart, really know how to describe them, #350, #370 and #390 classes but Senior Super Heavy depending on series. The are raced on the big tracks all over. Blackhawk Farms, Gateway, Summit Point, Gingerman, Grattan, Pittsburg(awesome), Laguna Seca, Nelson Ledges. Used to be races at Corvette Museum, VIR and MIS as well.
I get the best flybys at Blackhawk Farms.

There are classes for just about anything you want to run. Just put on a tall driver and your off to the races.
Here are a few enduro racing series.
http://www.championshipenduro.com/


http://www.kart.org/

https://nckroadracing.com/
OK it's been a few years since there has been new episodes, but there are some good stories on the KartPulse podcast for those that haven't heard it yet.
Just select the text from the post and you should see "quote" appear nearby.
Once you click quote it will create a reply with that quoted text in it.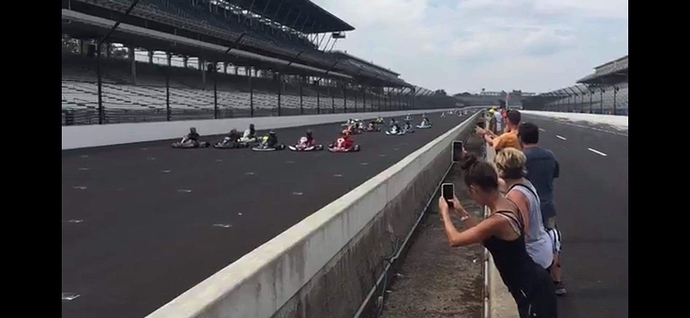 This was my second year and two of my other buddies second year at Indy in 2019. This year we were able to have other friends with us to join in the week of racing. Its the best weekend in racing because we get to spend a great deal of time with our friends, at a race track racing, specifically Indy. When we went out to do our lap on the big track. There was a lot of confusion at the beginning. The pace car leading our group took a wrong turn at the beginning and we began taking a pace lap backwards around the kart track. Luckily, we were still able to do our lap, and we found all 5 of us together. No plan to cross the line like we did, and no idea if anyone would get our picture. We will be back for 2020.
Man those really rip. Some serious tracks too
Thanks!
20 character minimum
That is currently my number 1 on the karting bucket list. I took the wrong turn into a pit entrance that lead me to the other half of the track this year
2019 had some highs and lows but thats racing. A few stories…
USAC Brickyard – Randy earned his wings and found out how great the medical staff is a Indy. Airborne and upside down made me realize I can still move pretty good when needed. Covered a lot of ground rather quick!
While at the care center the group from MGM Chassis replaced everything broken and had his kart ready to rock by the time we got back to the pits just in case he was able to get back on track. Scaled the kart and was spot on. Went out and picked up 35 or so spots from dead last.
Cup Karts Grands – Struggled with set up all weekend. Decided to throw a set up at it that shouldn't work for finals just because we'd tried everything else. Started 31st of 73 karts. Went from 31 to 23 lap one. 23 to 20 by turn 5 lap 2! OMG he's rollin! Got punted and fell back to 57… Ugh Drove it back to 40th. With lap times quicker than eventual winners. Never seen a kid with such a big smile after what I thought was a disaster. Randy said that was the most fun he's had in a long time. Make notes on that set up! I love it! Made the trip home much easier.
We all know racing isn't easy but in the toughest times you tend to learn more about yourself and who really has your back. If you can make the best of bad situations you'll have much more fun.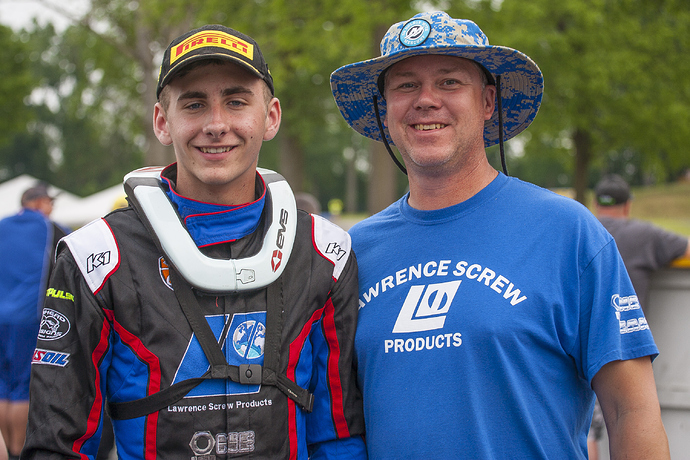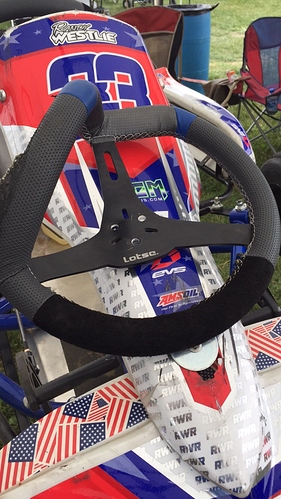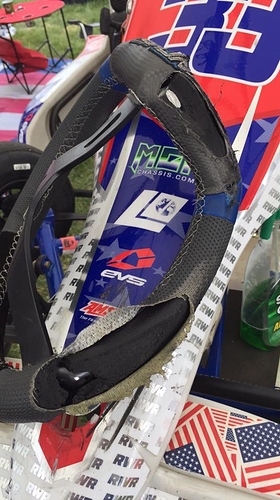 Good story and that must have been a hell of a race to Dad over (Brickyard). Sheesh!
Those types of races seem to be really fun if you have the right mind set. sounds like a race weekend youll never forget. I hope there was onboard footage of all those passes! good luck next year.
I guess I have a few stories that standout from this year.
We started the season in Mini Swift, but since my daughter is so tall, she was 15 pounds heavy, and so her lap times suffered compared to the other kids. During the first regional race of the season, it rained in the morning, so the track was wet for the second heat but was drying. We hadn't brought our rain tires, and even though were offered a set to borrow, we decided to go out on slicks. We were the only kart on slicks. She did spin twice in the first lap, but once the tires warmed up she ended 4th fastest out of 13 and was chasing down everyone in front of her. It was great to see her times so close to the leaders, as she hasn't been that close to them before. Fast forward to the next regional race, and the same track condition came about. The race before us had the top karts on slicks, so everyone on the Mini Swift grid followed our lead and switched to slicks, except for 1. We did have rain tires that race, but she wanted to try and see if she could do just as good as the previous round. Lets just say that all the kids on slicks made a very bad decision. The one on rain tires "won" the heat, and everyone else was sliding everywhere. In fact, the race got red flagged after 2 laps because of everyone sliding everywhere. The race was ended after 2 laps, and we actually ended up 5th out of the 12 in the race. That was our first time going into tech. However, that was also our last weekend in Mini Swift because her weight, and she moved into KA100 Jr.
Not from this past year, but I have a couple stories about tire choice.
USPKS at New Castle in '14 I was starting near the back for some reason and it was wet out, but the rain had stopped and the track had started to dry. We just decided to go opposite of the rest of the field on tire choice, because obviously we are smarter than 30 other guys… We strapped on rains while everyone else had slicks on.
On the out-lap, I knew we had picked the right tire. The slicks could hardly stay on the track. At the start I was just rolling around guys two at a time on the outside of every corner. By lap 2 I was up to 3rd from 30th. And that's about where it started to unravel. I started to drop back as the track dried and the slicks came to life. By lap 4 I was back to 10th, by lap 6 I was in 19th. By that point was some 10 seconds off pace per lap as the track had totally dried out. I finally ended up being black-flagged because I was about to be lapped I was so slow. Such a rollercoaster.
SKUSA Pro Tour at Miller in 2011 maybe? Same situation, we were starting in the rear and they called driver's choice for tires on a track that was legitimately wet and the rain had just started to fall lightly again. At the very last second we opted for rain tires as the rest of the grid chose slicks. Unfortunately, we didn't get the tires on quick enough and we didn't make it on-track as we struggled to get the tires on. Maybe waited a little too long on that one… Track never dried out fully and I think we would've been sitting pretty for that one too.
slicks are 10 seconds faster than wets on a dry track?? ive never seen such a difference. Ive only had tire choice once and it was an obvious one so I await the day when the field splits in tire choice
I remember being stuck on a dry track with wets once. Ended up removing half of the tire tread from my suit

Figured id bring this back as a couple wild things happened this season
I ran over another driver, on their engine side. we continue the race as normal, some great battles even. on the cooldown lap, I see the driver shortcut the track. turns out, I had broken his carb off completely, and when he let off the gas to coast it just flopped off.
I think the vacuum pressure kept it on