I'm less than 2 months into karting. I feel like I've been moving fast and learning a lot. I'm 51 years old, no racing experience other than sim racing Gran Turismo on PS. The purpose of this post is to document my actual expenses getting into this and hopefully help someone understand what it will actually take to get up and running.
Most of the costs I was expecting (kart, stand, club membership, gas, oil, safety equipment), but there were a few that were unexpected, like the transponder, lead weights, sprockets, extra wheels, needing new tires so soon.
Here's a breakdown of my actual costs:
X 2008 CRG Kalifornia Kart $1500
X Used kart stand $125
X Mychron lap time computer used $430
X Helmet (Amazon) $108
X Neck brace (Amazon) $30
X Gloves (Home Depot work gloves) $12
X Leather jacket free (bought 33 years ago in high school)
X PKRA club membership incl unlimited free practice $540
X Transponder bracket (eBay) $30
X 58 tooth sprocket (Amazon) $12
X Tool caddy (Home Depot) $15
X Oil/fuel catch can (Amazon) $20
X Extra set of used wheels $100
X New tires (local vendor) $210
X Tire pressure gauge (Home Depot) $5
X Fuel can (Home Depot) $15
X Fiberglass repair (Home Depot) (seat cracked) $25
X Tools - I didn't have to buy any
() Lead weight $??
TOTAL: $3177
Other ongoing/consumable expenses:
Race fees $85 (race entry, transponder rental, 2 pit passes)
Fuel $10 a gallon
Oil $15 a quart
Chain lube $10 a bottle?
One other important area I had to work through was transport. I considered a few options, including using a local kart shop to store and transport, buying a vehicle specifically for transport, and a trailer. I ended up with a very unconventional method of using a cargo carrier and trailer hitch on the car I already owned, a 2002 BMW 325i. The kart sits on the cargo carrier vertically and gets tied down with ratchet straps. Fortunately for me, I live in AZ where the weather is pretty great, and I'm only 10 minutes from my track. If I had to drive further, I'd probably use a small trailer. My method also has the drawback of the kart covering my license plate and third brake light.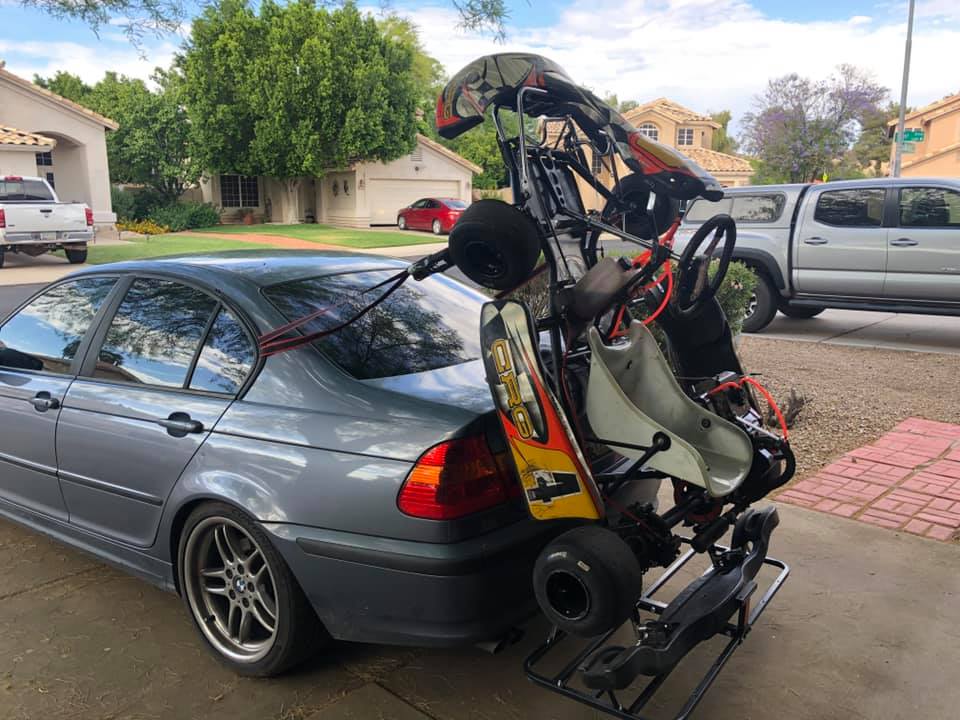 Transport:
Hitch (Amazon) $150
Cargo Carrier (Amazon) $80
Ratchet straps (Home Depot) $20
Trunk support (homemade) free
TOTAL: $250
I hope this information helps someone determine what the real cost of getting into karting might be. Others have spent more or less, I'm sure, but this is my budget-minded take on getting into karting. I'm happy to answer questions.
Ron
---
Where are you located?
Phoenix, AZ
What age bracket are you in?
Masters (40+)
On a scale of 1-10, how would you rate your mechanical ability, or willingness to wrench on things?
8
Talk a little about your racing experience so far.
Super Limited