Hello KP members
Today in my training session happened something new for me that I could not understand very well and I´d like to hear your opnion.
I was in a medium grip track with a 4 strokes engine and old set of tires setting up my chassis for the race day (tomorrow). I know it is not recommended to setup chassi with old set of tires, but tires are too expensive in Brazil nowadays and it is hard to avoid doing it.
When me and my mechanic figured out that we had the right setup, we decided to wear a new set of tires to simulate what will happen tomorrow in the race day.
Something weird happened. The lap tire got worse instead of better so we figured out that the setup was good for low grip (old tires) but that setup was bringing excessive grip with new set of tires.
So I went to see the telemetry graphs to understand where the excessive grip was holding us and I realized it was between the middle and the end of the straights.
I brought the graph to show you guys. The difference between these two laps was just new tires. Nothing else. Red line = old tires. Green line = new tires.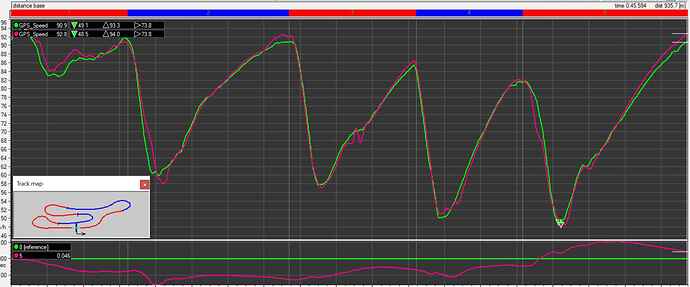 As you can see, new tires gave me conditions to perform the first corners faster. The second corner was slower, but probably due to my mistake. Now, look the 4 straights ahead. It is a trend. The speed with new tires is greater in the beginning of the straights when compared to the red line (old tires) but in the middle of the straight it changes. The speed with old tires starts becoming greater than the new tires.
So, my question to you guys are:
Why excessive grip (new tires) holds the kart in the end of the straights? (this is my main question)
What is the physical phenomenon happening?
How to avoid it?
I am planning to replace the rear axle for a more rigid one. Makes sense?