Whilst any connection between Yamaha's YZ range and karting is essentially non existent these days, I think any news that involves a major manufacturer continuing a two stroke product is worth talking about. I have no idea how practical it is to get complete engines from Yamaha at this point, but it's still pretty interesting…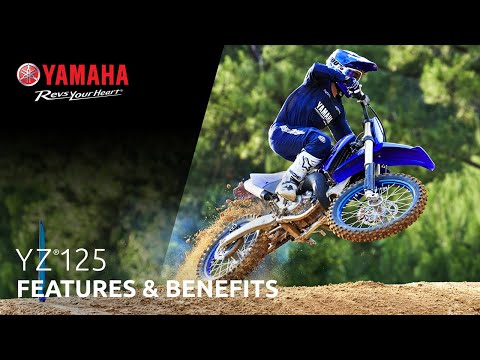 From Yamaha:
Yamaha Motor Corporation, USA, is proud to announce the expansion of its benchmark-setting two-stroke motocross lineup, highlighted by a new version of the race-bred YZ125. Features include a powerful new 125cc two-stroke engine, improved suspension, updated brakes, enhanced ergonomics, and new modern YZ styling including updated bodywork with premium embedded graphics. This marks the first full model change for the revered YZ125 in more than 15 years and positions it back at the top of the 125cc two-stroke class by offering the perfect blend of race-winning performance and real-world usability.
Other notable changes to Yamaha's lineup of race-ready two strokes include an improved YZ85 and a new-for-2022 YZ85LW (Large Wheel) model, offering enhanced off-road performance and a more "big-bike" feel through the addition of a larger 19-inch front wheel, 16-inch rear wheel and longer swingarm. Both 2022 YZ85 models feature enhanced rider ergonomics, a more efficient intake design, lightweight aluminum subframe and swingarm, updated rear brake master cylinder, and new modern seat and plastics with premium graphics reflecting the YZ's unmatched racing heritage.
Additionally, Yamaha's flagship YZ250 two-stroke receives an enhanced lightweight braking system, updated suspension settings, improved ergonomic design with updated, modern YZ styling and new premium graphics. Yamaha is also proud to extend the popular Monster Energy Yamaha Racing Editions to the two-stroke lineup with the new 2022 Monster Energy Yamaha Racing Edition YZ250 and 2022 Monster Energy Yamaha Racing Edition YZ125, offering two-stroke aficionados the opportunity to sport the Yamaha factory look of our championship-winning Monster Energy Star Yamaha Racing team.
"At Yamaha, two-strokes are in our blood. That's why we continue to develop and offer a full range of off-road two-strokes, and why we are so excited about these important new updates to our lineup," said Derek Brooks, Yamaha Motorcycle Product Line Manager. "These bikes are all about providing the fun and exhilaration of a lightweight, powerful two-stroke to the next generation of riders. We feel that Yamaha YZ two-strokes will continue to play an integral role in developing young riders and building future champions."
Yamaha's off-road competition bikes offer the very latest in technology with performance features designed to help racing enthusiasts reach their maximum potential, win races and stand on top of the podium.
It starts with a new, more powerful liquid-cooled 125cc two-stroke engine. Every functional part of the 2022 YZ125 engine is new, including the cylinder body, cylinder head, piston, piston pin, connecting rod, crankcase and expansion chamber. It all adds up to increased power across the mid- to high-rpm range. Enhancing fueling and power delivery, a new high-precision Hitachi Astemo Keihin PWK38S carburetor with throttle position sensor and 3D-map-controlled CDI unit provide clean, crisp throttle response and superior rideability. A new intake design with VForce4 carbon reed valve leads to a more efficient draw of air into the engine for an improved feeling of power in the high rpm range.
To match increased engine performance, an updated lightweight braking system features larger front pistons, a more rigid caliper, a redesigned 270mm front rotor with a 30% increase in pad contact area and higher friction pad material, all combining to provide exceptional braking power and feel. A redesigned rear rotor maintains the same braking power while dropping outer diameter from 245mm to 240mm, reducing unsprung weight without compromising performance. Taking the YZ125's category-defining suspension and handling characteristics to a new level, front and rear suspension damping has been revised to further improve bump absorption and cornering performance. Best-in-class KYB suspension includes an inverted front fork, now with new fork internals for more precise damping.
A new flatter seat and more narrow fuel tank design, along with smoothly integrated body panels and slimmer radiator shroud width all combine to enable greater freedom of movement forward and back, allowing the rider to easily shift body weight for increased control and confidence. Emphasizing the YZ125's mission to win races, a bold, aggressive Yamaha Blue and dark blue colorway with premium embedded graphics ensure excellent durability and scratch resistance.
2022 YZ125 features and benefits
Redesigned liquid-cooled Yamaha Power Valve System (YPVS)-equipped 125cc two-stroke engine boasts more power in the mid- to high-range for increased usability over the previous model

New high-precision Hitachi Astemo Keihin PWK38S carburetor features throttle position sensor and 3D-map-controlled CDI unit resulting in crisp throttle response and superior rideability

New straight intake design improves power output, letting the rider feel an excellent pull in the higher revs and a strong sense of over-rev
New shorter, lighter muffler
High performance brake setup features more rigid front caliper, larger front pistons and redesigned rotors with increased pad contact area for exceptional stopping power and feel, along with less unsprung weight
Improved rider ergonomics with a narrower tank, flatter seat and slimmer radiator shrouds offering greater freedom of movement
Fully adjustable KYB inverted front fork now includes a leaf spring in the mid-speed valve for increased performance and comfort
Revised fully adjustable KYB rear shock features reduced-friction Kashima Coat internals
Race-proven, highly developed forged aluminum semi-double cradle frame
Removable aluminum rear subframe constructed of square-section tubing for reduced weight
Lightweight finely tuned chassis for nimble handling, more control and less rider fatigue
Revised six-speed, close-ratio transmission has wider transmission gear tooth width and new, optimized gear ratios for maximum performance
New lightweight rear sprocket design
New lightweight chain
High-capacity radiator features a 10-row core with blacked-out louvers to deliver maximum cooling and aggressive looks
Lightweight aluminum handlebar with two-position adjustable handlebar clamp
Adjustable clutch lever with works-style cable adjuster
New premium graphics are now embedded for improved durability and scratch resistance
Race-developed Bridgestone Battlecross X20 tires
The new 2022 YZ125 will be available from dealers this October in next-generation Team Yamaha Blue for $6,899 MSRP.
---
Some of you may recall a time when the YZ was used in karting for a while in moto and pro moto classes, but then faded away as the Honda CR125 continued to grow. Which makes you wonder in a sense, given that it seems Yamaha are still pumping two strokes out.
I'd love to know more about the manufacturing process. The achilles heel for CR125 Stock Moto was parity. There were large gains to be found by testing parts in batches and hand picking the best ones. Arguably you can never stop this practice, but that gap between the good ones and the less good ones can be closed with the likes of CNC manufactured cylinders.
What do you think? Is it time to look at a moto revival?