I am in the process of refreshing my daughter's new (to her) 2014 FA Rookie. I need assistance with a few things. Thank you in advance.
The caliper is an OTK BSM model.
The engine-side piston is not moving. Given the design, it looks like it should be a two-piston caliper, so I figure something is wrong. The below picture is the brake at rest. When the pedal is pushed, only the non-engine side pad moves. There is a pretty substantial gap between the pads and the rotor on that side.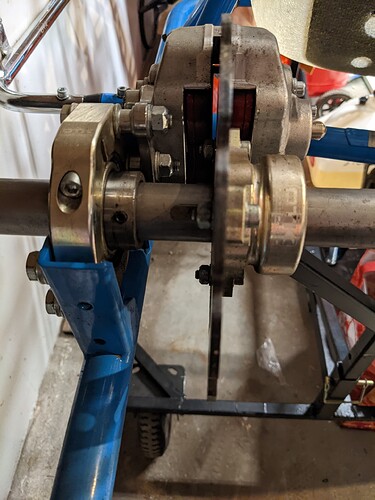 The pedal throw is almost all the way to the bumper. I'm assuming a bleed would be a starting point for that. I don't however want to get ahead of myself if I should be pulling the brake apart anyways to deal with the stuck piston.
I don't know what the master cylinder compression rods (right description?) should look like - neither when compressed or not. I've added pictures below to show both statuses. They are not compressing equal, one side does more than the other (it pivots). Is this normal?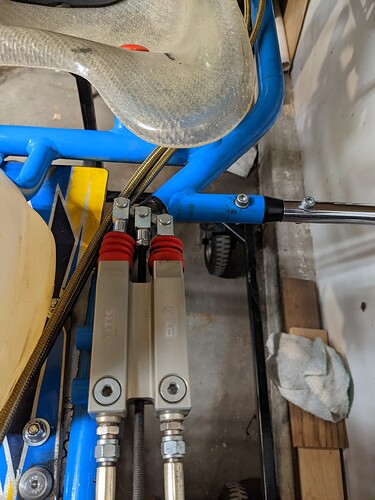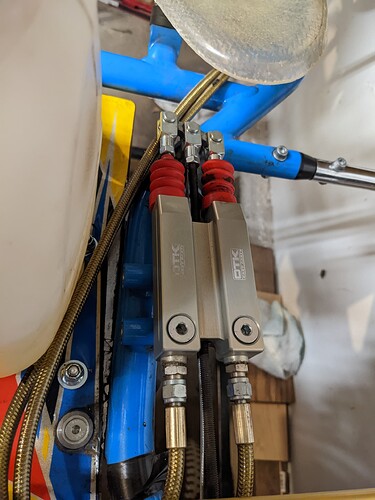 Am I correct that it is a 2-piston system and one is clearly stuck?

If it is clearly stuck, is this something where a bleed will likely sort it out? Or should I be getting a rebuild kit?

If it's a rebuild, does anyone know where to find good instructions? I've been struggling to find good resources for thing like this, as the kart is a bit older.

On the topic of a bleed, is there an OTK specific kit for the BSM brake system? If not, any recommendations?

Should bleeding correct the throw issues with the pedal?

How much gap between the rotor and pads is normal for a properly bled brake?
Thank you in advance. I can wrench on bikes and cars, but karts are new to me. Thanks!