Hello everyone! My name is Felix Yeung and I am a KZ driver from Hong Kong. When Davin asked if I would be interested in sharing my experience racing a KZ, I thought it would be really cool and here I am! I very much look forward to learning from all of you!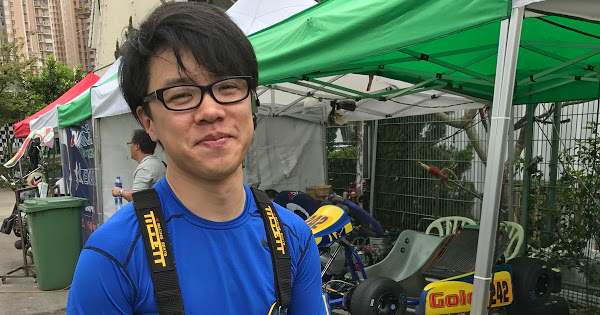 Yep! This is me at the Macau International Kart Track paddock!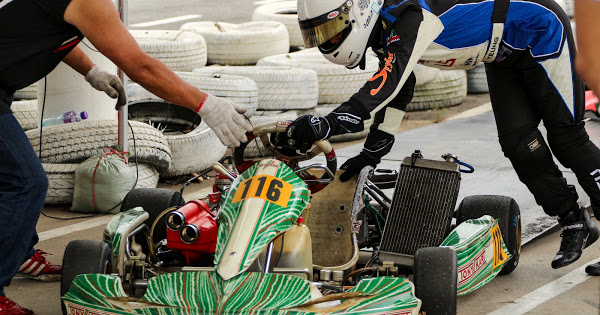 Weighing after a qualifying session
So my experience as a driver is that after finishing my undergraduate programme in Vancouver, B.C., I returned to Hong Kong trying to get into Motorsports as a racing driver. Since there are no race tracks in Hong Kong, information about the industry is limited and basically every time I wanted to do anything with racing I need to cross a border with customs and everything. The closest tracks are in nearby cities like Macau, Zhuhai, and Shenzhen: they are either a ferry trip or a few hours' ride away.
After a lengthy research I started my journey with a then startup racing school Hong Kong Racing School for Motorsports in 2012 where I learned the basics in driving via indoor karting and rental KT100's. I also had my first Rotax experience with them.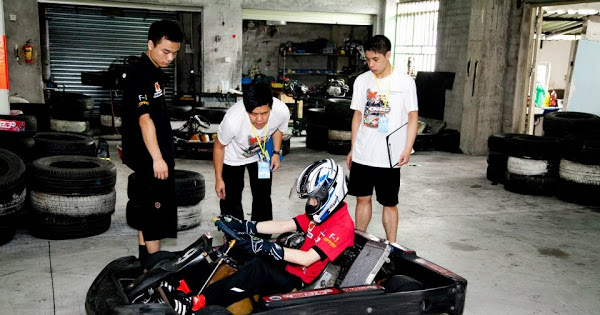 One of my first serious attempts in racing, trying out a rental indoor at a local kart track in Dongguan, China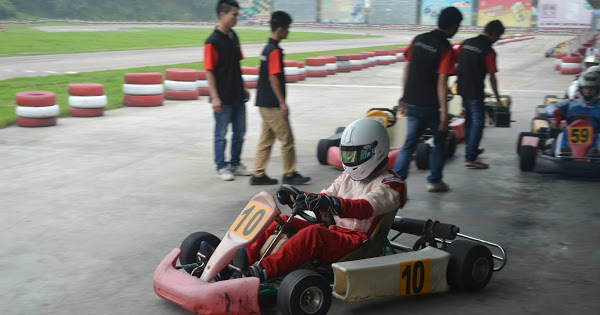 The type of rental KT100 I practiced and raced with at Xtreme Speedway, Shenzhen, China
After some practices I did a year and a half racing intensively with rental KT100's 2013-2014 and later got into Rotax Max senior class thanks to my current team RPM Karting in Macau at the end of 2014. I did a total of 6 weekends in Rotax from 2015-2016 and went on to race a KZ at the end of 2016. Now I have done 3 race weekends in KZ at national events organised by Automobile General Association Macao-China(AAMC): Macau's ASN and the very same organiser of the Macau Grand Prix.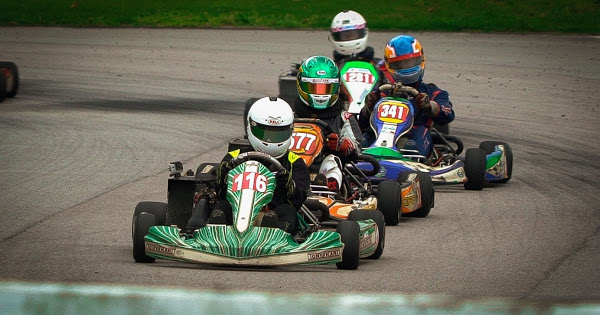 Racing in Rotax Max Senior in Macau, China
So when I first started I always dreamed of racing a KZ because they looked so fast and cool (on Youtube), it was like the ultimate class. Even when I was racing with a Rotax Max FR125 engine last year I never thought I would drive a shifter so soon since they are like the big boy's club. But when Rotax made all the updates with the Evo package it became very expensive to keep up-to-date and my competitors' Evo engines ran not so reliably at first. Then the chance came after the CIK Asia-Pacific race weekend and a spare engine became available in my team, also courtesy to my team mate Kin On who offered to lend his chassis, I was able to change class from Rotax to KZ.
Then came my first race weekend in December 2016 which was the season's last club race of AAMC. The kart I will be driving is a Tony Kart/Modena KK1R/Vega Prime combination. To prepare for my big jump from Earth to Moon, I basically had 4 sessions on Saturday to get acquainted with the kart and it was mind-blowing. I had the privilege to drive a 2004 Formula Renault 2.0 at Zhuhai International Circuit at the end of 2015 but KZ felt a lot more intense and physical in comparison. I usually drive in the high 50's in my Rotax chassis, and on this KZ machine I started with 52s… then 51s… 50s… and I broke into 49s and I was all exhausted. To give you a perspective, Macau International Kart Track is 1203m in length with 10 corners (mix of high speed and low speed corners with a long straight and hard braking areas), in the CIK race the field was doing low-mid 46s on average, and a 47s lap would mean you are back marker on a very grippy track, since the Asian Open Karting Championship was done over the same weekend. In the AAMC club race the front runners would be doing mid-47s, albeit with a much less rubbered up track compared to the CIK race.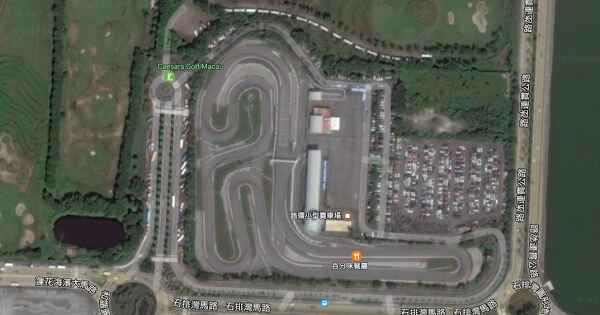 A look at the Macau International Kart Track, also known as Kartodromo de Coloane, Macau
Then came the race on Sunday. In the field there were some of the most experienced karters in Macau and Hong Kong: two of them raced in the CIK Asia-Pacific Championship, some are Touring Car drivers who did the Macau Grand Prix, and one of them is still racing shifters in his 60's. Pretty much everyone in the paddock was surprised by my race entry as I was considered to be a fairly new Rotax driver. Even the organiser mistakenly put us in the Rotax class over the weekend!
The race format is warm up in early morning, qualifying before lunch, a 15-lap Pre-final around 2:30pm and 15-lap Final around 4:30pm when the sun would begin to set. (Official race timetable: http://www.aamcauto.org.mo/aamc/attachments/2016/2016_AAMC_KMC_R6_ProvisionalProgram.pdf) The warm up went okay and we put brand new Vega's on for qualifying (Majority of the field would be using MG primes as they were found to be much faster during the CIK race which just happened a week ago, since I was more familiar with Vegas we chose to go with it). However I never managed to put in a clean lap and ended up P8 for the Pre-Final (9 karts were racing). Feeling quite tense as this would be the first time I ever do a launch-style standing start, I made a fair but not ideal start in the Pre-final and held position. When the other drivers tangled at turn 2 which is a tight hairpin at the end of a long straight, I made up another two places and kept these guys behind of a lap and a half. However, experience is experience, they got me back quite easily and I focused on myself and keeping my rhythm. My arms started to become tired after 10 laps and the remaining 5 laps I was barely holding on, but I made it, P8 and not last! At one point I thought I had a chance to catch the driver in front. It was a great relief!
After watching my fellow Rotax drivers in their Final, we set off for our own Final. This time I made a better initial launch but the other guys did well too. I went too wide at turn 2 and lost some seconds but I was still running P8. On lap 2 another Macanese driver made a mistake and I was able to drive past him, but again, it didn't last long as I was still getting up to speed with the KZ lines, braking, downshifting and feeling where the power band is, he re-passed me on the next lap. Then Tommy, the most experienced driver I mentioned, had a problem with his kart and had to retire, I came under fire from the driver behind coming up the hill at Turn 10 (who also kept racing actively for a long time like Tommy) after taking too long to pass Tommy. Fortunately I figured to get 2nd gear at Turn 2 and blocked the inside line quite nicely and kept him at bay. This time I used up most of my energy by lap 6 and I was struggling the final 9 laps, luckily I put it through and came home with a big, satisfying smile. It was a P7 finish! This was a successful weekend for me coming from such limited experience in gearbox class, also it was extra satisfying as I faced a lot of engine issues with my Rotax earlier the year and the Modena ran gorgeously. Now I have something to smile about and a new challenge to look forward to for 2017!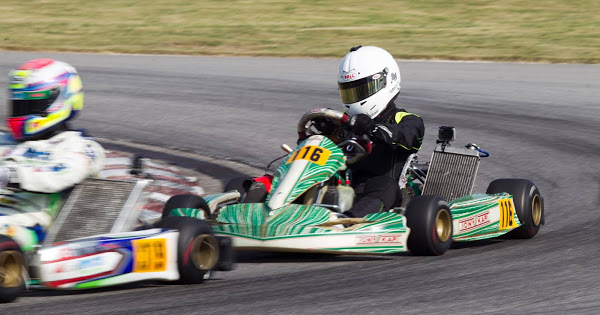 Me following one of the most experienced active karters from Hong Kong, Tommy (who is over 60)
This is how my first race weekend in a KZ went! Hope you enjoyed. Stay tuned for the second race weekend which happened in March this year: and it was the toughest race weekends I ever had!