I was enjoying the new DKC footage and thinking how it reminded me a bit of Gopro.
The thing that struck me about Gopro when I went there was how the track seems to go inwards on itself, and then unwinds out.
This reminds me of something called "the running spiral" which is a graphic design doodle that appears to have evolved simultaneously around the world in cultures that had zero contact with each other. In other words, it appears to be a instinctive design: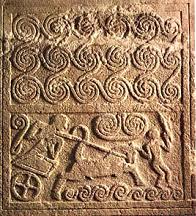 Anyways racing seems to be about who can be fastest in a circle, in its base form. Ovals became twisty I guess and sprint track racing evolved.
But yet, the running spiral beckons and some sprint tracks feel like they reference the circle/spiral as their core design.
Here's an interesting version of a track that is also a running spiral: race to the center and then back out:
As to why this design element appears to have evolved in disparate cultures at different times: I think the running spiral is a wave, effectively. I think the inspiration comes from the ocean and the lines of swell that crest and barrel.
I would like to see a track designed using two circles laid side by side. The outer perimeter is the traditional oval. I would like to see an attempt to use the inside of the oval as well as periphery. Something that references thhe two inner spirals within the oval.