Hello I'm on here to sell a frame and I'm not to great with computers I apologize
Scott, if you have a pic or anything you want to post, lmk and we can help.
Thank U verry much.just so you know I have a Traumatic brain Injury.From being asulted by a gang in Chicago and now I'm disabled so please bear with me please.
Sorry to hear that and no worries. Let us know how we can help.
Hi it's Scott here and I have a frame in the basement.my biggest thing I do not know what this stuff is worth and I do not know how much its worth and what to sell it for.and I do not know how to put pics on this site
If you have a picture from a digital camera it's not too complicated.if you have a regular print type photo that's a bit harder but you could send it to us and one of us could scan and post it for you.Do you have either of those?
Another possibility would be maybe to have a pal take a pic if you don't have a camera.
Do you have any info to share about the item? Like brand, year or anything else that might help describe it.
Ok. The posting you did for the snowmobile is perfect. If you have a pic of the item you are trying to sell, do the same for it.
Ok I don't believe I did it thank you the one that has snow on 400.00 the it does 90 and it ran last year I saw it run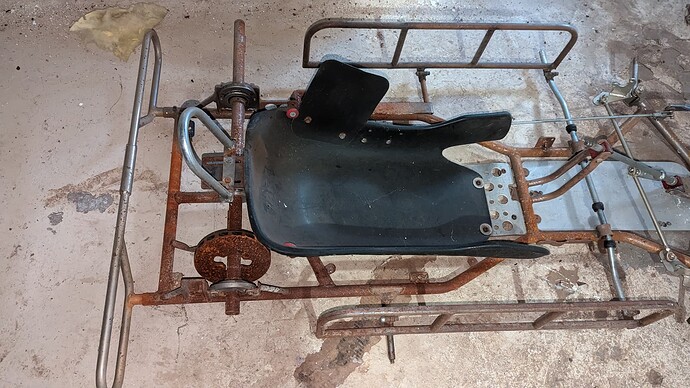 @KartingIsLife Who are our main lay down folks who could suggest where he might want to advertise this? I'm guessing the road racer folks have their own scene for parts/trading/sales?
@kartpulsed do you have any info about it? When did you get it and do you recall the manufacturer?
@Rapid1 is the laydown guru here I believe.
Facebook has a couple of groups that might do.
Enduro Go-Kart Racing
Vintage Enduro Kart Racers
A race ready laydown chassis are only going for around $1k and that's with a clutch. By the photos it looks like it will need a lot of work so im not suspecting that high of value and the market is super niche for them.
At first glance it appears to be a Margay possibly Lynx. Need a closer look at the spindles etc.
Judging by it's condition I would guess value at no more than $500 to $700.
Did buller ever make a laydown? The axle cassettes look like ones buller used to use, and the lower steering support looks like buller. I know nothing about laydowns however, just observations.
This topic was automatically closed after 28 days. New replies are no longer allowed.