We headed up to Mt. Kisco on Sunday for the inaugural Tri-State Karting Championship. Matteo and Alec have started this series and this was their first attempt at a larger, public race. They managed to fill it with around 25 entrants, I think.
We had a good group of karters of all ages and everyone was competent. There were some growing pains as Matteo and Alec work through the organizational challenges. We used lead to try to equalize field but it was awkward. Also, had to get facility to go straight to speed 4 without a speed 3 "let's see if they are stupid" period. (Answer: Yes, but give us speed anyways). The facility staff were great. Overall, a lot of fun. I believe the next event will be in PA.
In so far as results, who knows. I was in the grand final (top 5 of the two groups). I think I started last and came in 3rd from last. Fun drive, though. Nick did great and ran to 2nd in the Petit Final and held off a challenger. Tanguy was driving brilliantly as usual, not letting a very pushy karter past. It got a little silly as the kid kept trying to push Tanguy off line and Tanguy repeatedly had to say, "Non!". Unfortunately his battery gave out and dropped to hobble in mode, eventually.
The results are sorta not the point as the race was for getting a format staryed and figuring out the issues. Anyways, great fun and I strongly recommend GPNY.
The track is dominated by tight technical turns and elevation changes. Turn 3 features a huge bank (30 degrees, maybe) with a big "dip" in the road preceding it. It is very unusual and fun to whip around. There's also a downwards corkscrew like Laguna Seca!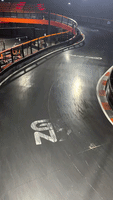 Here's a video of my Grand Final run:
From Alec: "Our preliminary plan for ny is gpny, ovrp, rpm poughkeepsie, ovrp (reverse hopefully). For pa its Speed raceway, lvgp, slick Willys and lvgp (again hopefully reverse)."
For info: www.touringkartchampionship.com and Alec can be reached at (856)-562-3474.