I don't agree fully. I think their search algorithms are pretty good, if the search is specific. If you havea good handle on what people might search for you'll do OK. My Loose (and azy) Guide video, in terms of monetisaiton, has been far more successful than anything else I've done recently even if the views are so-so. So Youtube does like that kinda stuff.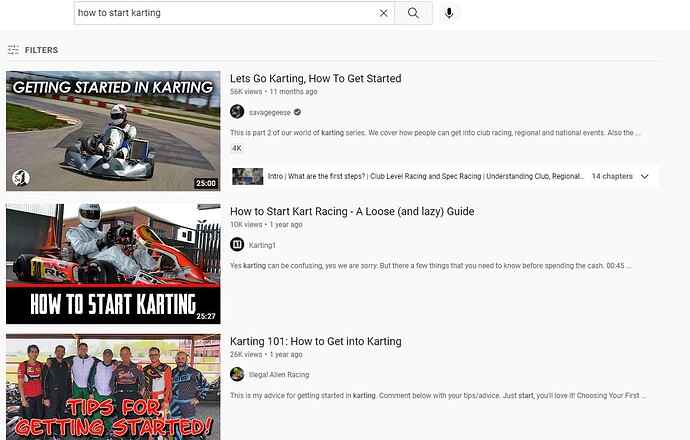 But search based content is not really what I am getting at. it's the content that keeps people engaged with recommendations. I.e if you like this you might like this. That's where I think we have an inherent weakness.
I know with dirtbikes I will start getting thrown 2-stroke builds and that kinda stuff. Maybe some Ronnie Mac. It's humor, it's builds, it's a bit of personality. It's an onslaught. Karting? it gets pretty thin pretty quickly. It's no one's fault, it's just the way it is. Karting's culture is different (and that's why I'd like to encourage change). I can do only so much and really am budgetarily limited.
But here's an example of an idea I came up for for a driver who was
young and fast
struggling for sponsors and that kinda stuff.
I said "why not buy a battered old 100cc kart, pre-89, and rebuild it with your dad. Make it a project kart that'll race. You'll attract people who love old 2-strokes and old karts, and you'll engage a lot of people who know who you are form being fast. It'll be a great series to watch… and if you race… well then people will be EXCITED to see what happens".
They never did the video or took my advice, but my god what a GREAT series of videos that would have been… unless I am massively mistaken.
So it's that kinda stuff I am talking about. Instructional based stuff has been done and done well. So that sector is fine. Live race streaming is fine, that sector is fine. Vlogs and that kinda stuff are OK but what's often missing is some narrative ark.
i understand it's VERY time consuming and VERY hard to get right. I've been at the top and at the bottom, but the potential is so big. It's not completely baron. I can see people are starting to get it, but I'd like to encourage more.