Now here are some wheels/tires.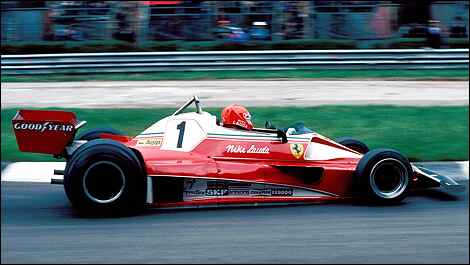 The massive rear tires in the 70s almost look comical in retrospect. Love the ass-out driving style from that era. Really could hustle the cars around.
Ass isn't the only thing that was 'out'
And the doomsayers were out saying the cars would be "5-7 seconds slower" than this year's cars.
I do like a big rule shakeup. The last big one (2009) totally caught out the top teams from the years prior (ferrari mclaren and renault). It's not beyond the realms of possibilities that merc and red bull spent too much time on this year and the others make some big strides forward.
It did seem like mclaren tailed off this year, maybe focusing on next.
Williams and Haas didn't even pretend to develop in 2021, maybe they'll make a big stride.
Ferrari and Alpine seem to be coming back.
What will happen with Red Bull Engines.
I literally cannot wait!
Plus there's probably going to be a race director job available so finessing my resume.
Personally I don't think Merc put a ton into this year car. I think things that showed up for this car was ideas they planned to implement next year. I think as things drew on they just turned the motor up more and more. Hence the new reliability issues. I'd have to go do a count. But the Merc teams used a ton of engines.
I think the 21 car was still dominant and Brazil was just when they unleashed the engine. Further shown by the fact they didn't run the motor at Qatar.
That's something I was thinking about before. Mercedes pointed out another topic I think should be addressed. If you wanted to, a team could run the engines a lot harder and just make change engines whenever you want and just take the engine penalties. Run them hard enough to make up for the 5 (10 for the first engine change) lost spots in the first race, and pull a better result until you need to change engines again. 5 positions for such a long lasting impact on the championship, in this case from Brazil to Abu Dhabi, opens up a lot of possibilities to just running engines harder and replacing them more often. Maybe it'll be a non-issue when the stricter budget caps come into effect, but the penalty should be a longer lasting penalty than what F1 uses right now in my opinion.
I'm actually a little surprised RB didn't do something similar with Verstappen, to try and reduce the power gap that Hamilton drew with the new engine.
Never bet against an engineer with a near infinite budget…
Incredible what these teams can do when the regs slow cars down
I remember Horner saying something about the Honda engines outputting within 1% of its original power output when it was near end of life while the mercedes degraded considerably with hours run.
So Merc had to use new engines to maintain pace.
Who would of thought Honda could turn things around so much after those mclaren years.
I never heard about that, interesting. Do you think then that they couldn't wring more power out of it? I didn't realize the Mercedes had so much power degradation.
It seemed like Lewis picked up a top speed advantage in the last 4 races over Verstappen that wasn't there earlier in the season, which is why I was thinking they turned up the power because it only had to last 4 races versus the usual 7.
I do wish there would be consecutively worse penalties for more engine over than the current daft rule set. At this point manufacturers may as well create a 1 race ballistic engine and just take a 5 place drop each race.
(Current - 1st over is a 10 place grid drop and consecutive engines are only 5)
(IMO should be - 1st over 5, 2nd over 10, 3rd over 15, 4th or more over 20)
Can we see one race with a ballistic engine? I really want to…
I've never seen huge regulation changes, so what does everyone expect in terms of pace changes for teams? Whats y'all's guess on fastest time slowest?
Well last time the regs got changed, Williams went from 9th to 3rd in 2014 and Lotus-Renault dropped from 4th to 8th. Everything else stayed pretty consistent championship standings wise, but Mercedes was wildly dominant even considering they were second in the championship the previous year. You never really know, it likely won't be a huge change, but you'll still see some surprises on track for sure.
What are the chances we see a mazepin Schumacher title fight…
I'm sure Schumacher could be a contender for a top 10 position at least in a good car his sophomore season. Mazepin… well, his results on track have not led me to believe he would do particularly strongly in any car. Personally, I'd be surprised if he could finish a season in the top 5 with a Mercedes. It probably wouldn't be a jump that large, but Haas could certainly come back to their initial form and fight for a top 5 championship spot.
Personally I think they should've kept Grosjean or signed Hulkenberg to go with Schumacher, but without the Russian Oligarchy money I'm not sure we'd even have them as a team this year.
I still think that livery is a disgrace as "America's Fornula 1 team." Hopefully they change it for next year, although I'm sure it'll stay similar.
I forgot to acknowledge this part. I think one race engines would be excessive, but realistically you could run an engine every 4 races like Hamilton did at the end and only go through 6 engines in a season. They're permitted 3, with the first offense being 10 positions at the first race and subsequent changes are 5. So you'd only lost a total of 20 spots on the start. Easily made up for with that much of a performance gain if Hamilton is anything to go by.
In terms of as spectator, I would love to see every team run the engines so hard they blow up crossing the start/finish line for a race. That, combined with a pit strategy like Alonso's 4 stopper at the 2013 Spanish GP where he could just push like hell the entire way through would be mental.
I really want to see what an f1 car could do in total self destruct mode. And than just do that for an entire race. 4 stops??
Yeah so back in 2013 Pirelli had tires with terrible tire wear issues. Cars were going 12 seconds slower in the race than qualifying, 3 seconds slower than the qualifying of an F2 car. It wasn't uncommon for 2 or 3 stop races to be the norm. This was also when Perez was seen as the absolute God of tire management, sometimes still going on a set of tires when other drivers were halfway through their second set.
In Spain, Ferrari decided to get aggressive with their tire strategy, stopping 4 times using 5 sets of tires for the event. This allowed Alonso to push harder than his competitors without worrying as much about tires (he was still slow relative to qualifying, about 6-8 seconds off). He ended the race with a 9 second gap over Raikkonen in second, 26 seconds ahead of Massa in 3rd, and lapped the tenth place finishing driver.
That's 2004 in a nutshell. The cars were faster over a race distance back then than now.