I definitely did not expect this thread to head off to the Great White North.
All ready to watch the race tomorrow at 8AM (mountain)…
The parade on Sunday? Maybe the highlights.
I agree that we should let them race sprint karts instead, it would be infinitely more interesting for that narrow track.
So here's a question. Since I'm in a house with cable this weekend, where can I watch the Monaco GP?
/edit nevermind. It's already happened

It blows my mind people think Monaco shouldn't be on the calendar.
I really think we need a partial track redesign, most likely down by Mirabeau to extend the track. Today's cars simply can't race on the current circuit
I'm not one of those people, but it doesn't blow my mind at all
A joker section. Drivers allowed maximum x times during the race to cut straight through Nouvelle. Simple.
I've said it before but not every race needs to be the same recipe. Monaco being a special one-off with unique characteristics makes it a different challenge and puts more emphasis on qualifying. Different skill sets are rewarded there. Everyone knows going in that qualifying is the key and the race is likely to be a parade.
I enjoy the race regardless of how few overtakes occur and there is always the possibility of safety cars or rain or unique strategies. Monaco has served up classic races throughout the years for a variety of reasons. Panis' win, Ricciardo limping to victory, Senna mastering the rain for the podium.
And tomorrow we have Alonso with a shot at victory outright and Ocon in a strong position to claim a podium on merit.
It's refreshing to see most incidents cleared under double yellows and SC without a red flag every ten laps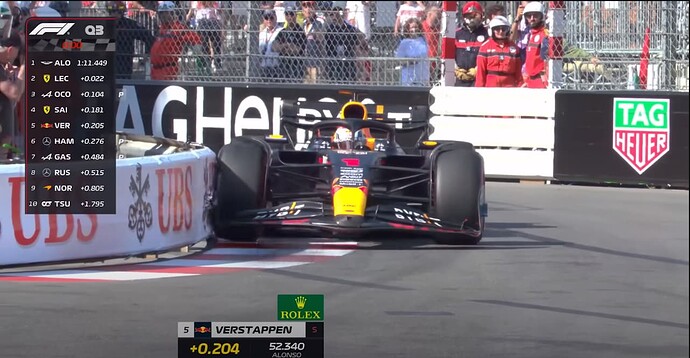 2 tenths down and sends it like that. No other track can produce this kinda stuff.
The recent SKUSA announcement has all but sank my remaining interest in F1, but Monaco is always worth it.
I do love the different formula that Monaco always brings out, and it's always incredible to watch the drivers slip by the walls
Wow, what a race. Without giving anything away, it had all of the drama and flair you would expect from Monaco! Outside of the podium there was plenty of passing and then throw a rain shower in at the end to spice things up. Monaco is less about straight line speed and more about balance and control. One little mistake and you're contacting a barrier or blowing a corner. Almost zero room for error mentally or physically.
No idea what Stroll thought he was driving, And Perez making history today
Well that was one of the better Monaco GP's of recent years! A darn site more entertaining than the 500 imho.
Disappointed that Alonso and team botched the switch to wets which would've made the undercut on Max a real possibility. But otherwise there was a good amount of chaos, and it was a good final podium. Well driven my Max, Fernando, and Esteban. Ocon did great to not make any mistakes and bring home a well deserved podium.
I feel the same but from the team's point of view I think it was the correct call. If they had've gone to inters and it didn't rain then they would've had to pit again and fall back behind probably Ocon and maybe Lulu.
At least going to new mediums would mean if it rained, as it did, he wouldn't lose any places since everybody would have to pit again, or if it didn't rain, he might've been around max by the time red bull made the call, especially with a few laps on new blanket hot mediums vs way past their life mediums.
The call by AMR was a good call, just not the better call
For you guys, the rumors about the move of LH to Ferrari are real or faking news?
Fake news for sure. John Elkann wants LH to Ferrari, but I don't see him leave Mercedes