Thought you guys might find this interesting, and thought maybe it warranted it's own topic…
Like many of us, I have jumped back into iRacing lately since I am not doing other racing. I also have been wearing a Whoop band for the past couple months to track fitness and sleep. If you don't know what it is, basically it's like a FitBit without a screen, and you wear it 24/7. It monitors your heart rate, sleep quality, and a bunch of other metrics that it then converts into data and charts to analyze and recommend training or sleeping habits.
I ran a quick race in the Miata yesterday to get back in the groove, and it was the first time I have worn the Whoop during a competition session. I built a surprising amount of Strain, which is Whoop's term for cardiovascular load. This is my 20 lap Miata race from Lime Rock: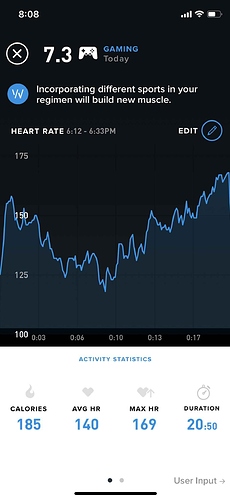 The calorie burn isn't always super accurate, but the heart rate always seems pretty spot on. For reference, when I ride my bike on the trainer at a fairly brisk pace, I build about 10 Strain in 30 minutes.
Cool to see the heart rate spike at the start, level off when we spread out and settle into a groove, and then start climbing again at the end. For the last 8-10 laps I was hunting down the guy in front about .1-.2 a lap and the guy behind me was closing up on me, so it got tense.
Being skinny-fat, I never paid much attention to this kind of thing until recently, but something like this might be valuable data to not only help train your physical fitness, but also mental and emotional fitness during the course of a race as well.
Anyone else use a fitness tracking type band while they are sim racing or real racing?