Kosmic Replacement for OTK or just a team graphics kit?
"Norris became the youngest ever World Karting Champion when he won the title in 2014, ahead of now-Haas driver Nikita Mazepin and Jehan Daruvala, now a Red Bull junior driver."
Perhaps I was too quick to dismiss Mr. Mazepin…
Doesn't replace anything in the line-up. Probably a "celebrity" addition to make up for the loss of the Fernando Alonso branding a couple years ago.
It's cool to see F1 drivers pay homage to their roots like this, though I do wish some of these were more inspired efforts. The Ricciardo, Kubica, Alonso, etc. karts are mostly just branding exercises, where a driver slaps their favorite color and sticker kit on an existing chassis line. It would be cool to see someone actually do some testing and tweaking and design bits of their kart line to really make it their own.
Still, nice to see. Now we have another color choice when we go to get an OTK kart.
Gotta say the f1 guys karts have had some very nice liveries.
FA were gorgeous. This is pretty awesome too.
not gonna lie, the kart looks slick.
Also, I'm back, school has been a killer. Should be hopefully driving first kart race soon!
What color is this frame?

Cobalt blue looks like, so slightly more blue than a Kosmic but hard to tell the difference really. Good thing they changed the Exprit to neon orange, or they'd have a purple, a slightly more blue purple, and a blue…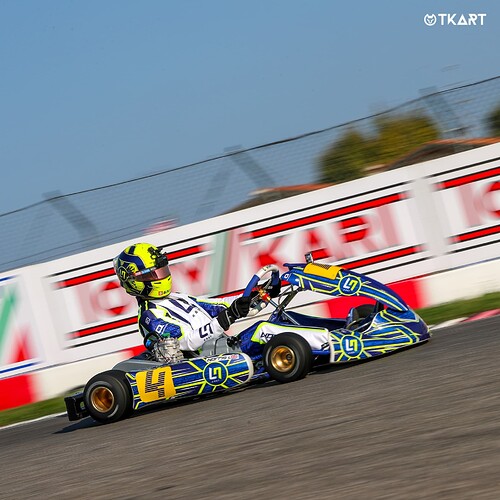 I do like when suit and kart match. Lando looks sharp here. Nice posture, too.
Nice! I was wondering if OTK would replace Alonso with another high profile driver branding.
RS karts are clean.
Roseberg has a team that he's more involved in. Seems like more than just a sticker kit
Nico's quite involved in his team it seems, but actually he runs Kart Republic karts, they aren't branded as his own. For him it's just a sticker kit.
In the end it's all the same really. Nico's name just isn't on the chassis itself.
Thats true for all branding. Steering wheel, powder coat color, and sticker kit and you can interchange brands within parent company.
Is no manufacturer using beautiful metal flake sparkly paint? Think hotrod paint jobs. Admittedly they use many coats to achieve the lustrous quality.
I dig it! I like that they went through the effort to color match the plastics in nassau panel so it doesn't have that big blank space of white down the middle. If I wasn't such a sucker for the Exprit orange frame I'd see myself getting this next year.
I wish they would have made the frame color the same yellow as the accents similar to comp kart. Would have been hell to keep clean but looked awesome,
I want to see a restored kart that has been beautified with insane paint job. It's kind of pointless given how dirty they get, but there's bound to be some very nice restorations.
I think F1 driver branded karts is getting a bit… I dunno… silly. It's just a sticker kit. I always liked the fact Schumacher never got a TonyKart with his name on a sticker kit. He still actually raced an OTK and respected the heritage of the brand and sport. I guess Schumacher valued racing karts more than just having his name on them.
seeing "F1 drivers launches new kart" headlines is starting to get a bit eye roll inducing.
I guess OTK doesn't care, maybe the opposite, it is bring them customers