Hey guys, we have plenty of conversations about the sim side of racing, now let's see your sim rig set ups.
I'll start.
I've been in to Formula Racing before I got in to karting and had some time while working out of town to piece together my rig over a few months. Plenty of waiting time when ordering everything and to when it actually arrived. Sadly, I have been working out of town a lot since putting it all together so it doesn't get much use.
I opted for a Fanatec setup with the Podium DD1 Bundle and paired it with the Clubsport V3 pedals all mounted to a Playseat Formula Intelligence frame. I was originally going to only get the Playseat Formula but the only ones they had in stock were Ferrari and Mercedes versions and as a McLaren boy… I couldn't have that.
I primarily play Formula 1 2020/2021/etc series of racing but have Gran Turismo and WRC9 games too with the attached PS5. I haven't partitioned a large enough space on my laptop to get KartKraft up and running yet, but that will be soon.
The pedals have the brake performance kit and the throttle has a damper. I also picked up the 2021 Limited edition formula wheel last year but am just using the Blue/Yellow formula wheel that came with the DD1 bundle.
There's a buttkicker gamer 2 attached to the frame behind the seat but the Playstation doesn't have enough control over the audio output to it so it's actually not hooked up right now. I'd like to look in to putting more transducers on to the frame as adding motion controllers is basically as much as a brand new Kart.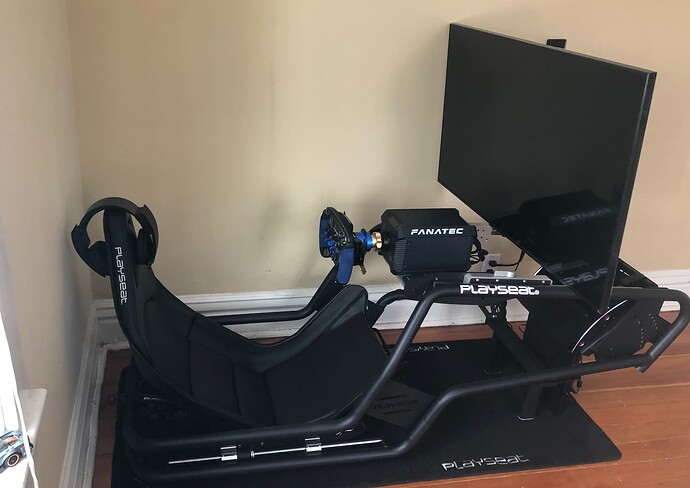 (A bit of an old photo, as the rig is being ran by a PS5 instead of a PS4 now, and the headset is newer too… it's also covered in a lot more cat and dog fur now, lol)
Now. Let's see yours

Mods: I searched and couldn't find something similar to this, I'm sorry if it already exists, please feel free to delete or merge with the other topic.