The twists:
This one here offers rib, back and front protection. Sorta similar to what the munchkins have to wear (front and back, not just sides). It's homologated.
"Very first FIA homologated karting rib protection in the world. OMP KS-1 Pro offers complete protection to the driver (ribs, front and back) combined with maximum comfort thanks to the internal padding and the exclusive auto-adjustable fitting system. Outside in resistant polycarbonate material, inner lining in nitrile rubber and shockproof memory foam that dissipates energy in case of accident. Adjustable shoulder and lateral straps with velcro, shaped front shield to get best comfort and higher protection. FIA 8870-2018 homologated."
Processing: 94EF6D82-C4ED-4619-8F5E-1BFF02199399.webp…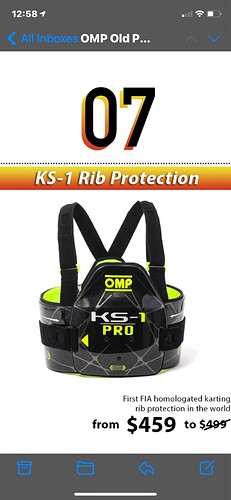 It's pricey as heck: $459 on sale from $499. I guess this pays for the homologation.
Thotts relative to the beloved Bengio? This made me think of our reader who has the bilateral upper back bruising issue. Does not seem cost effective relative to a better seat, tho.