When I first drove this steaming pile of slag, I noticed that I was on limiter for what feels like half the back straight. This seemed incorrect to me.
What I was told is that this is normal for lo206, that you want to gear for the corners since there is so little power. But then Tanguy rented Pignataro's margay and here's where he was hitting limiter: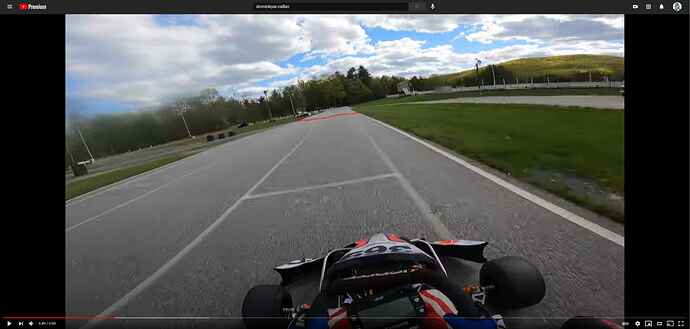 The red line across track is where tanguys kart was hitting limiter, my current position in photo is where my noodle kart is hitting limiter. Massive difference.
This might have something to do with why the kart feels so light in the nose. I played a lot with gearing in KK and gearing the kart for corners does make it edgier and harder to drive smoothly. Yes it can be faster, but it is much fiddler and harder to get throttle to be smooth and well considered.
The fella who sold me the kart is a very good karter but he's considerably smaller than me, physically. It could be that what is right for him is not right for me.
I asked one of the other employees for gearing but they don't want to share with me.
I'm sort of stuck because I don't want to offend the guy who is working there by saying your gearing seems off, but my other contact there is not helpful in this regard.
Any thoughts? Any of you have a starting point for me ovrp lo206 gearing. I can just order some sprockets and do it myself.