I picked up a Merlin LM30 with a 206 a few weeks ago from FB marketplace for the princely sum of $1000 including a manual winch one-person stand. Might seem like a ridiculous idea, but there's some logic to it because Merlin karts are very well supported up in these parts (MN)
When I went to look at it, the owner said the engine is very fast, only had 30 hours on it and was good for a lot more

(Yeah not believing that, I suspect a head job in the future.)
It also had a light on the front because they had been ripping it up and down the street in addition to the local track (Stockholm Motorsports park).
So, it's a bit rough but fundamentally seems OK. Bearings and joints etc. are decent (but will be replaced). Main thing I'm concerned about is dodgy assembly. Loose seat bolts, steering wheel pinch bolt and whatever else. For sure a good checkover and TLC will be happening. It at least has the required plastic rear bumper and modern bodywork which my current Wildkart from 2006 does not.
Once the TLC is done, assuming it doesn't seem to be glaringly bent out of shape, I'll take it to the local track for a shakedown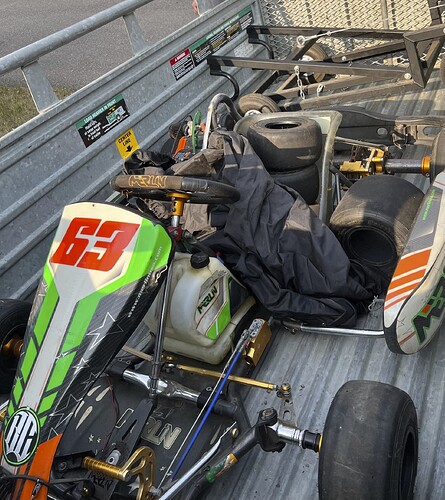 Ran it on the chassis dyno a couple of weeks ago, and went in raw with no work attempted. No chain lube, didn't swap fuel… nothing… First issue is that clutch is dragging so I'll have to address that. Recorded a peak of 10HP at the wheel, take that for what you will, seems optimistic at best. I don't have anything to compare it to other than the four stroke shifter (204cc, pretty highly strung) which recorded a baseline (no tuning) of 19HP at the wheel. The main purpose of the runs was to make sure the engine pulls somewhat OK… and as far as I can tell… it did.
More pics from the ad, isn't she lovely?
Yes, she's lovely
Eh, she might be lovely, needs some love.
Dude, you bought a total dumpster fire