Got out of the swing of doing these as the year got away from me, but no better weekend – or week – to get back into these discussion than the biggest race in the world, right?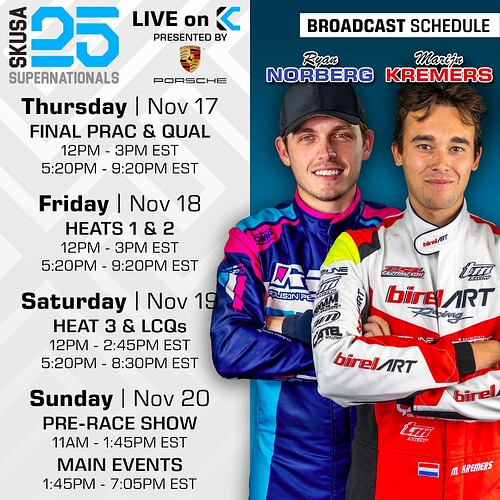 Thursday | Final Practice & Qualifying: https://youtu.be/RjQIJR2lBH8
Friday | Heats 1 & 2: https://youtu.be/ju_Ic4hOSxg
Saturday | Heat 3 & LCQs: https://youtu.be/m_KMwNrL6VU
Sunday | Main Events: https://youtu.be/1WSOu-qF4ZM
FULL SKUSA SUPERNATS 25 PLAYLIST: https://youtube.com/playlist?list=PLdOQQZ9ohCDWXM1n4kB-UE77fbsxWr1Sw
This is also the season finale of the 2022 KC Fantasy League. Enter your picks in Pro Shifter and X30 Pro Below!

KC Fantasy League Entry: http://linktr.ee/kartchaser
WIth the entry lists available on EKN and through the fantasy league sign ups, who do you have winning it all? X30 Senior? Pro Shifter?
Will also show a pic of the latest track build update in the next reply. Looks as though there's already some chatter.