Historic South Park Race (Quincy, IL) to Return in 2018.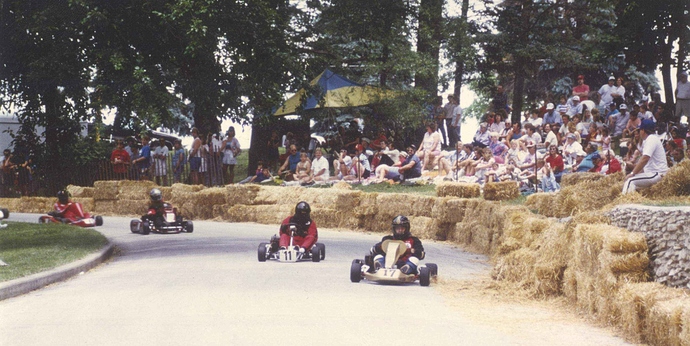 This was an annual event at South Park for 32 years until a decline in entries caused the event to end after the 2001 competition. Grand Prix entries fell from a high of 625 for the 25th anniversary in 1994 to 130 in 2001.
The track that meanders around south park has been repaved in lieu of the 2018 event.
Class Lineup
SATURDAY SPRINTS LAPS/WEIGHT/GEARING
(Saturday Sprints are entered separately from Sunday Championship events)
Yamaha Heavy 8 laps, 360 minimum weight, 10/60 suggested gear (35 chain)
Briggs 206 Heavy 8 laps, 375 minimum weight, 17/62 suggested gear (35 chain)
Margay Ignite Senior 8 laps, 360 minimum weight, 19/64 suggested gear (35 chain)
CHAMPIONSHIP SUNDAY
Yamaha Medium 12 laps, 340 minimum weight, 10/60 suggested gear (35 chain)
Yamaha Heavy 12 laps, 360 minimum weight, 10/60 suggested gear (35 chain)
Yamaha Masters 12 laps, 360 minimum weight, 10/60 suggested gear (35 chain)
Briggs 206 Medium 12 laps, 350 minimum weight, 17/62 suggested gear (35 chain)
Briggs 206 Heavy 12 laps, 375 minimum weight, 17/62 suggested gear (35 chain)
Briggs 206 Masters 12 laps, 375 minimum weight, 17/62 suggested gear (35 chain)
Briggs 206 Super Masters 12 laps, 375 minimum weight, 17/62 suggested gear (35 chain)
Margay Ignite Senior 12 laps, 360 minimum weight, 19/64 suggested gear (35 chain)
Margay Ignite Masters 12 laps, 370 minimum weight, 19/64 suggested gear (35 chain)
Vintage Exhibition 8 laps, None-Line up by speed, fast to front (see vintage notes)
80cc Shifter 12 laps, 360/370 minimum weight (2 wheel brakes/4 wheel brakes)
TaG Senior 12 laps, 365 minimum weight (IAME & Rotax), 380 (Motori/Sonik/Rok) 12/80 suggested gear (219 chain)
125cc Shifter 12 laps, 385 Stock Honda, 400 KZ and modified moto, 13/27 suggested gearing
---
Track Layout
Here's the track's original layout, source: ekartingnews.com
---
Coverage from Local Media