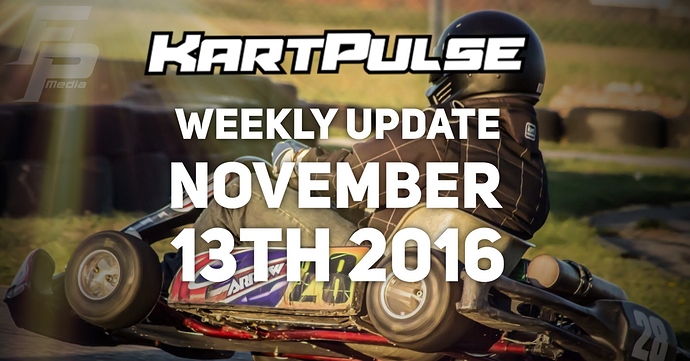 Weekly update time. If you're interested in joining the KartPulse team to help move the project and sport forward, drop me a message. All you need is a willingness to chip in we'll figure out a way that you can contribute and have some fun doing it.
---
Podcast
We received some encouraging news about the podcast we're working on producing for you with Race Talk Radio. More on that as we have it.
Community\Forums
Quiet week, but probably to be expected with the US general election.
New member shoutouts go to:
@Robbie23
@jakeysaurus
@TYLER65
@Henchicken90
Welcome guys! Don't forget to invite some of your karting friends!
Interesting threads…
@Aaron_Hachmeister_13 is thinking of making some videos about driving principles. Chime in and let him know what you think.

Some very interesting insights on GPS accuracy in Karting in this thread started by @NikG

Track, Series and Business Directories
We've added all 28 current, plus two upcoming tracks for K1 Speed. Have a look for them under the Indoor Arrive and Drive category. Thanks to Chad Clay for gathering the info on these.
The KartPulse track directory now has a total 470 active places listed for kart racing in the USA. Thanks to everyone that's helped by submitting info. If you know of a track that needs to be added, or updated you can fill out this super quick form
As 2017 comes closer, we'll be working with the karting community to get all karting events across the US mapped out in our event directory to make it easier to existing, and new racers to find out what racing is on near them.
What's next
I'll be doing an update to the Karting Business Directory. If you find a business is not listed, you can fill out this form to get it added. Listings are free and always will be.