Yeah they host wheel-to-wheel and open lapping sessions for people to bring their daily.
But they said they were open to carving a second track for karts. The car track wouldn't be usable for long by kart because it gets so torn up. This was a few years ago when I was thinking of doing a kart "racing" event vs a rental operation.
A really fast one. Just trying to decide if I go for it and lose 30lbs to make Snr weight and take on the 15 years olds or stay happy and fat.
Let's do it Nik (20 characters)
I know a good business in Pennsylvania that is excellent in the OTK field, they do travel everywhere so there's a chance you can meet them somewhere
My instagram is kline.payton if you want to dm me
As of right now, mostly a few practice days with my Praga dragon/KA100. I'm thinking about selling my Rok shifter (and maybe the Praga) and picking up a RPG kosmic. Being able to run 20 laps no problem after not driving for months is bringing the fun back.
My son and I are sticking with our Margay Ignite K3s and running some regional events this year. Should be fun!
Running a 2021 EOS Typhoon with a Ghost Racing 206 to run senior at TKA club and maybe a CKNA or trip to AMP sprinkled in there.
KZ shifter for me. Sticking with the Formula K (IPK) Fighter 30/32 / TM KZ R1 combo that works very well for me. Brakes are just next level on the IPK. I'll run a check on the R2 engine that just came out on my next trip to Italy and see if it's worth the upgrade.
Hoping for OK-N at Stars Championship Series, we'll see if I can pull something together though. Haven't decided on a kart brand yet, KR obviously looks very strong in 125 classes both X30 and OK but primarily in Europe, so if I do pull the trigger on OK-N that'll be a decision to make still.
Going to put another season on my 2012 Arrow X2, refreshed Ghost Racing LO206.
my ol 2022 MGM with an off-the-shelf 206.
Lets play guess the "Shop" from the picture… (technically this is the rental staging area where they have helmets etc).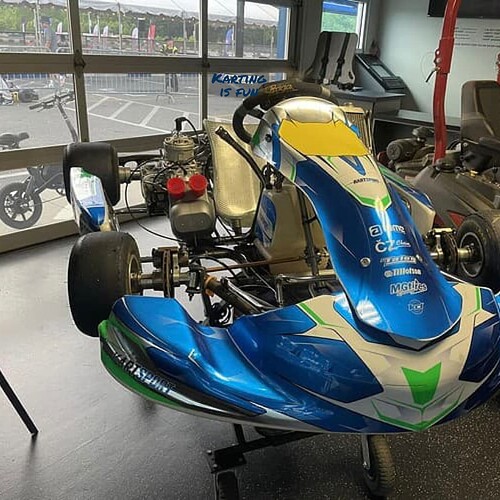 (Lets see who else recognizes it). Also, they don't normally have the lawnmower in there, I would guess.
Will you sponsor me and do my suit and livery? (Just kidding). Gorgeous stuff, there. Really love the purple and aqua. Someday we will talk.
Planning to run KA Masters in Stars Championship on a '22/'23 Kosmic MercuryRR. The OK-N is intriguing to me as well, but likely to stick with KA for another year to help build up the local KA turnout at Pitt Race.
Graphics and the tent for the viewing area in the background give it away, but I'll leave it a guessing game for the others.
I just cropped it a touch to hide the edge of the track map.
GoPro Motorplex. I answered before I scrolled past your challenge. I was there about 2 weeks ago.