I moved from otk to Ricciardo kart mid way through the season. I was struggling with the otk and having too much grip with our Canadian max rear width rule of 50" on a Vega blue. Since I switched to the Ricciardo it was night and day.
I'll be rocking a 2023 Ricciardo with an lo206 next year and planning to do some CKNA races in the states.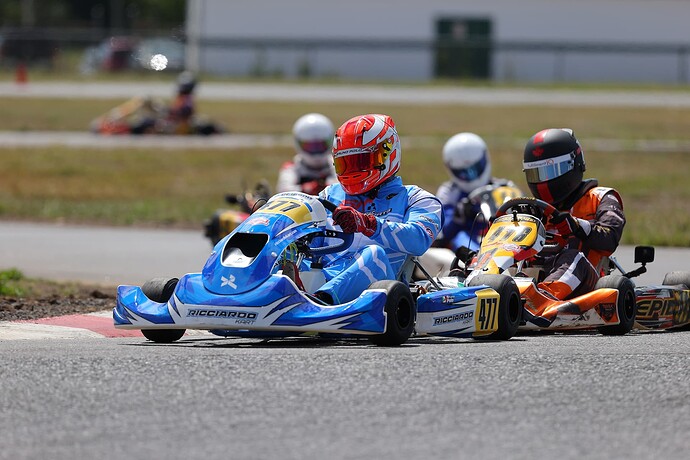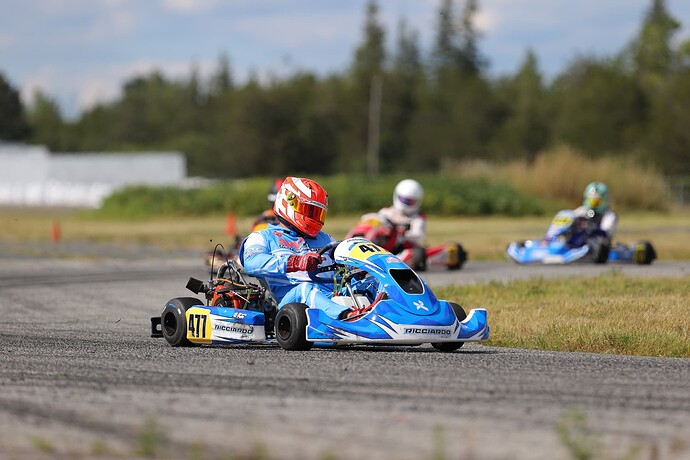 Damn 50" max width. We can't even run that narrow in the rain in the PNW
Glad you found something that works for you with that wild 50" rule.
6.0 rear tires give you 2 inches of reduction in width. For the old school gold cup folks, that 50 inch rule is not that crazy.
Yeah, essentially some can get away with it like the lighter sr drivers with lower cog on other karts. But the birel am29/Ricciardo dr-29 is a way more narrow frame. It allows us to get more axle flex between the tire and the frame.
Going to save some money this year and run my 2021 FA/KR with KA. I am really trying hard to not over spend like I did last year. I think part of the money I spent caused some race stress and I didn't get the results I looked for. I should spend my money on coaching—not more or newer equipment.
I am pretty sure that AM29 is designed specifically for Canadian racer with 6 inch rear. With 50" rule, it make a lot of sense.
Justin-
Coaching is huge. I've invested in that with Blake. His 6th place finish this season might not seem like coaching has helped, but his lap times would have been track records 2 years ago. We just happen to have an extremely talented KA junior class at Badger.
In 7 years, I've never purchased a new chassis.
After using Merlin Chassis in cadet and last year in KA junior (LM30), we are switching to a 2021 OTK. I have zero complaints about the Merlin karts. We just happen to tent with two drivers who run the identical OTK, and we want to share set-up info. (really I just want to steal theirs as my son is not good at giving feedback on how the kart feels)!
Definitely something I will be investing in! For myself and the kids! We do have some serious talent at Badger! Blake and I have chatted in the pits a few times! Thanks for the feedback!
Yes I believe so as well. But it also works with the 7.10 tire too.
I run less than 50 inch on the rear of my kart here at my local track.
I've just picked up an 88ish Deavinson Sprint. Needs restoration. Hopefully got a Kaltec 30mm slide on the way. Engines… not sure yet.