Newgarden is my driver, but Romain Grosjean is a BEAST and I am so happy to see him running in IndyCar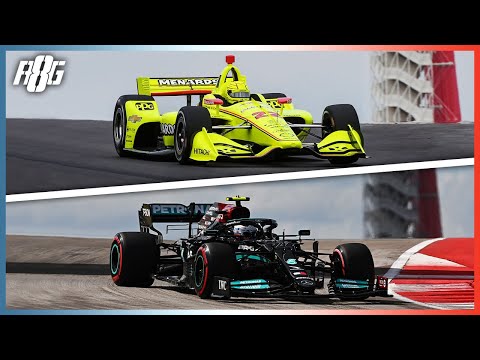 I think it was a good race but hard to say when I mostly was watching commercials and the tv coverage missed all the overtakes.
They went to commercial and when they came back Grosjean had passed four cars. Would've liked to see that.
Awesome overtake by Pato to snatch the lead. Shame Veekay got held up by JJ while lapping him and lost time and couldn't convert the win but a strong race nonetheless. The young kids were on it today.
The Rahal/Grosjean drama was funny at the end.
I gotta say I'm impressed with Power's start to the season. He's usually a bit up and down which is why he's only got 1 championship. But starting this year with a 3rd and 3 4ths, this is the kind of consistency than breeds a championship run.
Yeah he's usually quite emotional and gets into unnecessary drama. His drive yesterday was quiet and efficient and exactly what he needed to do. He was nowhere all weekend and just carved up the field on race day.
I made the trip over to Barber for the race. Can't believe Grosjean's passes were during a break, they were clinical, four laps, four passes.
Herta seemed to be on another level with his pace. Making moves in places no one else tried. He's just a little too impatient. The move for 6th? was never on, way too far back.
Yeah I was just sitting there going "Grosjean needs to clear Newgarden, Josef doesn't have anything and is stalled out", and then they went to commercial and not only had he passed Josef but he got three more after that, all in a 2-min ad break.
Herta won't mount a championship run until he settles down a bit. He's so fast but he can't seem to help himself when it comes to going over the limit and making mistakes. His carve back through the field when he was able to put like 5 cars between him and Newgarden/Grosjean was epic, but then he undid all that with the dumb move to spin himself.
Meanwhile, Pato seems to have matured past that ragged edge level and was masterful in driving to the limits and not exceeding them this weekend. Same type of maturity that has made Palou so good.
If the young guys want to have consistent success, all of them should be modeling themselves after Dixon. Quiet, efficient, and maximizes everything without making mistakes. Palou has the benefit of him as a teammate and I think it's what made him so good.
Ya the side-by-side action vs. commercials was not ideal, so I hear you on that one.
Damp start, heck yeah, let's go!
This is bananas! Wet, dry, wet, dry… Who knows!
Like shifter karts on slicks in the rain… Fun
Personally I would stay out on slicks. We'll see.
Half the track is soaked, the other half is dry. I have no idea what I would do. I think if I were 7th or lower, I'd stay slick. If I'm near the front you have to go wet to stay safe. Slicks is the risky call.
The issue is the front straight is the wettest and the also the place you will never catch the car if it goes.
Meanwhile, I know they mentioned it, but I literally didn't even know Montoya was in the race until these last 10 laps.
Slicks was the wrong call, OBVIOUSLY.
Yes, the rain blew up more than the radar was showing unfortunately. Mixed tire racing is more fun.
Explain to me how they can go from a lapped race to a time race? Never seen that happen before and didn't relaize they did something like that.
The race was nuts, but I'm not a huge fan of any race that ends under a yellow flag. I was pulling for Roman after Newgarden was out of it.
Most professional series have a time limit on every race in the event there are red flags or rain or whatever. Usually they don't come into play but with all the yellows and the rain today, they were bumping up against the time limit and wouldn't have been able to get all the laps in.
Is it just me or does Colton Herta bear more than a passing resemblance to Alex Zanardi?