Wow… well done Perez and Alonso!
Yeah KMag! Great job by Perez too. Should be an interesting race tomorrow.
Hard → Medium does seem to have been the best choice for the green track.
Was awesome to see KMag so feisty, really making life difficult for Charles most of that race. Impressive drive, shame it only resulted in one point, the Haas looked great in the first 2/3 of the race but not as strong on the last stint.
Like him or loathe him that was flawless from max today.
Oooof: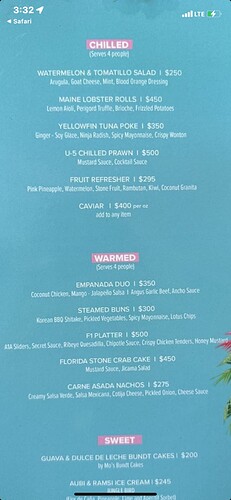 https://www.reddit.com/r/formula1/comments/13bso71/oc_jonathanschaff_the_pricing_of_hospitality_food/?utm_source=share&utm_medium=ios_app&utm_name=ioscss&utm_content=1&utm_term=1
They could just hire Rocco to strong arm everyone as they walk in the gates, instead. Would be more humane.
Serves 4 people, bargain
I guess Alonso's last year will be 2025
Well this aged quite nicely….
Someone should let him know what seafood platters cost these days and maybe he'll rethink retirement.
There are contrary reports that this is not a possibility, but I'm just gonna leave this here:
De Vries has been a bit underwhelming unfortunately, and RB loves Danny
The AT is an absolute truck to drive it looks like. Yuki is wringing its neck and doing a good job hauling it up to the fringes of the points. He looks absolutely exhausted after every race. Nice to see his improvement this year when he really needed to get on top of it.
De Vries is consistently battling for last or crashing out. His rep has taken a hit in this first part of the year and I can't see him sticking around if he doesn't show improvement after the summer break.
Not sure Danny is interested in driving the AT but he may have no choice if he wants to stay in F1. Him and Yuki would be a fun pair I think.
Does getting the AT race seat cause issue with his McLaren payout though?
I'm pretty sure he got the full payout when he left.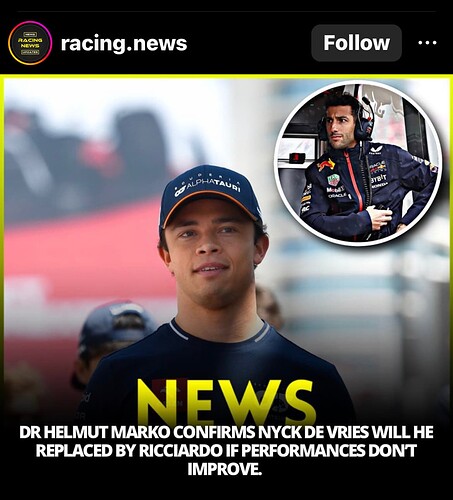 So Helmut has reportedly said if Nyck doesn't pick up his performance over the next three races, Ric gets his seat for the rest of the season.
Sadly Nyck hasn't been performing, I was hoping he would do well at least closer to Tsunoda anyway. If it's true he only has three more races to start performing I would say he is already doomed. Talk about being put under pressure